Yeah, so I wasn't able to take any pictures, cause we never really stopped working last night to take one. But am hoping some good pictures start to pop up on the interwebs today that I can show off. Especially of 2cents in-gallery installation. It was one of our print surprises, but 2cents did it again, after last year's incredibly successful portraits (
CLICK HERE
to see those). This year he picked famous cult objects. Each of these prints are limited to 40 (we're close to selling out on some and have to start the day with some serious inventory counting), are signed and numbered and are just $25 each. But here they are...
The Bike
The Trap
The Lips
The Hearse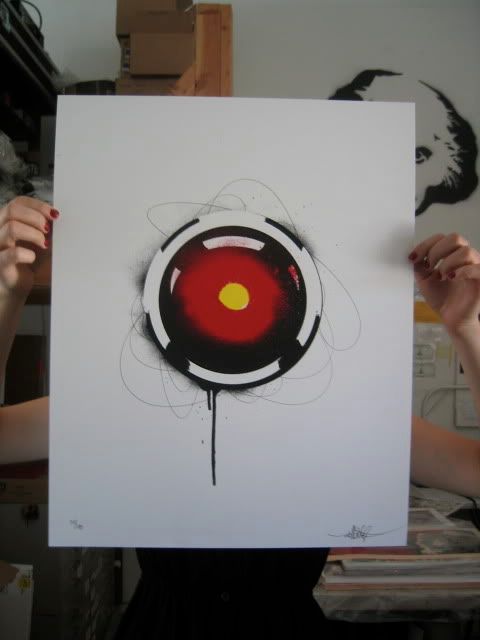 The Button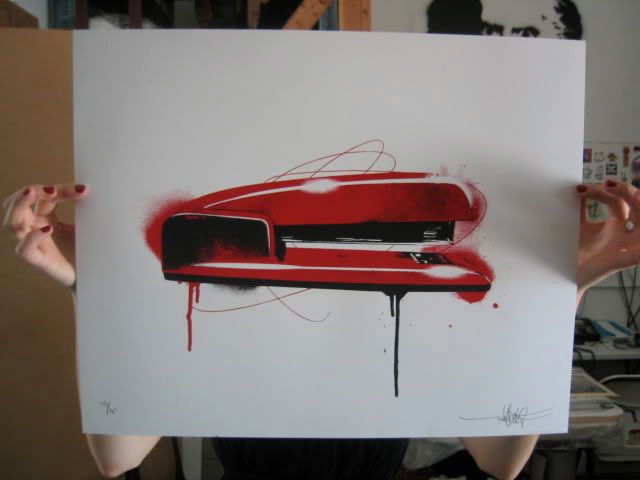 The Stapler
Thanks to these prints and around 1,000 attendees, this year's Crazy 4 Cult first night was one of our most successful opening receptions EVER. It was awesome to see people still buying art that speaks to them, even though economic times aren't what they were for Crazy 4 Cult in 2008.
You can now sell ALL the artwork, and see what's still available, by
CLICKING HERE.
We want to thank every artist who participated in this year's show, as probably about 100 people came up to us at some point last night and commented on how everyone REALLY stepped it up this year. When another now-mangled theme show hit it's third year, we sat back and watched as artists admitted they were out of ideas and thought the concept became stale. With Crazy 4 Cult 3-D, it proved this show just gets better and better - and we only have the artists to thank for that. This had the best artwork delivered yet. THANK YOU all so much.
Also big thanks to Kevin Smith (a co-creator of this art show), who's spirit we felt in the gallery, although he was shooting a film in NY, our friends at SlashFIlm.com, KROQ's Kevin, Bean and Ralph Garman and comedian Paul Scheer, along with the many others who promoted (and twittered their brains off about) the show all day with us! 
Here's to Crazy FOUR Cult in 2010.
Jensen
G1988: LA