As Katie acknowledged we're officially in July, or what I like call "The Month of the Cult." A little over two weeks away, we'll start the previews now (although tough to beat her print post).
As part of our yearly Crazy 4 Cult Otis Introduction Program, we're excited to have artist Ayami Kawashima debuting in Crazy 4 Cult 3-D. She will be showing 3 pieces, here are two of them. MY ABSOLUTE FAVORITE PART about Ayami's beautiful pieces is that she had never seen ANY of the movies on our cult movie examples list. So, she went on a mission and rented dozens of the films as research. She basically watched movies for months straight. But imagine seeing Pee-Wee's Big Adventure, or Donnie Darko or Edward Scissorhands for the first time today? I sort of feel like this art show did her a service!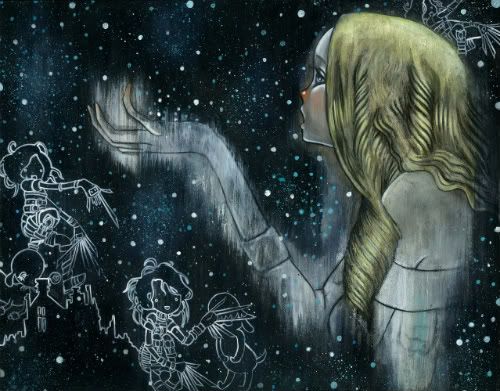 Crazy good debut, right? I love these and there is one more to be unveiled at the show! So there's your first look into the original paintings....more to come soon!
Jensen
G1988: LA