Well, it's supposed to be my day off today, but it's proving to be anything but. We've been selling through prints from Crazy 4 Cult 3-D, selling out of Bike and Trap from 2cents and The Professional print from Jeff Boyes. And although we're low on many other prints, and we're still selling paintings everyday, there are still some amazing pieces left. But you should act fast. Still check out the show, and the updated sales,
HERE.
But, today I've dedicated mostly everything to the monolith known as Comic Con, which opens this Wednesday in San Diego.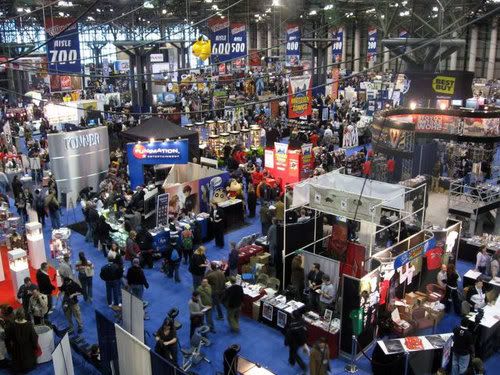 There really isn't a picture in the universe that can give me a quicker panic attack, BUT this year I'll be there Saturday and Sunday - and G1988 has some pretty awesome presence in this year's con.
First off, our first book, partnered up with our friends at Baby Tattoo, will be released! "Curiosities," by NY artist Travis Louie will become available at Comic Con, purchasable in many ways and forms. Baby Tattoo's booth (#601) will be selling 2 of the 4 available covers (Retail and San Diego Comic Con variations), as well as having multiple signings with the artist Travis himself, so you can meet the man and get him to sign your book. The Baby Tattoo booth will also have a pretty cool opportunity to get a whole set of 4 covers, for those who buy fast! Travis will also be making appearances at Hi-Fructose's booth (#4939) and the Last Gasp booth (#1616) - two other places you can pick up the SDCC exclusive cover. And if you can't make it out to San Diego, don't worry, because we're having a book release and signing party on Tuesday with Travis Louie in attendance. More on that later.
Secondly, I do believe we'll be announcing our newest honoree for the Under The Influence art show happening in Jan. 2010. After last year's tribute to Beastie Boys, we've been excited to announce the newest source of inspiration involved, but we think SDCC will be the place! More on that later as well. Stay tuned to the blog for where to see the reveal!
And lastly, something totally secret. You won't know it's us. Yet. In due time.
Sorry to be so secretive. But we'll come clean in time. And we think you'll love it.
See you at the Con!
Jensen
G1988: LA