When a childhood friend of mine, and friend to the Gallery, Cameron Calderone, recently passed away suddenly at the age of 26, it goes without saying we were left with very little to understand or much of an ability to express our emotions about something so unexplainable and awful.
A few weeks after his passing, I helped put together, along with a few of Cameron's other friends, a mural, that will be on display at Agoura's Camp Keystone, a camp where Cameron was a counselor most of his life. This mural was to express the helping and kind nature of Cameron, as well as highlight many of his passions and loves (which included drawing). We commissioned Dave Crosland, one of Cameron's favorite artists that shows at G1988, to create something in memory of our good friend. 2 weeks ago, he painted the piece from dusk to dawn, on site at Camp Keystone, in front of an audience consisting of camp workers, campers, friends, Cameron's parents and Cameron's girlfriend. Dave was able to depict Cameron's playful demeanor, his love for helping others (especially campers and students where he was a teacher during the school year) and his hobbies (basketball, bowling, Lakers, Hawaii, etc.) The energy from both the mural and the watching audience created quite an atmosphere of positivity and remembrance - finally finding that way to express our own sorrow and love we had hoped for. After the two weeks at Camp Keystone, one half of the 4 foot x 8 foot mural will go to Cameron's parents, while the other half will go to his girlfriend.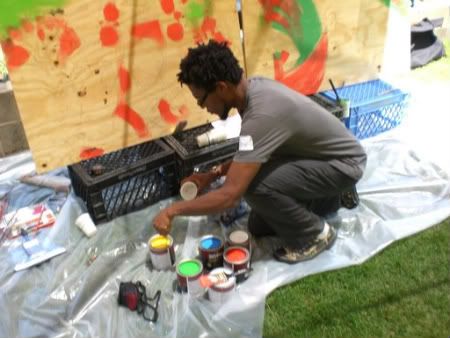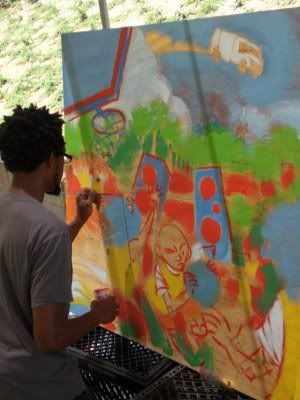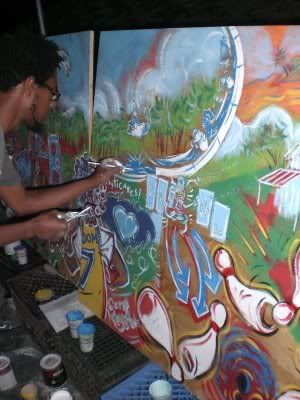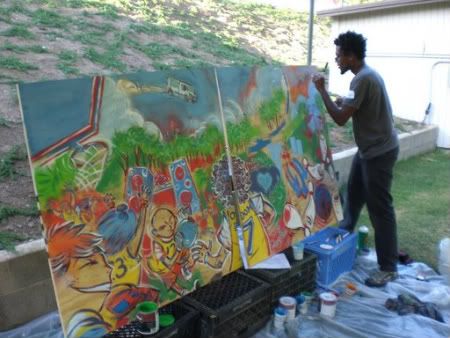 The finished mural.
Sometimes the gallery feels like my profession. Selling art, prints, promoting events. And then sometimes you remember what art can actually do. I'm thankful for those moments and lucky to have met someone as special as Cameron. This mural might help you understand that luck.
Jensen
G1988: LA