"Battle royal (plural battles royal) traditionally refers to a fight involving three or more combatants that is fought until only one fighter remains standing."
Our next SF show is called "Battle Royal." I've heard many people pronouncing the new show
Battle Royale
, which is the book written by Koushun Takami and then became a film in 2000. The movie is amazing and definitely worth renting. We will soon be releasing a Battle Royale movie themed print by artist Julian Callos, who also happens to be in our new "Battle Royal" show, so we've come full circle.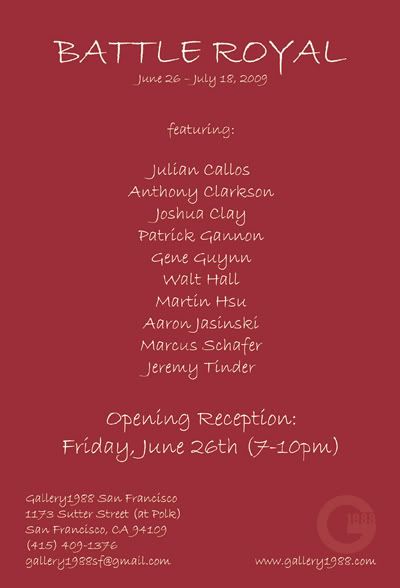 So, back to the new show. "Battle Royal" opens at G1988 San Francisco on June 26th and features the work of...
Julian Callos
Anthony Clarkson
Joshua Clay
Patrick Gannon
Gene Guynn
Walt Hall
Martin Hsu
Aaron Jasinski
Marcus Schafer
Jeremy Tinder
Until the show opens, I'm going to preview a few pieces from each artist every few days, starting with Aaron Jasinski. Jasinski (Seattle, Washington) created a series of classic movie actress portraits, which is such a great idea!
"A Hunting We Go (Audrey Hepburn)"
"Moon Flowers (Jean Harlow)"
These lovely ladies will be available for purchase in just a few weeks. Stay tuned for more preview from the rest of the artists in the show! Have a good weekend!
Katie
G1988 SF