Hope everyone out there is having an amazing holiday season, and are readying themselves for New Year's Eve. Both galleries are currently on holiday break, so they're closed. But the Venice location will be re-opening on January 7th, with "Pooh...and Other Sh*t: hijacked art from Robert Brandenburg," a solo show we've been antsy to debut.
We first saw Robert's work after his nephew stumbled into our Melrose location, ran home and convinced his uncle to submit to the gallery, because he just couldn't imagine any other gallery in the world loving his work as much as we would. You see, Robert has a pretty fun art career. He finds old paintings, photos, advertisements and prints at garage sales, estate sales and auctions and adds pop culture elements into those paintings in the smartest and funniest ways. But the most impressive part of these hijacked pieces, is that he can EXACTLY match whatever painting (OR PHOTO!) he's adding himself to. After he was the breakout star of Crazy 4 Cult 5, where he sold his Willy Wonka and Donnie Darko inspired pieces, we just couldn't wait to see what he'd come up with for a solo show to kick off 2012. I know it sounds weird, but here are some examples from the upcoming show!
The inspiration for the show title, and image from the show card, is incredible. He found this oil on canvas tiger and knew exactly what had to be done...
Before -
After -
Now with his addition, this piece is titled "Tigger and Pooh."
Another thing I love about Robert's pieces are the stories he writes for each piece, almost explaining the thought process on his vandalism. Everyone who buys one of Robert's pieces actually gets a picture of the before piece, and his essay.
Here's another piece from the show entitled "Searching For Suri"
Before -
After -
And here's what Robert has to say about it -
"This cheesy, party-sized landscape painting hung in my brother's basement for nearly 20 years; gathering no admiration, but lots of dust. During the recent move to another house, the unwanted oil was on its way up the stairs to the commercial dumpster parked in the driveway...when the proverbial light bulb went off over my head.
      The tripods are from the 2005 remake of "War of the Worlds" movie, and Tom Cruise might have thought twice before agreeing to take the starring role; as the other worlders have returned to claim his daughter as one of their own. Ominous though they appear; there's no real suspense, as we know how the story ends. The shortsighted invaders neglected to bring along antibiotics for their conquest of Earth. If only the aliens had thought to raid the pharmacy shelves in Walgreens before vaporizing the store!"
Another one of my favorites is "Ape Watch," which shows you how he can adapt to any style.
Before -
After -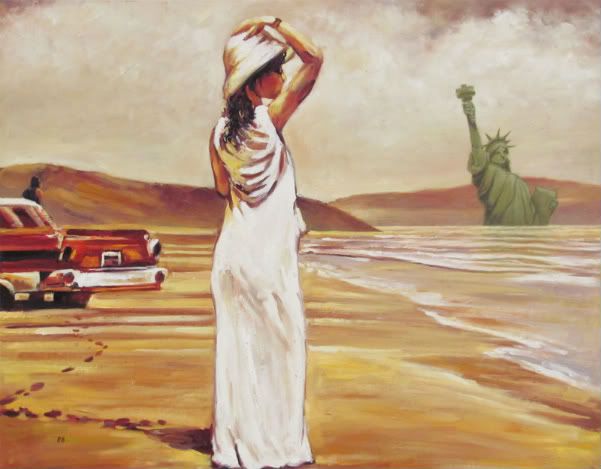 And Robert's words -
"While the drive out to The Forbidden Zone has become more feasible over the last 20 years, one is always advised to keep an eye out for apes. Horse mounted gorilla patrols are irregular, but their treatment of human prisoners is known to be harsh. Still, most people who have made the trip agree that the unique sights are worth the risk."
We'll be previewing a few more before the opening on Saturday night, January 7th, 7-10 PM at Gallery1988 (Venice), so stay tuned! And for the first time ever, we will have prints available of his work!
And remember, the 20% of almost everything sale ends on December 31st. Check out our
Facebook page
, and like it, to get the code. Just plug that in when you're checking out at our website, and you get money back! Just like that.
XO,
Jensen
G1988