We've entered the week of Daniel Danger's Devil Town exhibition here at G1988 (Melrose) and we're so excited. We obviously decided to focus heavily on pop culture art over the past few years, but we're never afraid to change things up a little - and we couldn't be happier to have Daniel as our leader into this brave new world. Opening this Friday, Dec. 2nd, with an opening reception from 7-10 PM, the line-up for Devil's Town is filled with names new to our gallery. We've seen a lot of the work from this show, themed around decayed small town imagery, and we're blown away. I figured I could bring you in a bit too, just to make sure you're as excited for Friday as we are.
Leah Giberson is brand new to G1988, but quick to join our favorites. She'll have two pieces in the show and this one is titled "Kentucky Fall." Raised by artists deep in the woods of New Hampshire, Leah's work is a perfect fit for Devil Town. Leah's pieces are considered "Mixed Media," but I'll let her words explain her interesting and intricate process:
"I start by photographing suburban and urban landscapes and then use these prints to begin my paintings. I work back into the prints with paint and sometimes embroidery thread to alter the setting and distill the essential elements of each image. The lines between the "fact" of photography image and the "fiction" of the paint are blurred at times, but not denied. I am not trying to hide the process, but rather, I am investigating where fact and fiction meet and how they influence and inform one another, creating a new and arguably truer story."
Dan MacAdam is new to G1988 as well, and will no doubt leave quite the impression. This 17-COLOR SCREENPRINT (!!!!!!) couldn't look more like a photo if it tried. I have stared at it for hours, trying to even understand how something this complicated exists and truthfully I've just given up. I love this piece so much.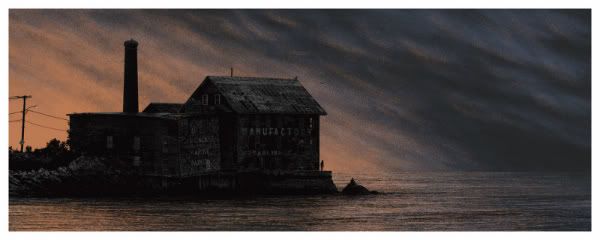 G1988 favorite JC Richard returns with this stunning screeprint, "A Thousand Years Wide." JC has quickly become one of my favorite screenprint artists and the demand for his work has become so furious over the past few months. His Hudsucker Proxy inspired print from Crazy 4 Cult 5 will always be one of screenprints I hold closest to my heart (you know, for kids). I have a pretty good feeling this one won't be available long either.
So, mark it down. This Friday night, 7-10 PM at G1988 (Melrose). Stop by and say hello to Daniel, and many other artists from the show!
And remember, our 20% off sale continues through December. Just go to our
Facebook page
to get the check-out discount code and start saving.
Jensen
G1988 (Melrose)