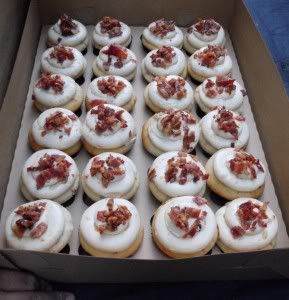 Yes, those are bacon cupcakes. They're made by a bakery/food truck called My Delight Cupcakery and they'll be at the "Please Post Bills" opening reception tonight, and they'll have special Bill Murray cupcakes! We are so stoked to have them involved tonight.
They won 1st place in the LA Cupcake Challenge in 2010 and 2011, so you know this is serious.
Stop by tonight and eat a piece of Bill Murray's face!!!
Jensen
G1988 (Melrose)