Thanks to everyone who came out last night for the opening reception of Reuben Rude's "Americana." Reuben and his wife hung out all night talking to patrons, and it was a fun time for all. If you haven't checked out the show yet, you're missing out. You can do so by
CLICKING HERE!
Figured with the set up of "Americana" behind us, we now we have "An Afternoon With Greg Simkins" this Saturday! Running 12 - 4 PM and this is really shaping up to be a "once-in-a-gallery-lifetime" sort of deal. Greg's newest, and in my opinion, most beautiful print, "Here Stands Matt Riddle" will be released - and it's only an edition of 50 - so move quick! But more on that later.
Today we're going to focus on the laser-engraved "Lonely Knight" wood skate decks, limited to 25. I've shown these off to a few collectors and people just can't believe the quality. Each skate deck has the graphic etched in the board, in a Star Trek laser-ish way, and I know everyone who sees, and touches it, are going to love it. Each will be hand signed by Greg, and each deck is also numbered with the lasers on the back. Here are some detail pictures, in hope that you can wrap your brain around this one...
The numbered back...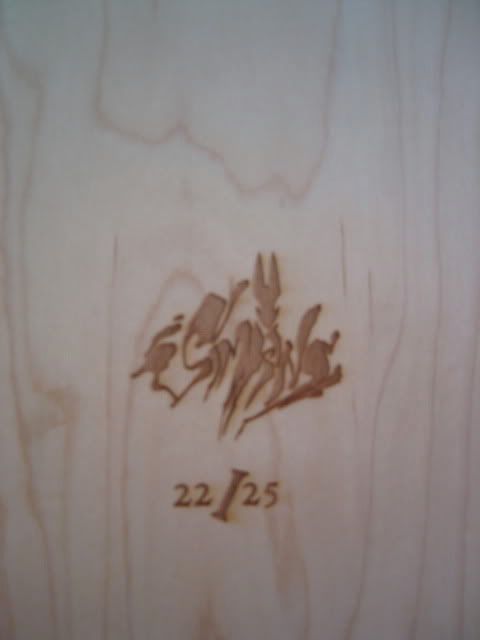 These decks are limited to ONLY 25 and will be $325.00. We'll start selling them this Saturday at Noon PST.
Jensen
G1988: LA