With most people talking about my "golden ticket" yesterday, I've been in a serious Willy Wonka mood. And lo and behold, artist Ryan Sanchez delivered his Willy Wonka inspired Crazy 4 Cult 3-D piece today to feed my hunger. This is Ryan's second Wonka painting, this year now focusing on a new ticket-winning child, and binge eater, Augustus Gloop. If you don't remember Ryan's stunning piece from last year, that's because it sold within 5 seconds on hanging it on the wall. Here's a refresher...
That's his Violet portrait, plump and ready to be rolled. And for this year's piece focusing on everyone's favorite little boy who can't say no to food, Ryan outdid himself...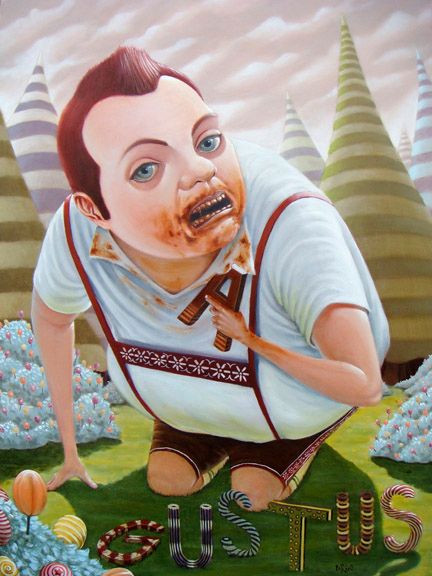 You have to see this in person. And you can. Remember July 16th - Crazy4Cult 3-D!!!
Jensen
G1988: LA