Here we are. The last day of Luke Chueh's Inferno. Tons of people have been walking through, and we want to thank Luke for creating such an extensive and progressive show. We've loved growing with him since 2004 and this show was no exception!
For the last two days, we've had some super secret filming going on in the gallery which included Brandi Milne, Dabs & Myla and eight hours of no break live painting. Sounds like a scene from the movie Saw, but it was a pretty awesome experience. I'll let you know, when I know more about when/where you can see it.
So now we make way for Alex Pardee's insane Halloween visions, which will open this coming Tuesday, with an opening reception from 7-11 PM. Alex will be arriving into LA tomorrow and will be in attendance all night Tuesday (this time no homeless cutting dudes invited! Google away, if you don't know that Pardee story!) We've all been very secret about Alex's new work, so here's your first, and possibly only, preview...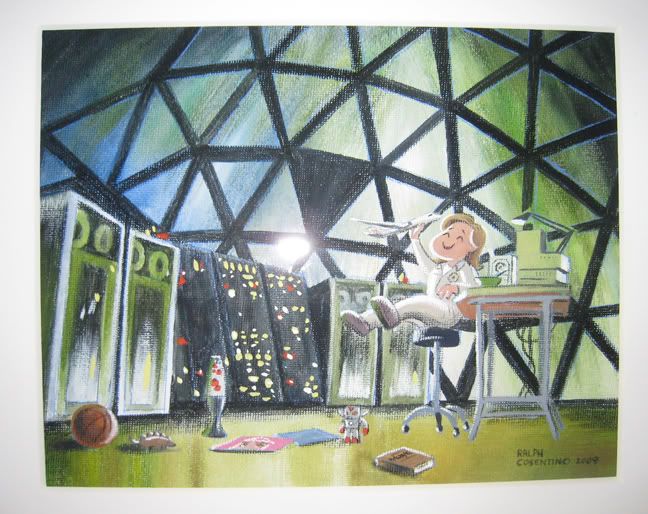 This is one of Alex's new demented characters he created for a painting, which will all tie together with a story and tale he created specifically for this show. I'm a bit scared. This show is going to be epic.
And today marks a pretty important day for Crazy4Cult fans who have been waiting patiently for the second coming of Jeff Boyes' Professional print. We have the second edition, now with new colors, as an edition of 33.
Jeff Boyes
"The Professional (Blue)"
4 color screen print on archival paper, signed and numbered edition of 33
26 x 13 inches
$60.00
This sold SO FAST during the CFC show, we decided to create another chance for everybody. If you want one, call us at (323) 937 - 7088 or email us at gallery1988@aol.com and we'll take your order before they run out again!
Have a nice weekend....
Jensen
G1988: LA