Wow. Well, last night brough a whole new meaning to the term "art rock star." The line started at 5:30 outside the gallery and when we opened at 7, Alex Pardee signed and drew consistently for almost 4 hours. We have NEVER had that many people in the gallery for a solo show opening reception. And for good reason. Alex Pardee knocked it out of the park.
You can now see the whole show at http://themarrowisreal.blogspot.com
. And you SHOULD. And if you have the chance to stop by the gallery to see the entire installation, which includes almost 20 pages of text he's written about each character and the show's concept, a life size boar-headed mannequin woman and terribly incredible paper mache masks of Robocop, The Hamburgler, Spiderman and many others. You have to experience it first hand. I tell you.
Here are some pictures from last night's insanity, which includes many of the cosutmes, including the G1988: LA gang. Note where I stole some from, as that's being "Internet polite."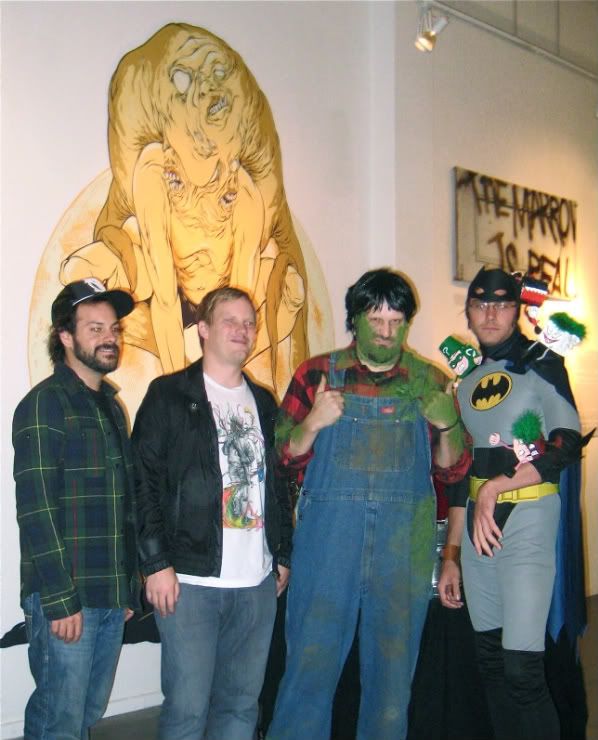 Check out Alex and friends before the show. Now I get that your eyes went directly to Alex, who is sporting an exact replication of Jordy Verrill from "Creepshow," but check out the guy on the far right. He's not only Batman, he's a replication of Alex's infamous painting of Batman...seen here:
That's an incredible costume.
Gallery manager Amber is KERRAZY.
all pics below from DailyDuJour.com
The whole G1988: LA crew. Our intern Michelle can take to the seas. I'm the bee girl from the Blind Melon video.
You get a slight feeling of the installation Alex created to tell the story in those pictures.
Kids WAITING semi-patiently at 6 PM.
The creepiest paper mache masks ever. These were a surprise to buyers, as we kept them off the preview or online, for $100 each.
The BIGGEST decal I have ever seen.
And her. Standing next to her painting.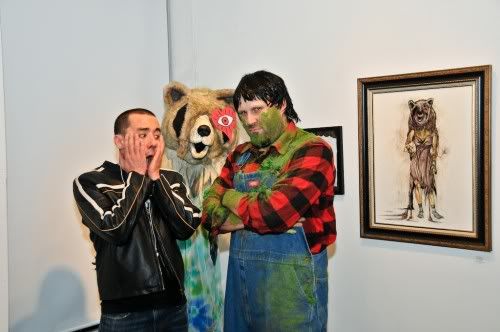 Trick R Treat writer/director Michael Dougherty standing with Alex in front of said painting. Good luck finding the Trick R Treat Blu-Ray. Sold out everywhere and selling better than Up, Transformers 2 and other movies that don't scare the crap out of you.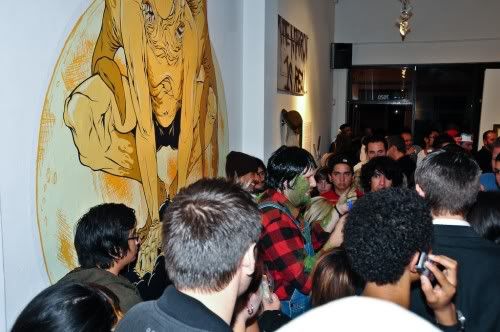 This was what Alex felt for 4 hours straight.
And this is what we saw from the desk.
This is a night we won't soon forget. And neither will LA Weekly.
CLICK HERE
for the whole story at LA Weekly.
Again, we're so proud and thankful for Alex Pardee. He really has went through such a journey during the past 6 years we've known him and this all couldn't have happened to a better dude. CONGRATS, sir. Thanks for taking us along for the ride.
Jensen
G1988: LA