Tired from Comic-Con and knowing that every blog from here to Endor have covered the event, I figured I would just do a quick photo entry with small captions - as we are really pleased with how the G1988/Mattel events went. So here are the pics.
This signage explains the customized vans, but does not explain my smile.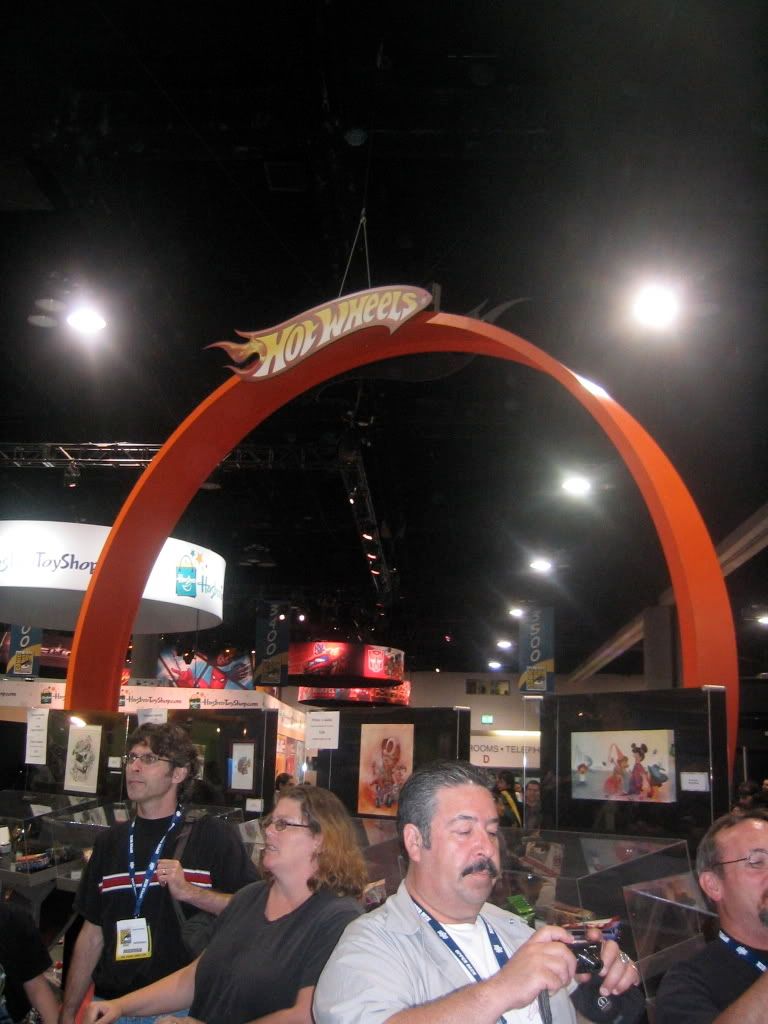 Booth pics. Mattel did a great job displaying a few of the paintings from our "TOYS!" show, as well as almost 25 of the customized vans, which included...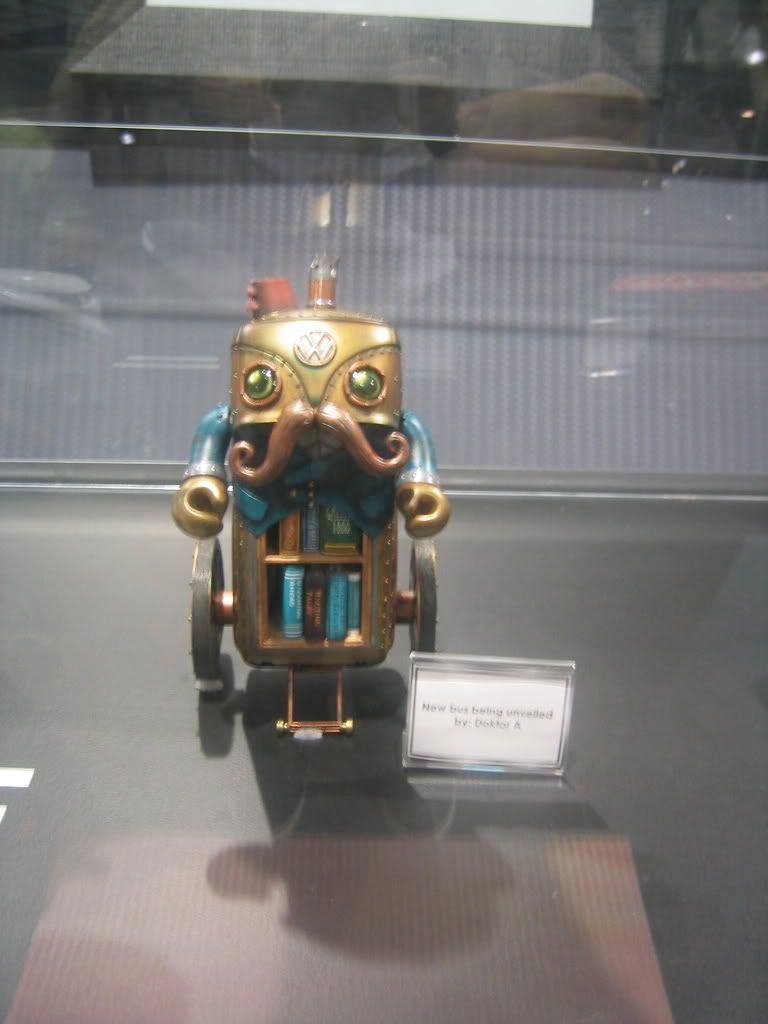 ...the van of the hour, Doktor A. This one really does have to be seen to be believed.
The view of the booth was pretty awesome...but a look to the left, and this is what we saw all day.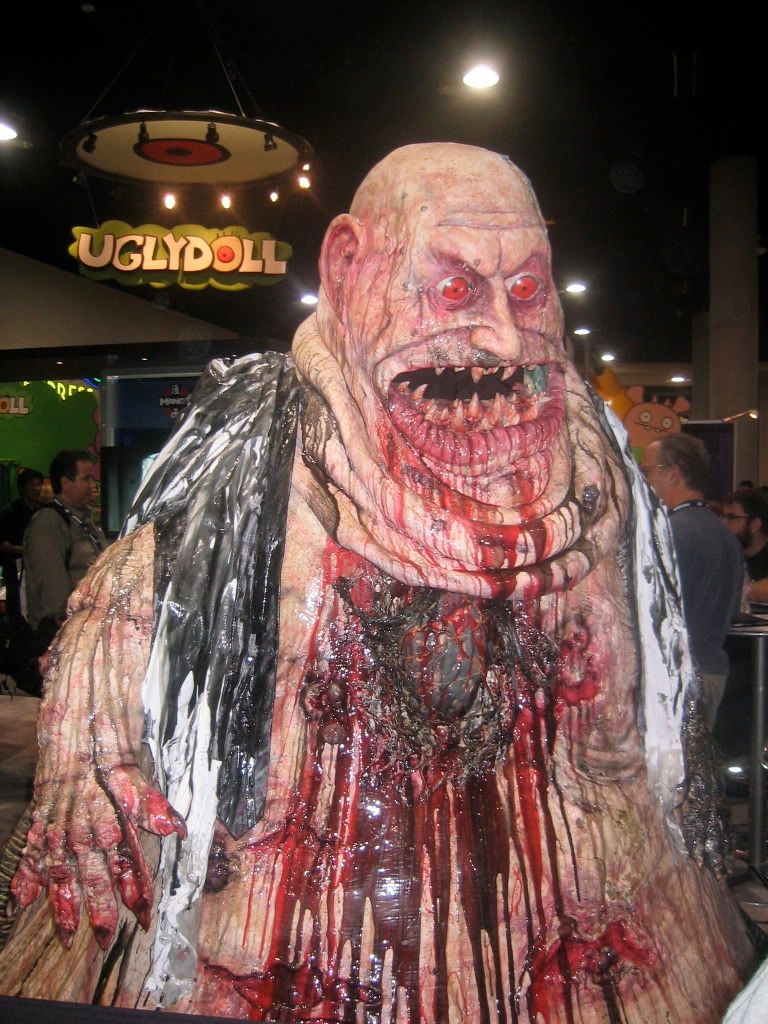 I also had this monster as the centerpiece at my Bar Mitzvah, so it wasn't as shocking for me.
Then, Mattel had this baby in front...
Sidecars need a comeback.
So, remember, in addition to the vans on display, we had signings with Brandt & Kathie, Greg Simkins and Ken Garduno, which also marked the release of limited edition prints and shirts.
Crappy pic of the shirts, which we will have for sale soon in the gallery!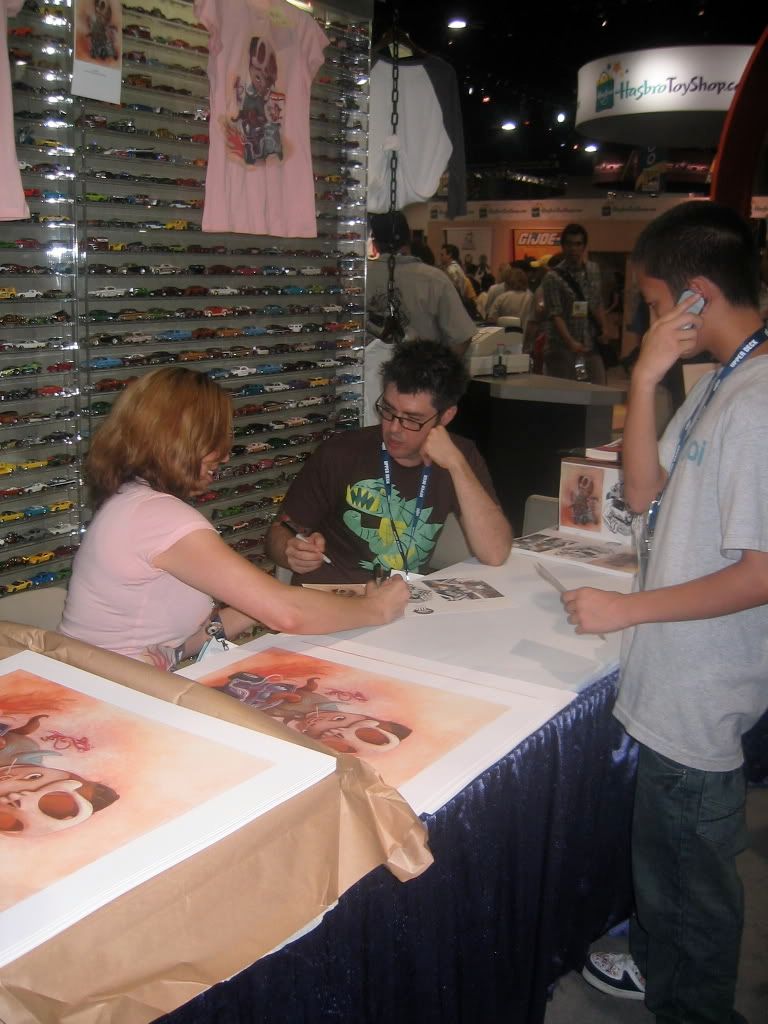 First up, Brandt Peters and Kathie Olivas got their sign on...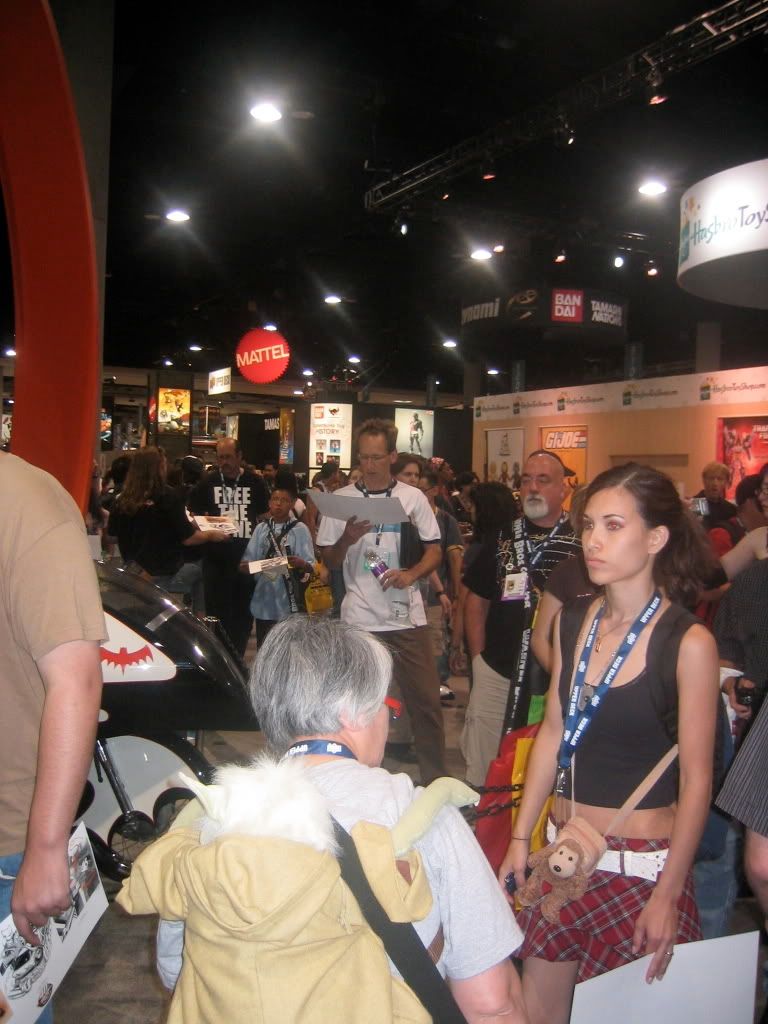 The cliche line shot.
This girl has some Kathie inspired tats, which could only be outdone by...
...Brandt, who not only has a full sleeve, he married her! Take take, collectors.
Next up, Ken Garduno.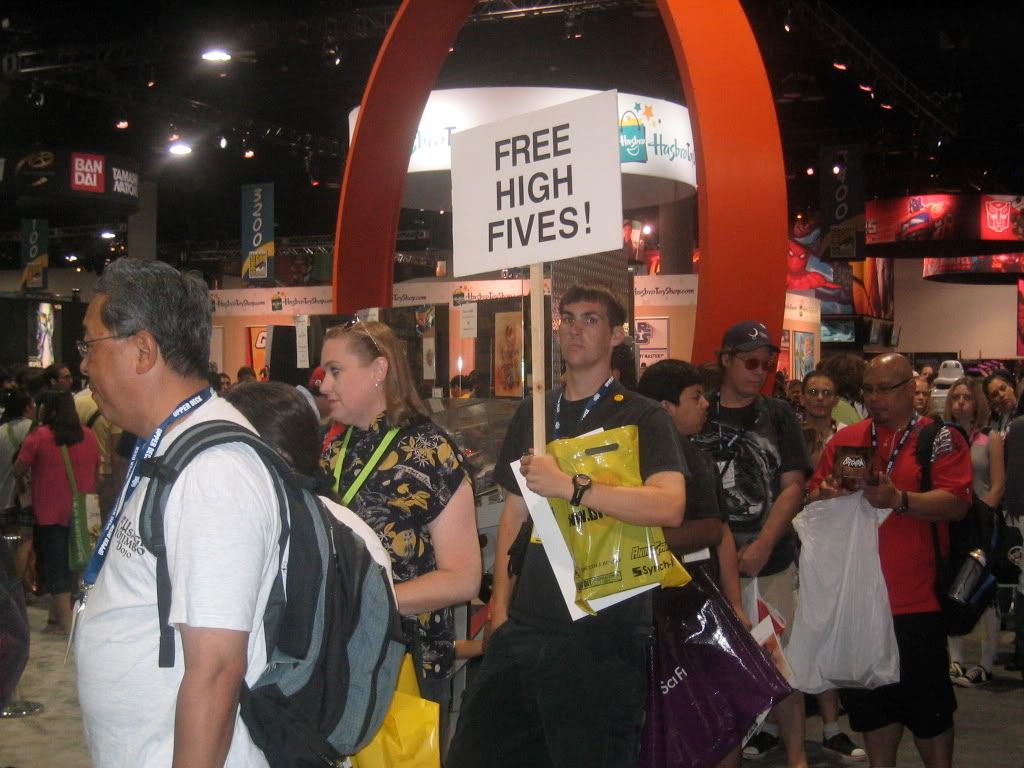 Besides being long, Ken's line also had a dude in it who was carrying around a "Free High Fives" sign. Best part about him, and I don't think I can really convey this correctly, is that he would receive excited high fives from people in his own most somber way. High five, no smile from him. He'd click a little counter and keep going, even if the guy or girl who high fived him was so excited. And he was by himself. It was almost like this was a mission to get a certain amount of high fives. And it almost seemed like he didn't like doing it. Like he was forced by a terrorist to get a certain amount of high-fives or a bus with Keanu Reeves on it blows up. Needless to say, we all got high fives (and the one pic I got of him doing it, he's smiling).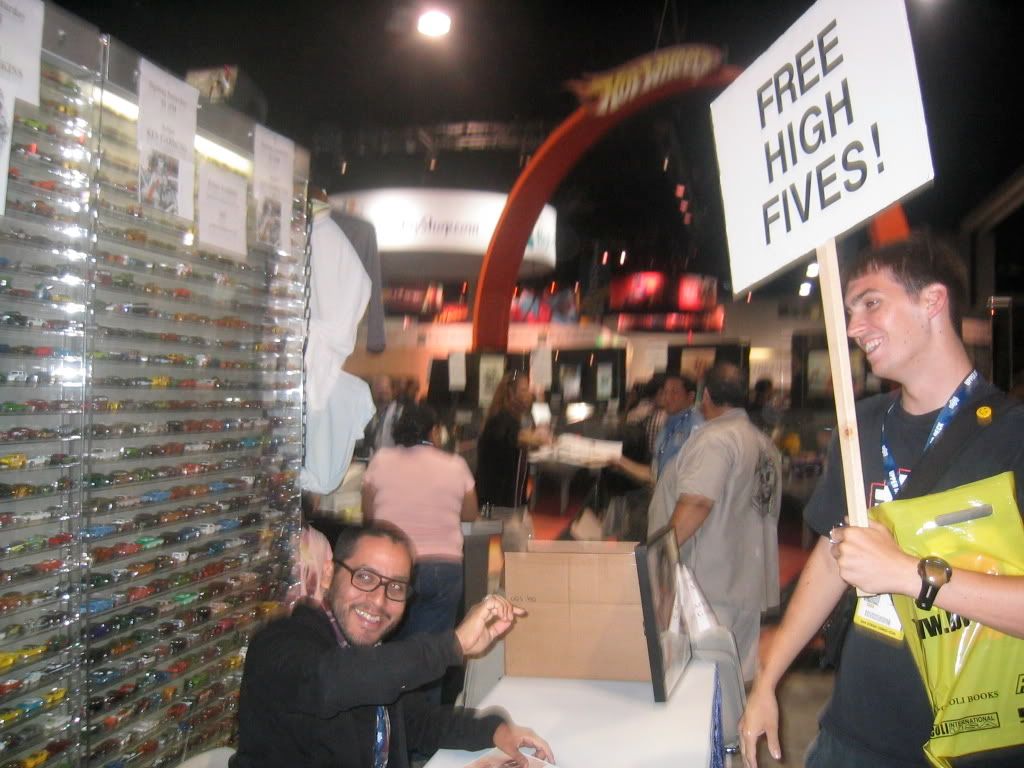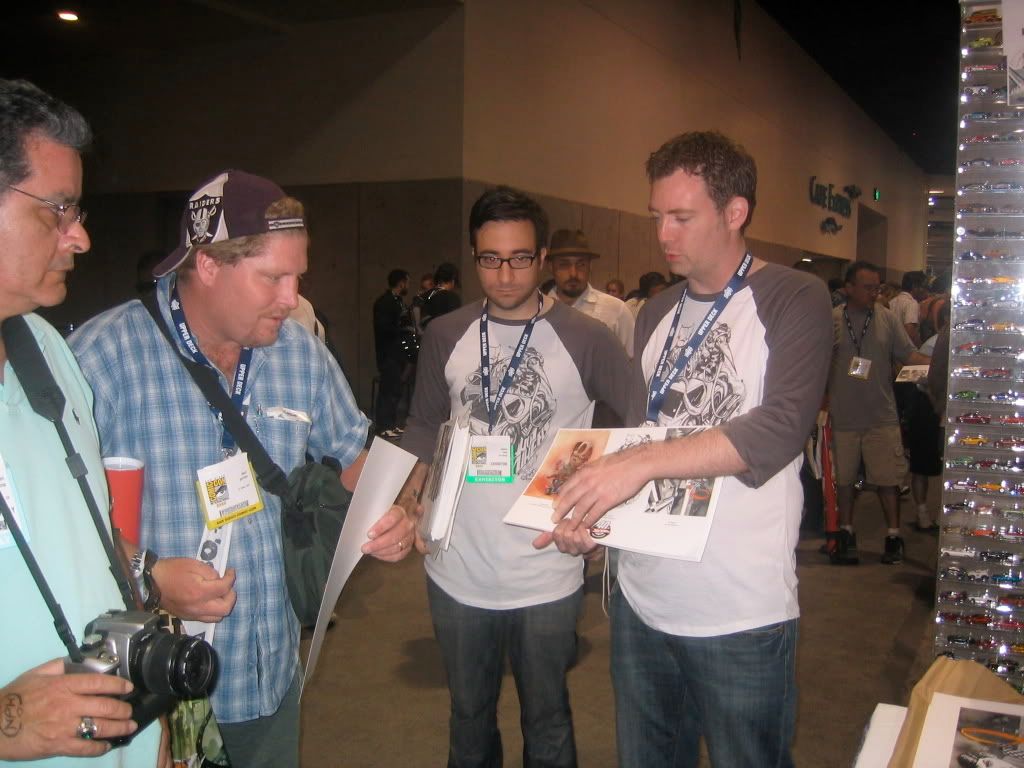 Me and HW Guru Mark Morse game planning. He is the Phil Jackson to my Kurt Rambis.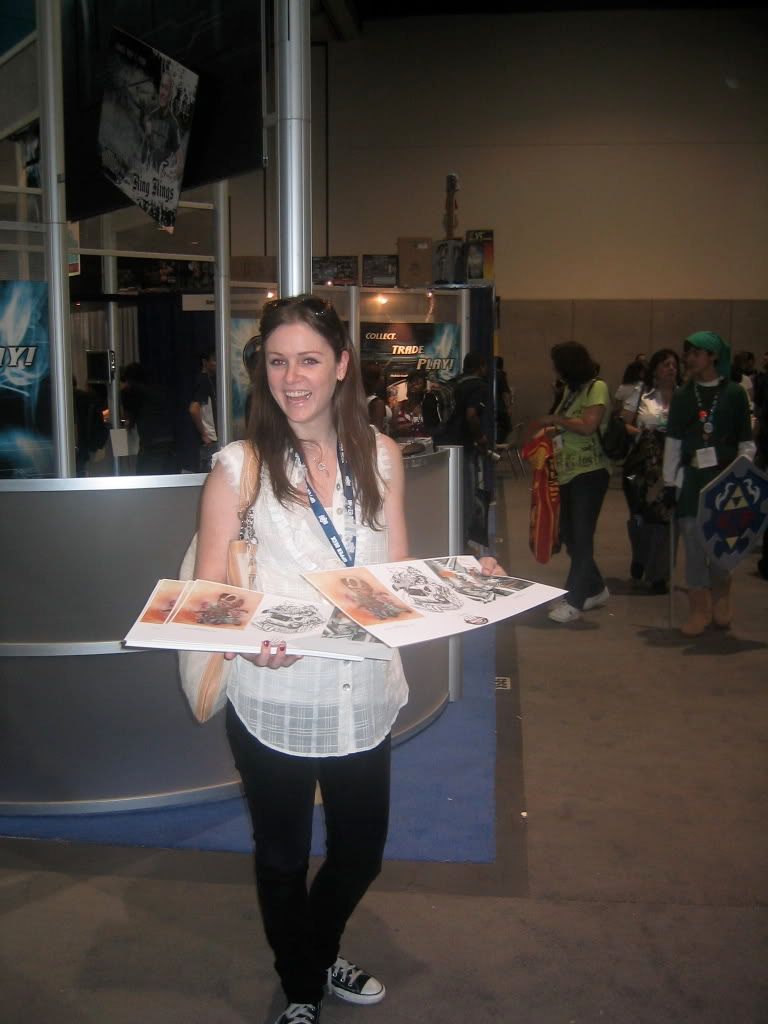 My girlfriend Chrissy handing out free posters to have signed. This week was one of those, "I owe you one" things that probably will never have something big enough on her end to actually equal each other out.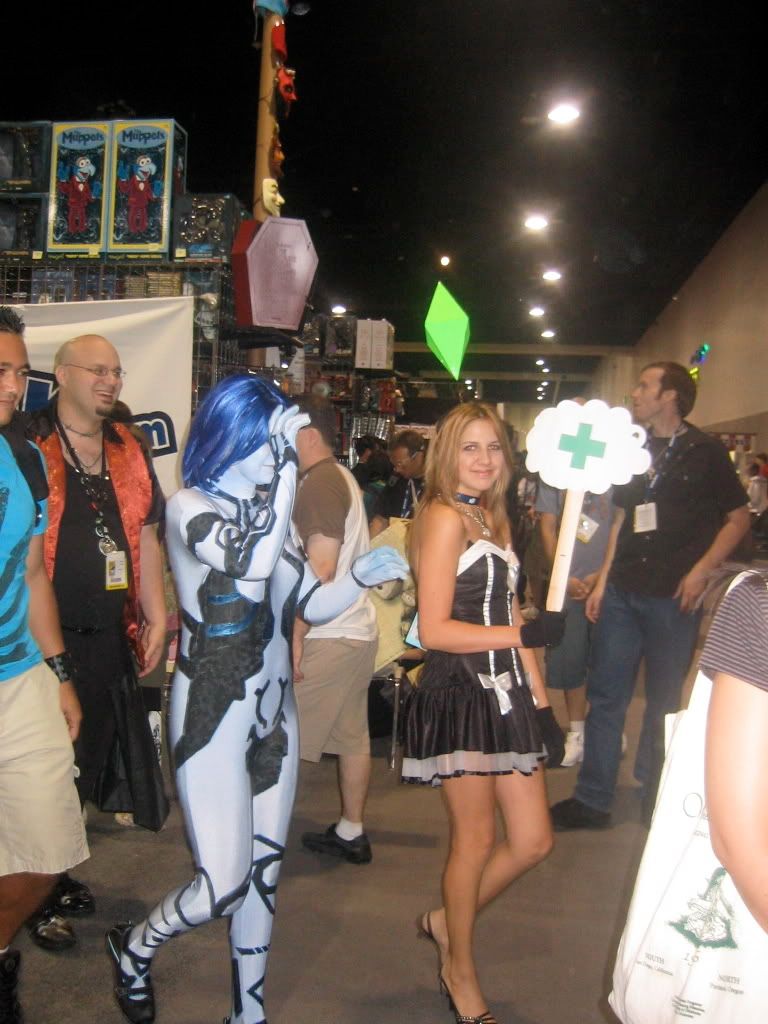 Oh, this was my favorite costume. She's a maid from the Sims. Pretty good, but rather 1994 of her right? Next year, I'm going as Leisure Suit Larry to keep the outdated video game thing going.
Oh, and this was my favorite thing at Comic Con...
I'm getting a little obsessed about Lego art, and have made a pact to get something in the next few years. Just need the right idea...
And then it was time for the Greg Simkins signing...
And there he is signing his new toy, Cap'n Rotnclaw, also released during the Con.
No caption really needed.
And finally, we had our Angry Woebots shirt/print combo release at the Baby Tattoo booth.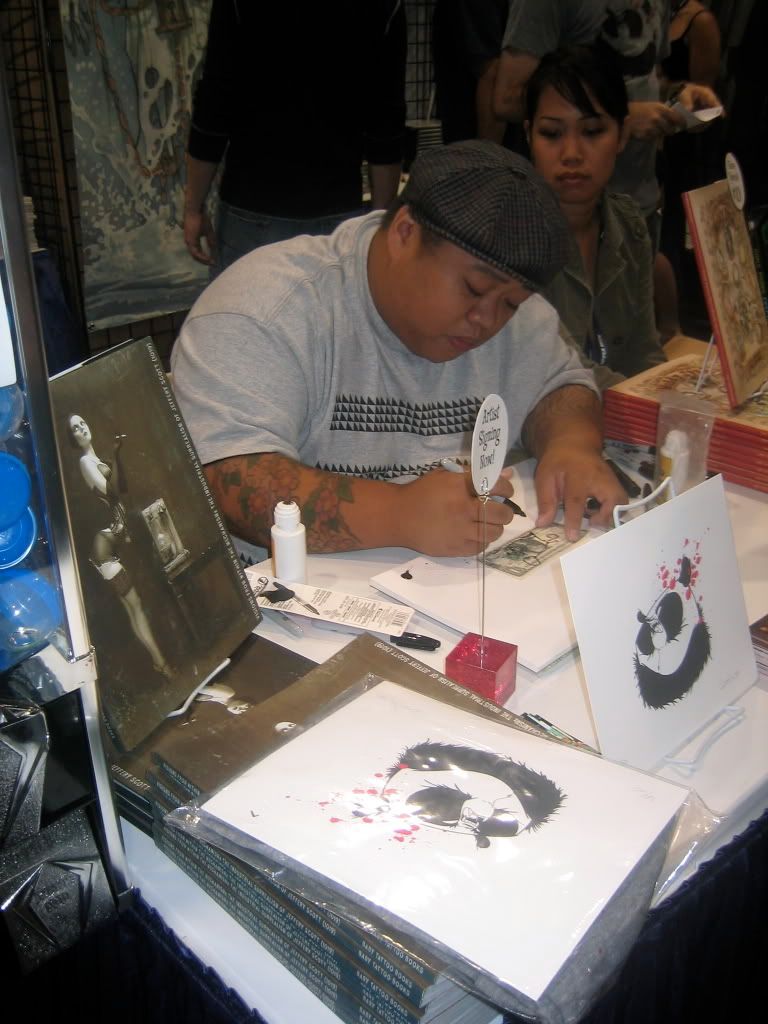 We have some of the shirt/print combos for sale in the LA gallery right now...but stay tuned to the blog this week to find out how to buy them online.
I'll be updating a lot over the next few days since we'll be announcing the entire Crazy 4 Cult line-up, which is undoubtedly our best ever and revealing the entire Andrew Wilson Crazy 4 Cult poster in mere hours.
Till then, nerd.
Jensen
G1988: LA