So, for those who don't know, before Katie and I opened the gallery in 2004 I was in a rap group (YES, a rap group) called Hot Karl and we were signed to Interscope Records and EMI Publishing. I had won a daily radio rap battle for a record 45 days here in LA, and was then met with a handful of record label offers. What started as a joke (I called into the radio station on the way home from a college internship and made up "Hot Karl" literally at the last minute) became a SERIOUS payday, which was always VERY weird. We worked with Kanye West, Redman, Mya, Fabolous, Black Eyed Peas, Sugar Ray and DJ Clue, were featured on the video game NBA Live (where I was a secret character), opened up for heroes of mine (Kool Moe Dee, Slick Rick, Phife Dog, Big Daddy Kane, etc.) and just altogether had a good time. I ended up releasing a CD in 2005 called "The Great Escape," when I had already left Interscope, at a label called Headless Heroes. Truth is, I didn't really want to rap anymore (as seen in the title). I had been through a pretty serious affair in the biz and was ready to move on, but I also wanted to see a CD in the stores that meant something to me. And that was it.
We did a small run to promote the album, but our hearts weren't in it - and we knew it. And those were our last shows. I have since focused 100% on the gallery, while the two other members of the group have went on to grow up as well. Matty Boom has co-written a script with Ricky Gervais called "The Other Side Of The Truth" which he will co-direct with the British icon (who will star in it) and Sancho, our DJ, is married, a house owner and making a great living promoting other music acts online. All growns up.
Which brings me to two different things....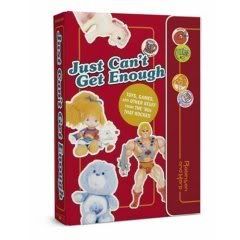 Matty Boom and I have written a book called "Just Can't Get Enough" from Abrams Publishing, which you can get anywhere, including Amazon.com and Urban Outfitters in November. If you like the writing here on the blog (and want to see what Ricky Gervais likes so much from Matty) you should pick it up. It's a book (made to be a Trapper Keeper) that chronicles photos of 80's toys and essays from us about our memories. I think you'll think it's funny, as we wax poetic on Lite Brite, Madballs, M.U.S.C.L.E. Men, Rainbow Brite, the 6 foot G.I. Joe aircraft carrier and many other delights from the 80's. It's a good read and would like to know what you think for sure.
AAAAANNNNDDDD...
We're having a release party for the book this Friday, October 19th.
Yes, we will perform as a group for the last time ever, and you will see something you probably can't even imagine in your head - me rapping. All in the name of the new book! It's a free show at the Terrace Restaurant in Pasadena. The doors open at 9, which means we'll most likely go on at 10ish. I promise you it will be a fun time, and if you ever thought to yourself, "Jensen used to rap? That is so odd." Well, this will be the last chance to actually see this weird attribute and my former life.
I hope to see all of you there.
Jensen
G1988: LA