So I can rattle off at the mouth now, as I was mostly hiding a lot of my excitement for Greg Craola Simkins' solo show until it debuted, but YES, there were two paintings clocking in over 5 feet and just totally mind bending art work in this show. We sold the entire show out in about 40 minutes, and that's only because we have two phone lines, and two people working sales. If we had 22 phone lines, basically one line per piece, we would've sold out in 22 seconds. All the work is now posted on our regular 1988 website, although Ronnie Pirovino's online report has better pics over there (which you can see by "
clicking HERE.
"but here are party pics - as it was mobbed like an OJ Simpson hotel room.
The obligatory crowd shots...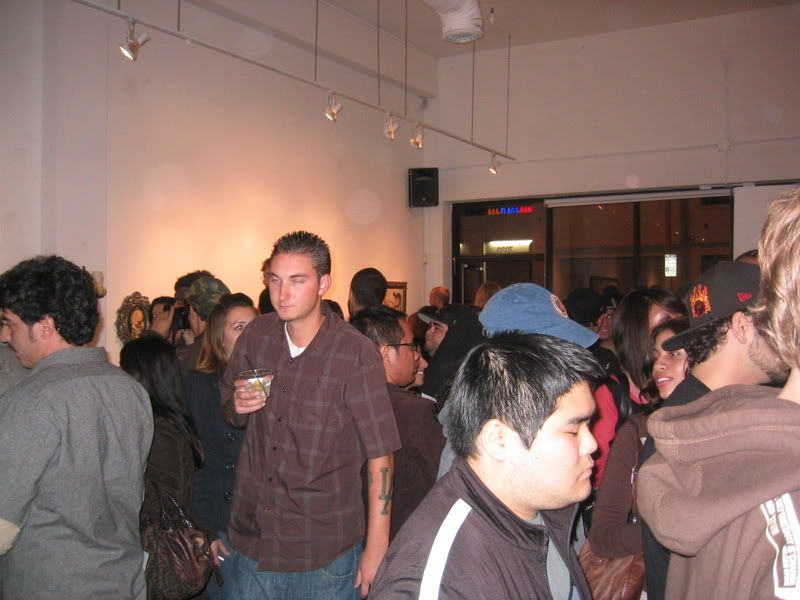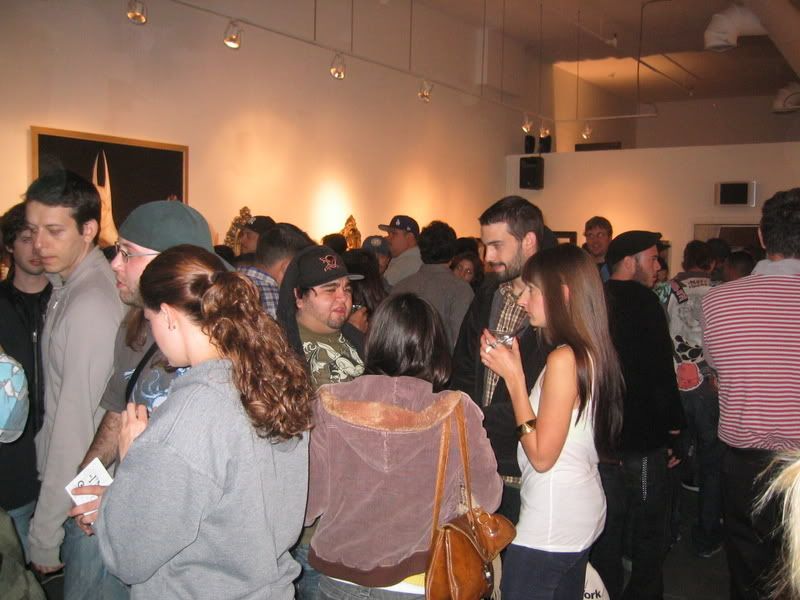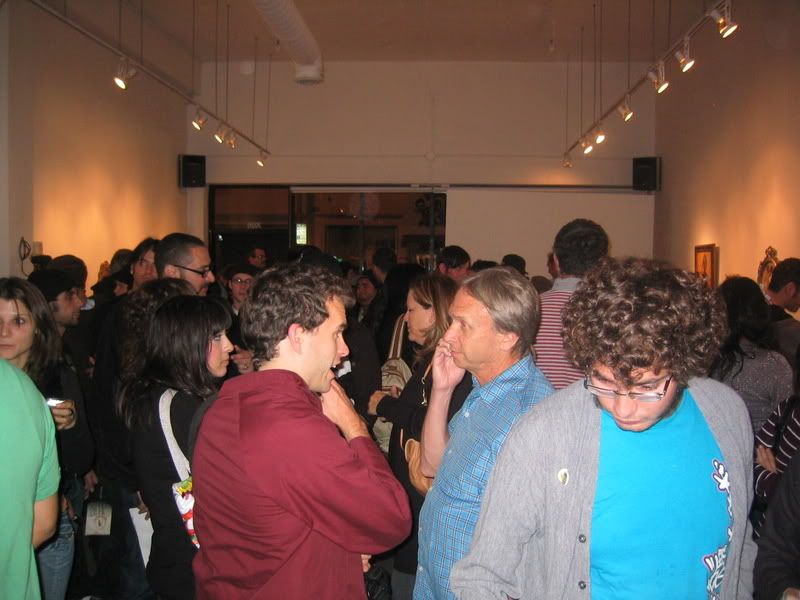 And all those odd things Greg was bringing in all week made for a pretty sweet window installation, incorporating elements found in all of Greg's paintings, and also spelling out "I'M SCARED" in carved white pumpkins.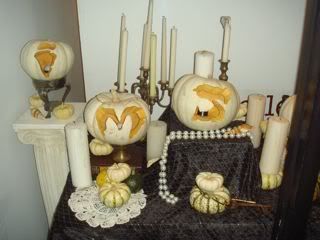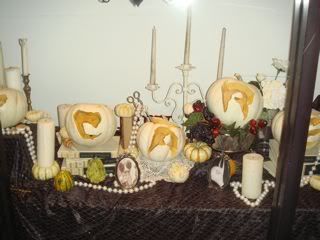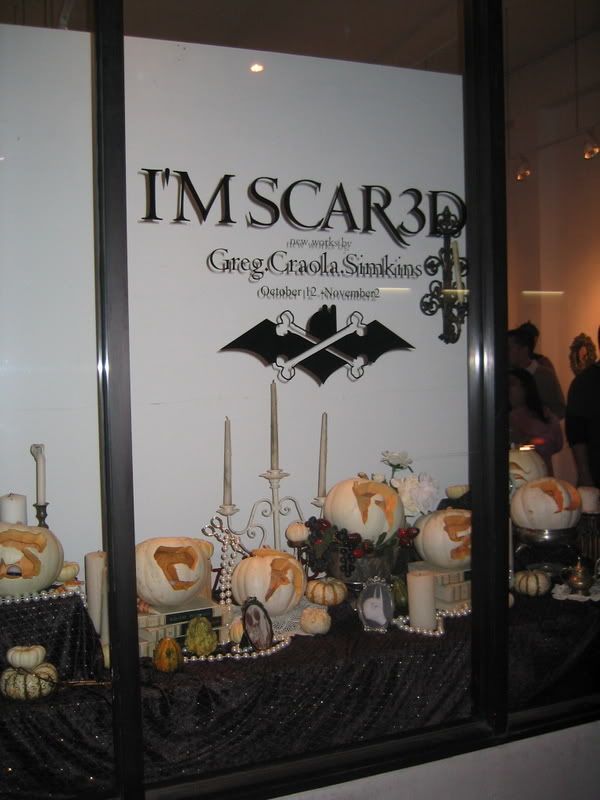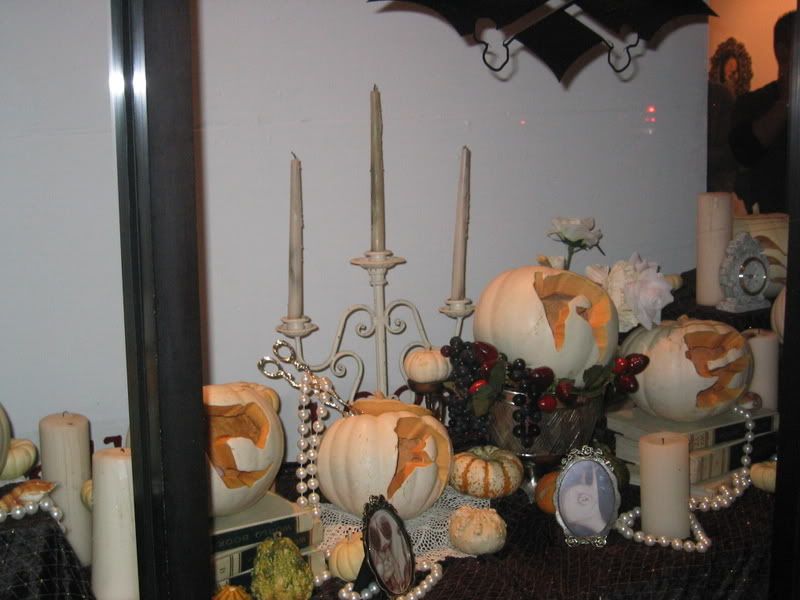 The men of the hour - Simkins and the current 1988: SF curator Anthony Ausgang get their "3rd grade best friends pose" on"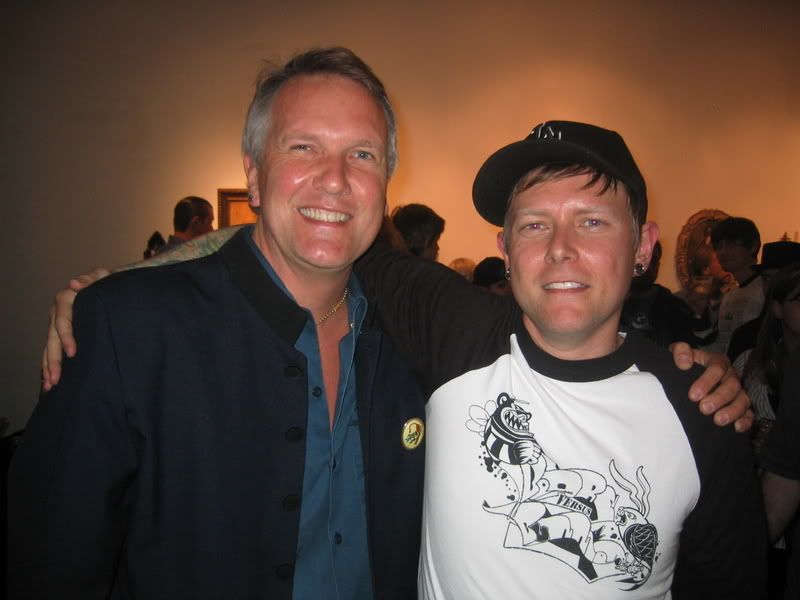 This is the toughest looking gang I have ever seen. I like to call them "My Chemical Romance Crips"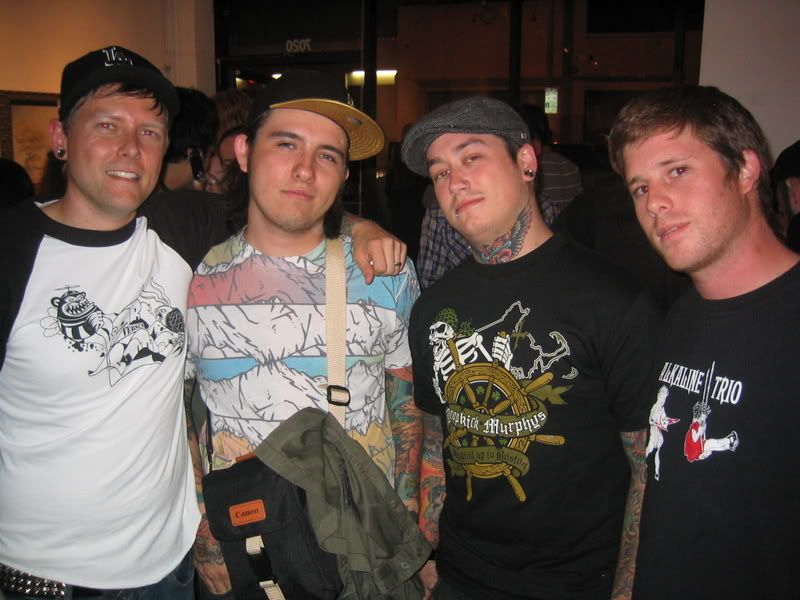 Father Craola was VERY happy for his son, as Craola will be for Lil' Monsta at his second 1988 solo in 2028.
The new canvas giclee print sold out, as there were only 25 - hand signed and numbered, at $500 each. Some peeps got them signed twice, one for each tentacle.
The Simkins Trio in front of the Baron.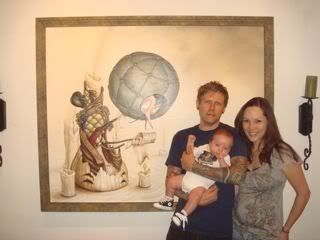 Pics of the gallery and wall installtions.
An in-action, behind the scenes shot, of Greg carving away at pumpkins...did you know they make electric pumpkin carvers?
The Leece fam, proud owners of the Greg's largest piece, Winter's Knight, over 6 feet tall!
AND over at Golden Apple Comics today, they had an insanely dope (insanely dope = nerdy to the point we shouldn't have girlfriends) signing today. To celebrate the new Treehouse Of Horror Simpsons comic book, they had writers and cartoonists from the Simpsons comic in store. AND two of the writers of said issue are Patton Oswalt (Comedians of Comedy, Ratatouille, etc.) and Thomas Lennon (Reno 911!, The State, etc.). I am a VERY big Reno 911! fan, so seeing these two guys (Patton plays a D&D dweeb reocurring on the show) was something I was really looking forward to for weeks.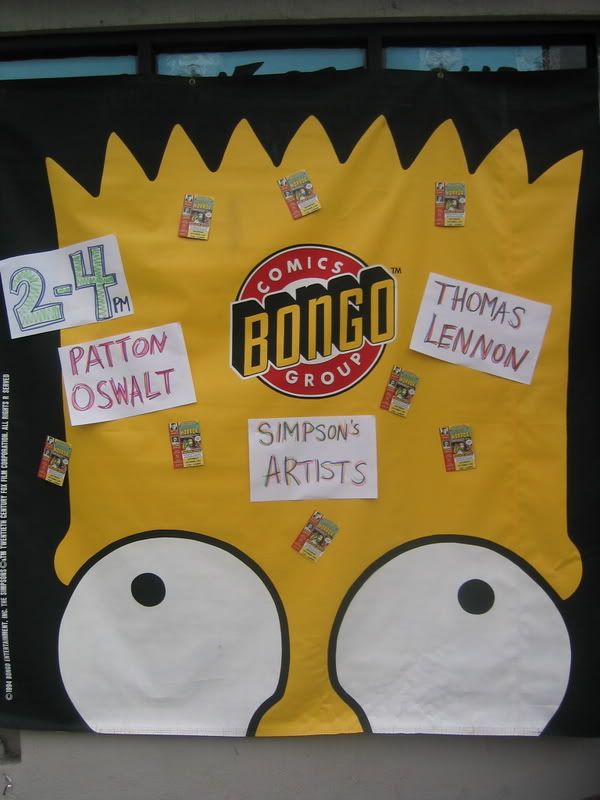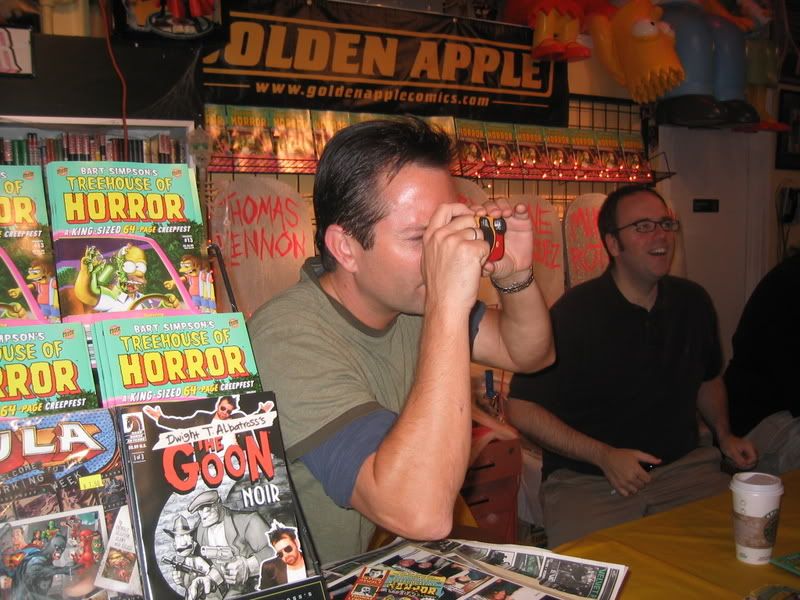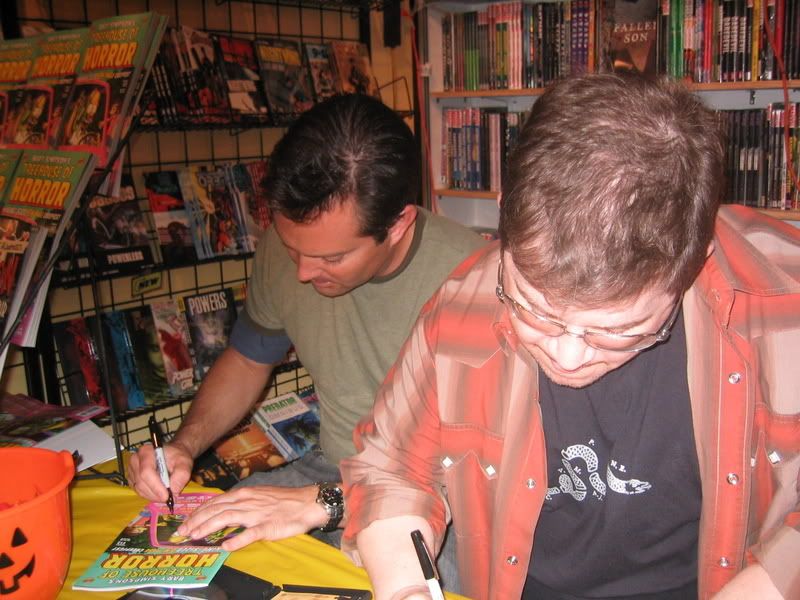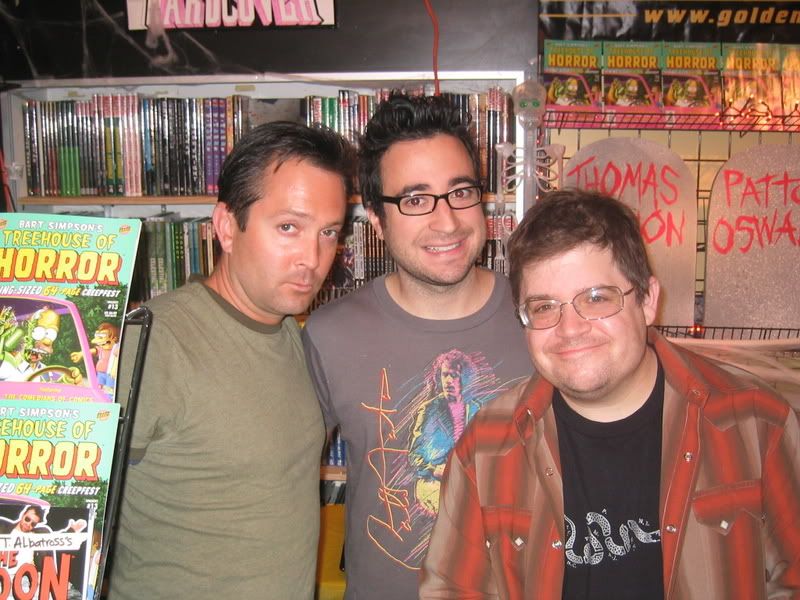 Man, love Thomas Lennon.
Anyway, thanks to all who came out last night and a serious shout to Jenn, Greg, Isaac, George and the whole Simkins clan for an amazing night, and a show we won't soon forget (until next year because ideas are already flowing!)
Jensen
G1988: LA