I survived the tornado here in Hollywood, which I guess is now getting some major network coverage, evidenced by my Mom calling and yelling, "Are you OK?," about 10 minutes ago. But look what the wind brought in...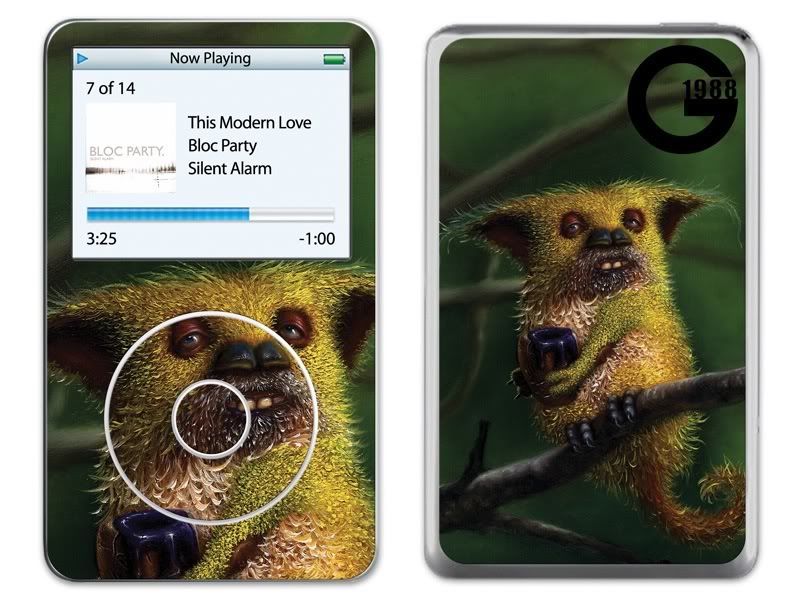 This is a collaboration with our friends over at Gelaskins, a stellar company who produce hi-end stickers to decorate your IPod with. They were nice enough to produce these babies for our SF gallery opening on April 21st. With the artwork of newly G1988 represented child prodigy Matt Dangler, these IPod skins fit the Video Ipod and the Nano. "The Dangler" will deliver his 8-bit opus, which he has been spooning in bed with for weeks, in the next few days and I'm chomping at the bit. Also, he'll be the one wearing the birthday hat at the 8-bit opening reception, as it is his day of birth on April 17 and he's spending it in LA! Tell the kid happy 14th birthday (joke, although he is the age of Lil' Bow Wow) and then drool at his piece.
In the menwhile, you can get these Ipod skins, THANKS TO GELASKINS, for free by attending the Gallery 1988 SF GRAND OPENING on April 21, 2007.
Jensen
G1988: LA