Mario, Pac-Man, Link, Dig Dug, Mega Man, Q*bert... sound familiar? Video game inspired artwork is coming back, the G1988 way.
Scott Derby "OG: Original Gamer"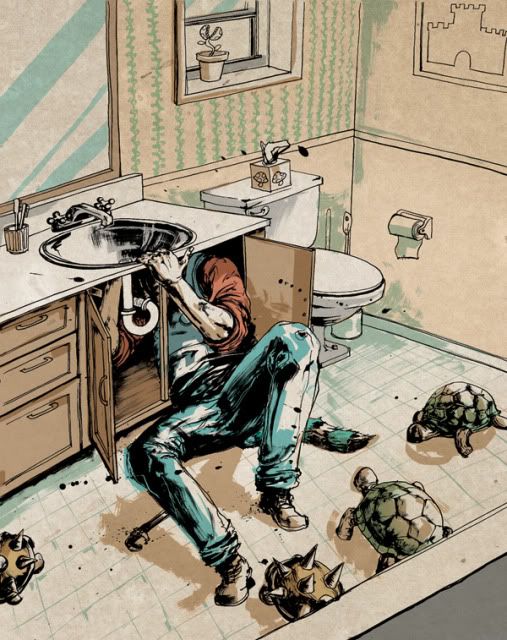 Pat Kinsella "Super Plumber"
Dave Perillo "Dig Dug Digs Balloons"
The Autumn Society is an artist collective based out of Philadelphia, but is now branching out worldwide, and in 2 days they're opening their very own video game tribute art show. The show will take place at Brave New Worlds Comics in Philadelphia and will feature original works inspired by your all time favorite video games, from Super Mario Bros. to HALO.
If you love video games and affordable artwork, you can't miss this show. You can check out some sneak peaks on the Autumn Society blog and if you like what you see, we have some good news because exclusively here at G1988 we'll be releasing limited edition prints of some of the standout pieces in the show, including the three images above!
We know first hand that video games and original artwork are a perfect match, so we're very excited to be involved. Stay tuned for these new print releases, as well as an exciting collaboration project with G1988 and the Autumn Society in 2010!
Remember the show opens this Friday, August 7th from 6-9PM at Brave New Worlds Comics in Philadelphia (45N 2nd Street, Philadelphia, PA) with live music from Doctor Octoroc.
And very soon prints can be found here at G1988 Los Angeles and G1988 San Francisco.
For more info on prints:

Call G1988 SF at
(415) 409-1376
or email at
gallery1988sf@gmail.com
For more info on the show:
The Autumn Society blog -
http://theautumnsociety.blogspot.com/
Brave New Worlds Comics -
http://www.bravenewworldscomics.com/