600th post. Feels nice for really no reason.
Wrapping up Crazy 4 Cult 3-D tomorrow. People will start to pick up their pieces and we'll begin the shipping process of what turned out to be the most successful show of 2009 so far. We really loved this year's installment, although missed our hosts Kevin Smith and Scott Mosier (but don't yet count them out of G1988 this year), and we want to thank EVERY artist who participated and obviously worked their asses off to make the show look that good! And thanks to every blog and press outlet who covered it! And don't say you weren't warned...."CRAZY 4 CULT 4: The Case of the Redundant Number" in 2010!
And now we look forward to "Monsters of POP!" opening this coming Tuesday, August 11th, featuring the work of Kiersten Essenpreis, Brandon Bird, Dave MacDowell and Netherland. We've shown you some of the Netherlan goodness last week...so for your weekend enjoyment here are two more sneak peaks at the 4-person exhibition.
"Freddy's Mishap" by Kiersten Essenpreis might be my favorite yet. Kiersten did an entire series with her take on classic monsters and in this one, Nightmare on Elm Street's Freddy may have over extended himself a little. Look for her takes on Hitchcock's Birds, the Haunted House, Medusa and the Bad Seed. Pretty cool.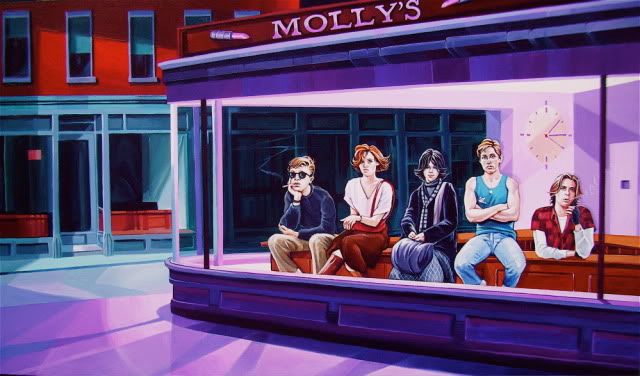 In what has to be the saddest coincidence in gallery history, Dave MacDowell pays tribute to the late John Hughes, a writer/director that not only was always one of my favorites, but also helped shape my generation. This is Dave's take on Edward Hooper's "Nighthawks," replacing the gloomy Diner inhabitants with the cast of the Brat Pack classic "The Breakfast Club." When Dave sent me the picture of this piece a few months ago, I LOVED it. And after the untimely passing of Hughes yesterday, I love it even more - as it captures the magic of The Breakfast Club, and pays tribute to one of the best. Awesome.
Remember, this and more at "Monsters of POP!" Opening Tuesday night, August 11st, 7-10 PM at G1988: LA.
Jensen
G1988: LA