"Idiot Box" is so insanely soon here at G1988: LA and we're getting 5-10 pieces a day here in the gallery now. And each one is more impressive than the next. Kiersten Essenpreis, who has quickly become one of my favorite artists around, took Seinfeld worship to a WHOLE new level with her piece, "Seinfeldology (a.k.a. 99 Seinfeld References)." And yes, it titled literally.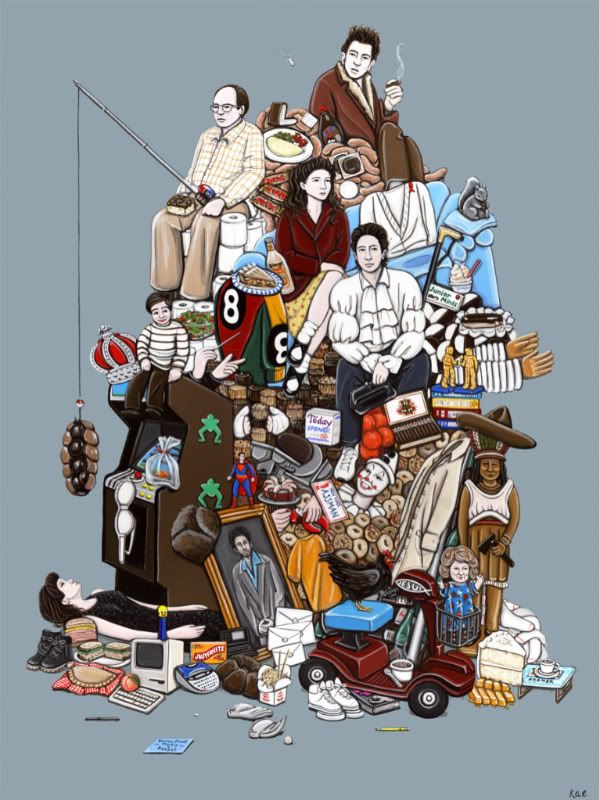 So insanely perfect and detailed. And you know what that means? It's contest time. Using the key below, write down as many of the 99 Seinfeld references you can, matching them with the numbers.
To enter, if you live in Los Angeles, give me your attempts by hand at the opening reception on April 2nd. If you live outside of Los Angeles, but in the United States, mail us your entry at:
Gallery1988: LA
7020 Melrose Ave.
Los Angeles, CA
90038
Please make sure to include your mailing address on the entry, in case you're a winner. The entry MUST BE RECEIVED at the gallery by April 2nd and
WE WILL NOT BE ACCEPTING EMAIL ENTRIES AT ALL.
Unfortunately, this is a US only contest. If we have a tie, the winner will be chosen by random picking, by my dog, Benjamin Peeny.
The winner will get...an artist proof print of Luke Chueh's "Disintegration" giclee.
Yup. That's the grand prize. Pretty sponge worthy.
Jensen
G1988: LA