Slowly creeping up on "Idiot Box" here at G1988: LA and it's time for another sneak peek! This time from artist Jeff Boyes, who has created a special screen print, not only to celebrate the 5th Anniversary of the gallery, but also the 20th Anniversary of Saved By The Bell!
A 3 color screen print titled, "ZM1991," it give Jeff's twist on Zach Morris's signature hi-tops and tucked in tight jeans. And that awesome little Bayside logo in the corner!
Limited to only 33, this is going to be a tough one to get your hands on.
Jeff has also been chronicling the screen printing process over at his website,
www.visualtechnicians.com
I'm sure he'll be updating more, since he said the detail has created one of the toughest jobs he's ever had with printing.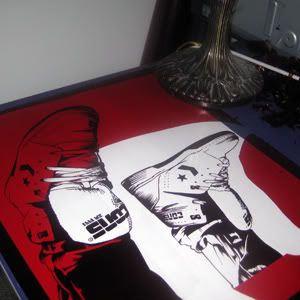 Until then, preppie.
Jensen
G1988: LA