As we approach our 5th year here at the Melrose/La Brea location, it's got Katie and I feeling rather nostalgic, so we wanted to do some posts where we look back at some stuff over the past half-decade. I couldn't think of a cooler thing to start with then our final Juxtapoz ad ever.
When we first opened the gallery in 2004, we were quick to sign a year long advertising deal with the magazine, figuring what better way to publicize our gallery. Truth is, at that point, we didn't really think they'd cover anything we were doing - cause I mean, we're in our early 20's just catching our footing, not creating much of a buzz, and they've been around forever. But as we went into our struggling bank accounts every single month to pay the contract we had signed with them for advertising every month, we had hoped something would pop up on their radar (especially since it was hinted at when we first entered the contract). And we just kept WAITING. Even when we had a line around the block for our first themed show, or sold out Luke Chueh's first traditional gallery setting solo show, or showed Audrey Kawasaki in her first 2-artist exhibit. I would even ask them to come check out a show, see how people are excited about what we're doing. I mean, we're having sell-out shows! But nothing. So the last month of the contract approached, and as Katie and I were working a day job on Sundays to feed ourselves and keep the gallery running, we ran this as our final ad (designed by Luke Chueh):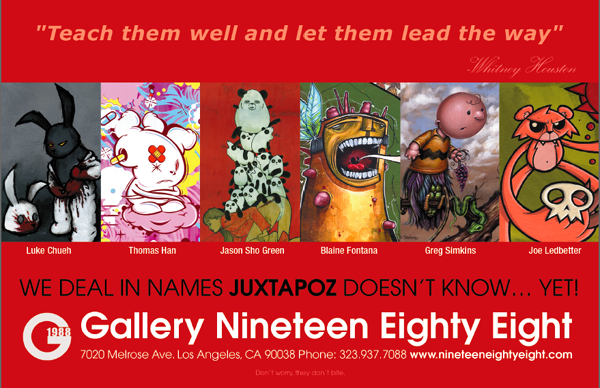 We were hoping this ad, which featured artists we were showing at that time, who also had NEVER been featured on ANY page of Juxtapoz magazine, would later make them look a little stupid (hence the "Thanks for nothing" tone of the text). For the first time in Juxtapoz magazine - artists Luke Chueh, Thomas Han, Jason Sho Green, Blaine Fonatna, Greg Simkins and Joe Ledbetter were shown in print. Needless to say, they were all covered years later...but we weren't.
Still one of my favorite things we ever did here at 1988, as not being covered by Juxtapoz always felt like such a Kanye West-temper tantrum like slight to us. We were working really hard to get them to notice 1988, and now looking back, they never would've. Especially once the contract ran out. But we always had this last ad to laugh about, knowing that one day those artists would get their own covers, Showstoppers and features. And to remember that moment when we were told that what we were doing wasn't "in-line with the magazine" (which was said to me). Hopefully, this would be the proof that we were just a little too ahead of our time. And thanks to blog, I think it is now. Anyway, with the direction you see in the magazine now, we're even more not in line, so we'll be cool without the monthly fee this time. But we'll always have that ad.
Jensen
G1988: LA