We've been reflecting on the blog about G1988: LA as we approach our 5 year Anniversary here on Melrose and La Brea, and nothing says growth quite like looking back at our first 3 flyer evites from our first three art shows back in 2004. I can't explain how little Katie and I knew about what we were doing when we first opened the doors and I think me commenting on these first 3 shows might just help you realize how much of a miracle a 5 year Anniversary really is. Most of you had no idea we existed when these three shows opened (it's ok, neither did we), so it's always fun to poke fun now. There are SOOOOO many stories, so I won't bore you, I'll just give you the details.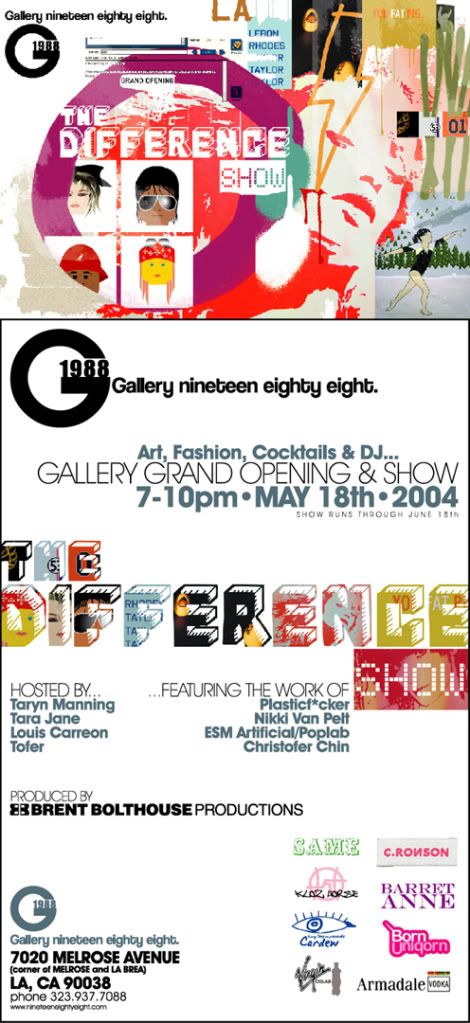 Awwww, out first show ever. Named "The Difference," since we had 2 primarily digital artists, PlasticGod (who was then rocking a less family-friendly name) and ESM-Artificial, and 2 traditional fine artists, Nikki Van Pelt and Christopher "Tofer" Chin, this show opened May 18th. When we first opened, being super club promoter Brent Bolthouse's former assistant in a past life (pre-The Hills fame he later acquired) paid off, since he was NICE enough to help promote our first year of shows, as we borrowed his mailing list and promotional staff to get the word out there. It's basically something he could've charged $35,000 for, and instead he donated it to help us get our feet off the ground. And because of him: you could NEVER say our openings weren't packed, even from the first day. Hosted by a few friends, including Taryn Manning, who at the time was seen in "8 Mile" and that Britney Spears movie, our goal was to take this large crowd and force them to look at the walls while they were being "hip" - then buy something. And it worked. Sure, we our flyer had more logos than a NASCAR vehicle, but it was a start. And we STILL show PlasticGod (making him the longest running G1988 artist), and Tofer recently just opened a show at Freddi C's new space - so it's good to know artists who know how stupid we were originally are still out there showing. MY FAVORITE part of this flyer is that an email I sent to the designer as a first round of notes actually shows up in the flyer, above the show title. It was me asking if we can incorporate the words "GRAND OPENING" on the flyer. So he just put my email in the collage, hence the words were incorporated. I deserved that.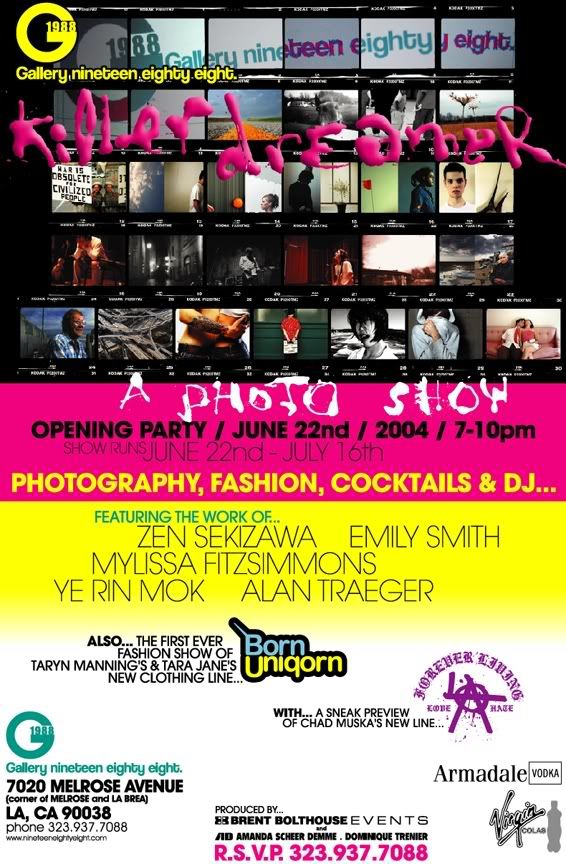 "Killer Dreamer." Our first, and last, photography show. Still one of my favorite shows aesthetically, but we learned quickly that both we, and our proposed audience, weren't going to be the photo type. LOVE this flyer though. All three of our first flyers were created by a friend, Niko, who was doing all the best LA club flyers at the time. We also had our first drink sponsors for this one, including Dame Dash's failed Armadale Vodka. Taryn came back to the gallery again, this time to debut her clothing line, which included a fashion show (another first and last). I recently noticed Ye Rin Mok's photos in the movie "Hard Candy," which was cool to say, "Oh man, I remember her. We didn't sell many photos that show, huh?" Also, the homie skateboarder Chad Muska DJ'd, and also debuted some pieces from his clothing line, Forever Young. Fun fact. When we met with Alan Traeger for the first time in his loft to help pick out photos, I got one of my signature migraine headaches 10 minutes in and vomited in his bathroom. We then had to leave immediately. I was a seriously well-seasoned gallery owner. We also used double sided tape to hang one of Alan's 4 foot foam core photos in the front window. It didn't come off until we bent it in half. That was the first time we bought a piece. It hung above my couch (with visible bend) for 2 1/2 years.
"Down Here It's Our Time" was basically what we consider the real beginning of Gallery1988, or what we had prayed for. The first for MANY things. Our first show where we let the art do the talking, but ironically the only flyer in our history where we featured no art. We were sick of grand openings and fashion shows, we wanted to display some of these artists we were noticing, and to do it with a style we figured was going to be all our own at G1988 over time. It was the first show where every artist involved sold something (which at the time was totally something to write home about). We were still booking art shows only 3 months in advance at that time because we really had no competition to show 99% of these artists. It's in stark contrast to the 2 years in advance method some of these same artists practice now. This was also our first pop culture reference in the title and in the flyer picture, with an obvious nod to the "Goonies." This is a motif we stuck with. This was also the first traditional art gallery setting for Luke Chueh, who had previously shown at the one-night Cannibal Flower events and Black Market clothing store on Sawtelle, and little did we know what that meant to everyone involved. It also was early on the Bob Dob train and the first time we showed, and anyone else had shown, Seattle native Jason Sho Green, who would later become a serious staple during the first 3 years of G1988. I remember when Jason first dropped off his artwork at the gallery, he barely spoke to me and believed he was unworthy as an artist to ever be in an art gallery. He actually seemed mad at me for even asking him. He was always one of the most fun artists to watch grow for us, as he's shown at several spaces now, basically saying no to venues frequently (including us now!) And I mean, I've man-dated Luke on the blog before, so I don't have to tell you what he's meant to us again, but he was our Pied Piper. He came along, played a song that we totally loved, and we followed the dude down cobbled roads (even when I saw him wince when he noticed we didn't use any art on the flyer. my bad). This postcard means so much, but in truth this show, and Luke's involvement, just reminds me of that day your parents dropped you off for college for the first time, then drove away. It's like, "There, it's here now. You can totally be an adult. Just don't f*ck up."
More soon.
Jensen
G1988: LA