Shouts to Nathan Spoor for the nice write up and picture set (even if I do look like the biggest human goober ever created in the pic with the Biggs duo). You can read the article by
CLICKING HERE.
And in sort of related news, recently I took on a new job over at clothing company,
Clandestine Industries
, owned by G1988 artist and Fall Out Boy bassist Pete Wentz. I'm the new design and brand manager at Clan and we launched the first collection in a brand relaunch just the other day. Cool part is, we're utilizing a lot of the artists you love and see commonly here at 1988 into the clothing line. This first collection has designs from Brandi Milne (Bomby McGee), Simon Oxley (Deserted) and Andrew Wilson (to many to name). And we have a ton of other 1988 frequenters currently working on new designs for the line too. So maybe you'll like the clothing too!?!
You can see the new collection and order the clothes by
CLICKING HERE.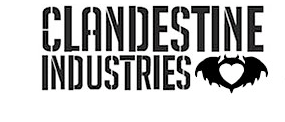 I'm also daily blogging over at the new Clandestine blog, which is about 70% random pop culture ramblings from me, and 30% Clandestine relate, so I'd love for you guys to follow me over there too. You can check out my new Clandestine blog by
CLICKING HERE.
I promise to be funnier than Paul Blart.
Anyway, that's the scoop over here. Four things to look forward to next week on the blog.
1. An awesome big print, limited to 25, being released in SF on Tuesday by Mia. All the info will be posted here on the blog the day of the release regarding how to purchase it, but these are going to go fast - so keep an eye open.
2. A new Luke Chueh print to be announced, then released in the LA gallery. Biggest giclee print on paper from him, or ever sold at the gallery.
3. Sneak peaks at the our next LA show, Transcenders.
4. The announcement of our April 5-year anniversary show!
Get ready - gonna be a lot of info.
Jensen
G1988: LA