We have prints on the way!
Alex Pardee is at the SF gallery today signing his Crazy 4 Cult prints...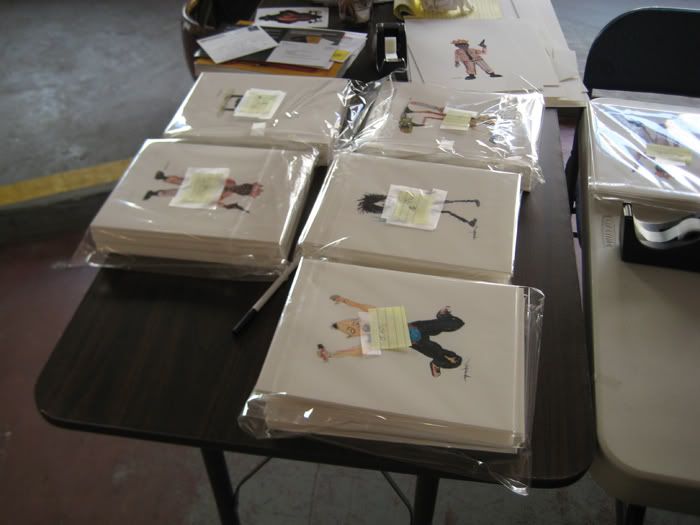 I'm going to pack them up today and ship to the LA gallery, where they will be released next week! Here is the entire set of 6, which will be sold individually or as a complete set.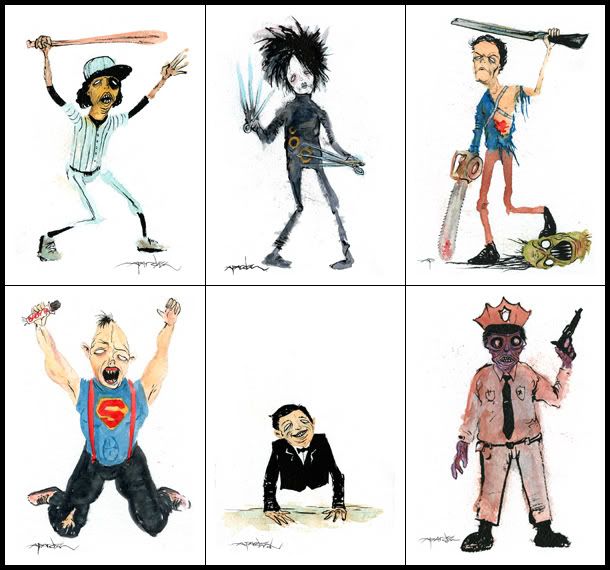 Alex Pardee
The Cult Series:
Baseball Furie #1, Edward Scissorhands, Ash, Sloth, Johnny Eck, Cop #4
giclee prints on archival paper
8 x 10 inches (each print)
limited edition of 50
$40.00 each or $200.00 for the set of 6
Alex is one of the artists in our Vivisect Playset show that's up right now. He has three amazing ink drawings in the show. The detail in these pieces is incredible. Viewing these online really doesn't give them justice. I wish you could all see the work in person.
Squid-Kid Is Dead. And I Have The Proof
I Took Care Of The Giant Chicken Problem
The Hunt For The Giant Kitten Is Over - SOLD
We also got the Dan Goodsell work in from his online show at
www.88point5.com
.
We're starting to ship them out to make sure they arrive in time for Christmas. So, to everyone who bought a Goodsell piece, keep an eye out cause they're on their way!
Dan's show will contiune through Dec. 23rd, so check out
www.88point5.com
to see the rest of the work that's still available. Next up, we have Tom Haubrick, which is going to be another great show!
Back to prints...
We are very excited to announce the Kendra Binney prints have arrived and are now available for purchase at the SF gallery.
Kendra Binney
Assembly of Defeated Beasts
giclee print on archival paper
10 x 10 inches
limited edition of 50
$50.00
To order this beautiful print, please call Gallery1988 San Francisco at (415) 409-1376 or email us at gallery1988sf@gmail.com
And finally, the Krista Huot "Snowfall on Poppies" prints are almost ready! The poor prints were held hostage in customs on their way to Canada. We sent them to Krista to sign, number and hand embellish the prints so long ago and they just made it to her yesterday. So, fingers crossed that the prints don't get held up again on the way back to the gallery! If everything goes as planned, we will have them next week. I'm SO sorry for the delay on these prints.
Krista Huot
Snowfall Over Poppies
giclee print on archival paper
16 x 20 inches
limited edition of 50
$100.00
*15 prints in this edition will be embellished by the artist and sold at $150.00 each
Katie
G1988: SF