Soooooooo....how's your day? I don't mean to come off too Kanye here, but I think the one thing we pride ourselves on here at G1988 is trying to bring this emerging art scene (which nowadays seems more "life in a bubble" than ever), and the artists who show their work with us, into new press avenues which either normally do not, or HAVE NEVER, picked up a story you might normally see in Juxtapoz (if the gallery pays for ads that is). Today, using Google or searching through Wire Image has never been so fun. But more on that later.
Last night we had the opening reception, both public and private, for Pete Wentz and Travis McCoy's "Without You I'm Just Me" exhibit which went absolutely went off. Quick recap - 6-9 PM had fans of all ages getting autographs and items from the show, while 9-11 PM had the gallery jam packed with both art lovers and people we only know from those few minutes we're in our market checkout lane, bored, looking at magazine covers. Pete and Travis sold a ton of art, and art-related products, and it really was an amazing event, with a great cause in mind, Invisible Children, a charity that helps the condition in the brutal region of north Uganda. Well, enough talk...it's time for Perez Jensen Hilton. All photos courtesy of FriendsorEnemies.com and Wire Image.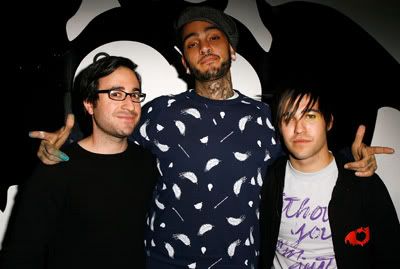 The dudes of the night. Not me. I'm just a guy of the night.
John Mayer came to support and let me know he's a really good dude, so I can stop my uneducated judgements. Also, "Daughters" has always been my jam, so I was just being an asshole.
He tested to see how close he can get to touching paintings before I freaked out...
...and took pictures of the guys.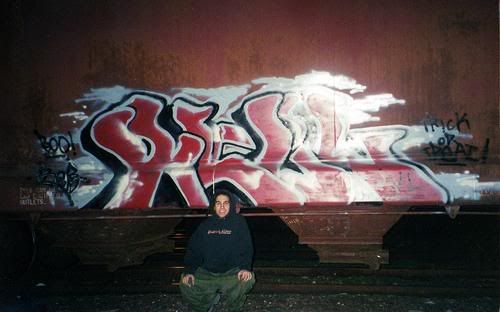 Pete went out and threw something up before the show. NAW, I'm just joking. No need to go report to your favorite graf crew. This is a pic from Pete's childhood, in front of an old piece he did under the name REBL. Feels weird that he paid some dues, right? But he did.
Pete and Travie working on the installation before the show opened.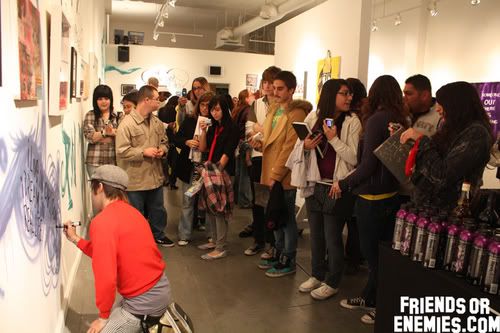 ...and once the show opened.
It's a valid question.
Jessica and Ashlee Simpson stopped by to show love, and help the gallery's website shoot to like 4 million hits today.
"4 million hits? That's nothing!"
Pete and Ashlee.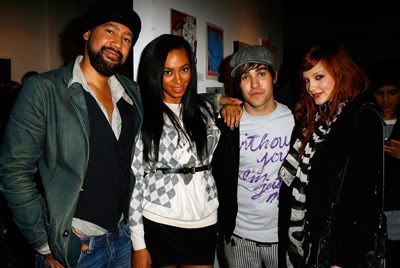 Video director and good guy Alan Ferguson, Solange Knowles, Pete and Ashlee. A golfing 4-some that might turn pro.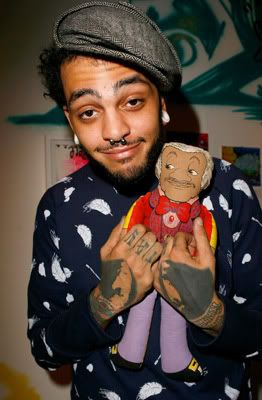 Travis travels with this Red Foxx doll from his childhood that he makes celebrities and friends take a picture with, for a book he hopes to publish in the near future. So he obviously had to bring it to his art show. The list of those who have held Red is rather incredible. Oh and Hall & Oates.
Benji and Joel Madden of Good Charlotte, and the "We own more Luke Chuehs than anyone" club.
Nicole Richie and Ashlee.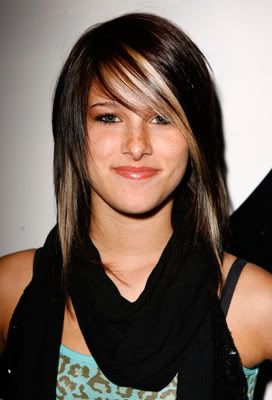 Cassadee of Hey, Monday.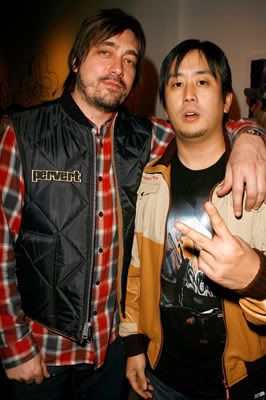 Dom Deluca, who wins the "I'm cooler than you" contest once he got his own Hundreds t-shirt, and Joe Hahn of Linkin Park.
Papa Joe Simpson, Pete and Travis
3/4 of Fall Out Boy - Andy Hurley, Pete and Joe Trohman.
Pete, Clark Duke (of Clark and Michael webisodes fame - please google it!) and Alan.
And here's the Pete x Travis x Luke Chueh collab we weren't able to put on the website yet. And yes, it sold.
Anyway, back to the press thing. The one thing we pride ourselves on is stuff like this...
People Magazine
Pink Is The New Blog
US Weekly
The Insider
MTV.com
And I'm not saying seeing Pete, Ashlee or Jessica on these sites is a rare thing, I know they are on everyday. I'm just saying in this show, which is proudly announced in each, are also art pieces with Jeff McMillan, Greg Simkins, Luke Chueh, Dan May and Buffmonster - and this press has ALREADY proven to force new fans onto these artists, as well as drive new people into the gallery, dozens per hour. People who NEVER would have heard about or know how cool these artists are. And in turn, this show made a handful of buyers and artists call and email me and say, "You know, I wasn't expecting to like Pete and Travis's art, but I really do!" So maybe we both have different audiences that just need to know each other exist and aren't douchebags. Right, John Mayer?
Jensen
G1988: LA