Gallery Vacation has begun.
We lounging. Which gave me time for this...
As a Filmic Writing grad (a degree I've used soo much running an art gallery and clothing line), every year I find myself creating a top ten list of my favorite films, acting almost like Stadler and Waldorf taking my place on the balcony, tomatoes in tow. If you've been reading the Gallery Blog for a year, you know I put last year's up here also (and that one had 20). Actually, I think this is my 15th straight year doing this self-important countdown (it started with middle school pal B.J. - who know is a projectionist at the Director's Guild theatre in LA) but since I see almost every movie possible (and yes, I have a first hand account that "Leatherheads" was awful) - I figured why discontinue a time honored tradition? And while it used to just sit in school notebook in high school and college, now I can post it on the blogs I write for and seem less crazy. This year's list is a little more mainstream than years past, as most of these films you've probably seen (or will see), but that doesn't make it bad, Guy With Screen Name LuisBunuelFan34. Just make sure to take a peek at the "Movies I Haven't Seen Yet" list at the bottom for frame of reference.
10.
Tie - Tropic Thunder / Rachel Getting Married
Number 10 is always a tie. It's the easiest thing to do when you're indecisive. That or don't make lists.
I'm still confused with people who didn't like Tropic Thunder. Like Nazis, I assume they are people who can't have fun (and kill Jews). But, I do agree that Ben Stiller has become painful in general. EXCEPT when he's directing himself (i.e. Cable Guy, Zoolander and this one). Then he's genius. And maybe it's because I love "Apocalypse Now" / "Hearts of Darkness" - but this war film / Hollywood spoof seemed almost perfect to me, although I wasn't as into the Tom Cruise cameo as the rest of the world (seemed glim, Matt). But Downey Jr. puts in my favorite comedic performance of the year, while Jack Black finally plays subtle again, and is awesome.
And Rachel Getting Married spotlights Anne Hathaway, in a performance that would earn her the Oscar, if she weren't so young. Almost channeling Ricky Gervais, her character makes you cringe with all her awkward family interactions during an intense weekend getting ready for her sister's wedding. TV On Radio's constant soundtrack makes you realize why dudes in tight jeans and ironic glasses (MINE ARE REAL, OK?) have been praising them for the past few years. The film might be heavy, but don't be scared to let out a laugh even when you think it's inappropriate. Not a matinee movie to see with your 6-year-old nephew, unless your 6-year-old nephew is a recovering addict. Then, it might be helpful - but then I think going to the movies should be low on your priority list.
Because I'm a comic book reader you'd think I'd have this new Batman chapter closer to number 1, right? I know, I did too. Not sure why I don't really. I just think the film didn't stick with me as much as I thought it would. Loved Heath (who will win the Supporting Actor Oscar), loved the direction and just overall loved the movie, but other films this year seemed to mean more to me. Wasn't ecstatic about Two-Face or how they pulled the Aunt Viv on Fresh Prince switcheroo to Katie Holmes - but I watched the movie again on Blu-Ray recently - only to be totally blown away one more time. I just like it at number 9. That's really as creative as I'm gonna get for the reasoning.
I love me some historic retelling. Went into this one thinking I'd hate it, assuming it was Ron Howard schlock, but like that time I predicted Master P would run for Senate one day, I was dead wrong (sadly, not joking). An incredible tale of corruption, accountability and American politics, Frost/Nixon creates and maintains an intense tone throughout the movie, which is weird considering the climax has two dudes staring at each other from comfortable chairs. Acting nominations will obviously follow for the two males leads (but they will both lose) and Opie will get his obligatory nomination, but I strongly recommend this movie to anyone interested in intriguing political stories (i.e. Michael Clayton, All The President's Men, Bio-Dome).
Yes, I did like Iron Man more than The Dark Knight, but that might have something to do with my taste in comics more than cinema. I think most people will read that and act like I just said I liked Pacey more than Dawson (which I did). Well, I just like Iron Man more. Always have. I read Batman, but I usually cling more to the villains in his stories - while I'm always rooting for the arrogant and pompous Tony Stark to save the day and kill bad dudes. Robert Downey Jr. (the only actor to be in 2 films in this year's Top 10 - thanks, sobriety) makes it seem like Iron Man couldn't have been portrayed on the big screen if he wasn't acting (or if the studio wasn't able to insure him). Jon Favreau, a personal fav of mine, does an incredible job tackling a large movie (rent Zathura for his first, it's not bad) and the inclusion of a Ghostface Killah video in the background of the private jet scene made the hip-hop nerd in me C.R.E.A.M. in my pants (I know, gross. But that is most likely the first ever Wu-Tang pun published. I bow.)
Technically not the lowest a cartoon with minimal dialogue has placed (that distinction goes to 2003's Triplets of Belleville), but at this point, even if Pixar released a full length cartoon of Hitler winning the Nobel Peace Prize, it'd still make my list. They are a young Mark Price at the free throw line; They don't miss. This heart warmer about a robot who goes emo is proof that although some companies have stepped up their animated game (Disney's Bolt, Dreamworks' Kung Fu Panda), there's only one House That Steve Jobs Aimlessly Invested In And Got Lucky With, and that's Pixar. Their 2009 entry, "UP," will have a spot saved for it come December 2009 cause even the new trailer has me excited. I doubt you have, but make sure you don't miss this film, especially in its new Blu-Ray release, as the sprawling landscapes and detail, with minimal need to over emphasis both in visuals and storytelling, can only be compared to classic visuals from movies like "Once Upon A Time In America" or "How The West Was Won." If "Snow White" was Pong, Wall-E is the virtual reality video game they play in "Lawnmower Man," it's existance and evolution is barely believeable.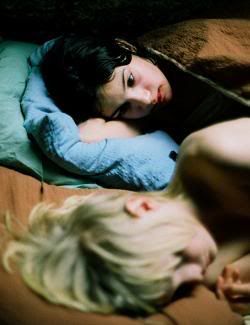 The best movie you'll never see, Let The Right One In is the best Swedish import since the Chef from the Muppets. Also, the best movie with a title derived from a Morrissey song (but here's to hoping there's a movie in development called "You're The One For Me, Fatty.") It's the tale of a disenchanted, confused 12-year-old boy in Stockholm, who befriends his new neighbor, a young mysterious girl who most definately is a vampire. And not in that "cute Buffy The Vampire Slayer kill while wearing Spandex then tell a joke way". It's a love story, a horror film and a black comedy involving children vampires. It's basically what I want my real life to be like. And yes, it's subtitled, but it's also absolute brilliance so let's make reading fundamental just this one time.


4. Milk
Not much funny to stuff to write about this one, as Sean Penn is directed by Gus Van Sant in this moving and extremely relevant biopic of Harvey Milk, the first openly gay politician in America - and the tragic story of his assassination. It's basically an actin clinic with Penn completely losing himself to the character and charm of Milk, while Emile Hirsch, James Franco and Diego Luna (who weirdly gets a bad rap in some reviews) all turn in perfect supporting roles. I'm pretty sure those who marched in the Castro back during Milk's time in office thought it couldn't get any worse for homosexuals and their civil rights, but we've sadly proven them wrong. I do wish everyone who voted Yes on Prop 8 here in California was able to see this movie on their way to their local polls, because this film's power would carry more importance today than during any other time in history. Great film.
If I had twins I might name them Joel and Ethan. Even if they were girls. That's how big of a Coen Brothers fan I am. They alone made me want to go to film school. Every film they've made since I started making these lists have found their way into the top 10 (yes, even "Ladykillers" and "Intolerable Cruelty"). And Burn After Reading is the closest they've come to replicating my favorite Coen Brothers film (and a former number 1) "The Big Lebowski" - so it's pretty obvious how much I loved this film. With stars Brad Pitt, George Clooney, Tilda Swinton, John Malkovich and Frances McDormand, the plot weaves in and out like Steve Kerr running the '91 Bulls offense. It involves government secrets being handled by physical trainers, which sounds a lot like the last 8 years. And someone please give J.K. Simmons the recognition he deserves. Known mostly as Juno's dad, the dude steals this movie from some of the industry's biggest names in no more than 5 minutes of screen time. Just released on DVD and Blu-ray, pick it up and celebrate aimless importance.
The only movie on the list I saw twice, it really could've been number 1 without an issue (or my personal experience being factored in). Danny Boyle is another one of my favorites since his first film "Shallow Grave," and I believe he should (and will) win the Oscar for Best Director and Best Picture for this one. The tale of a Indian kid who may have caught tons of bad breaks, but realizes those tough times might just help him win the jackpot on India's "Who Wants To Be A Millionaire." This no doubt will be 2008's big winner and it deserves to be. Also, I think EVERY film should end with a choreographed dance number. I don't care if it's Schindler's List, have the actors come back out and bust a move, almost like a Broadway curtain call with Wade Robson hosting. It just makes everything better. Just imagine Dame Judi Dench doing Soulja Boy's Crank Dat dance once the credits rolled on "Notes On A Scandal." Supaman dat ho.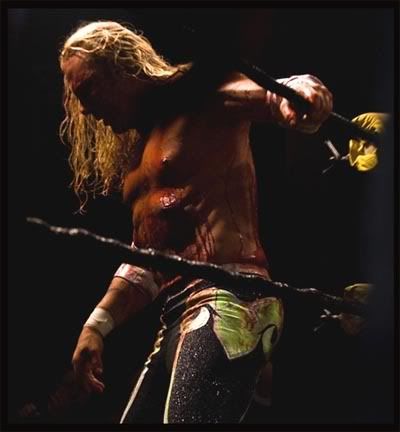 I'm biased on this one, having spent a few months on the road as a staff writer for WWE's Monday Night Raw a few years back, but Darren Aronofsky's tale of a broken down former main event wrestler is an epic and heart-breaking journey through some seriously depressing eyes. Mickey Rourke should be given the Best Actor Oscar now, rather than having to wait any longer and falsely giving hope to Dustin Hoffman in that "I'm Old, But Dating" movie. And Marissa Tomei has boldly claimed her spot as the Go-To Show Your Boobs Girl, possibly even getting her another Supporting Actress win (this time without those pesky Jack Palance announced the wrong name rumors). The script, written by a former head writer of The Onion (which is kind of like me writing "Sisterhood Of The Travelling Pants"), is almost too realistic, making me wonder how many of the older wrestlers I worked with, and wrote alongside, the dude has met. Springsteen's closing credit song is worth the movie ticket price alone. Wanna know how realistic this movie is? Rent documentary and former Top 10'er "Beyond The Mat" and realize where some inspiration came from. Long Live The Ram.
And that's another list.
Honorable Mention (no order)
-
Bolt 3-D, Forgetting Sarah Marshall, The Visitor, The Curious Case of Benjamin Button, Zack and Miri Make A Porno, Kung Fu Panda, American Teen, Choke, The Wackness, Speed Racer, Step Brothers, Doubt
Movies I Did Not See Yet, Which Would Probably Affect How Serious You Take My List
-
W., Gran Torino, Happy Go Lucky, Revolutionary Road, Role Models, Vicky Cristina Barcelona, The Reader
Last year's Number One. Again, to judge me
-
There Will Be Blood
Jensen
G1988: LA