Vivisect 5 opened last night in San Francisco and I sadly have the worst pictures from the opening. I'm usually pretty good at remembering to take pics at openings, but last night flew by. I'll post a few, but if someone has some better pictures please let me know!
Luke Chueh came up for the opening, as well as my business partner, Jensen, from the LA gallery.
I have no idea what Luke was doing when this picture was taken, but Jensen is completely mesmerized. The expression on Jensen's face cracks me up!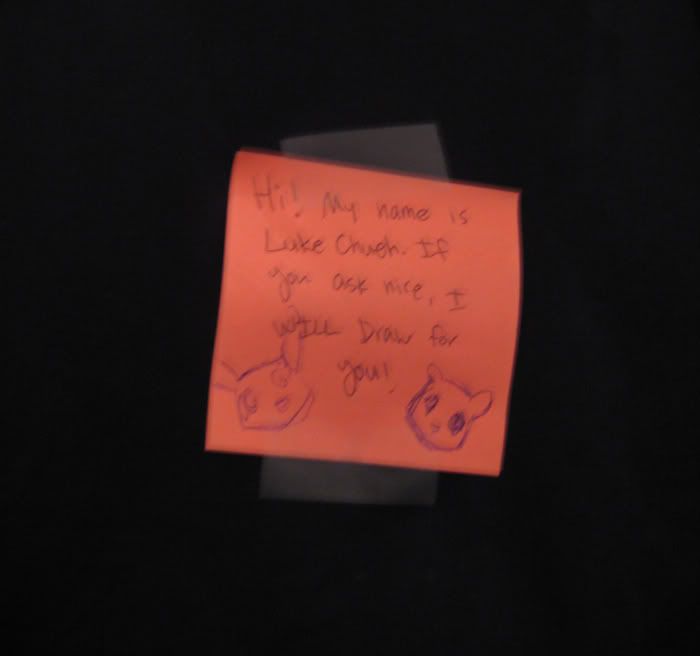 Again, another blurry photo. But the artists who were at the opening were incredible to do signings and sketches for anyone who wanted one. Luke Chueh, Anthony Ausgang and Isaac Pierro hooked people up with some great drawings.
Greg Simkins
Mini Print Set (set includes White Knight, Night Knight, and Winter's Knight)
giclee prints on Somerset Velvet Fine Art Paper
4 x 5 inches each print
limited edition of 300
50 of the sets contain a forth hidden chase print
30 of the sets contain an original Simkins drawing
$80.00
We also released the new Greg Simkins mini print sets. They're now available for sale, so get them before the sell out! Here are two of the 30 original drawings that are hidden in some of the sets. One person at the opening last night found a drawing in their set, which was pretty exciting and everyone cheered.
Call the SF gallery at (415) 409-1376 or email us at gallery1988sf@gmail.com to order these incredible sets.
ALSO, I want to point out that there are still some seriously AMAZING pieces available in the new show, pieces from your favorite artists. These pieces won't be around for long...
Melissa Haslam
Scott Radke
Mari Inukai
Lauren Moyer
Jonathan Bergeron (aka Johnny Crap)
Matt Dangler
Moira Hahn
Check out the entire show
HERE (http://round5vp.blogspot.com/)