Anyone care that my life is coming to an end? Planning for this cult show has been a bit insane. Especially as it leaked somewhere about our limited to 25 Big Lebowski Circus Punks by Reuben Rude and our friends at CP. They are INSANE! Between that and last minute planning, my neurotic tendencies really hurt. BUT...we did post the Greg Simkins Edward Scissorhands piece today on some message boards, so the least I can do is blog it here, right?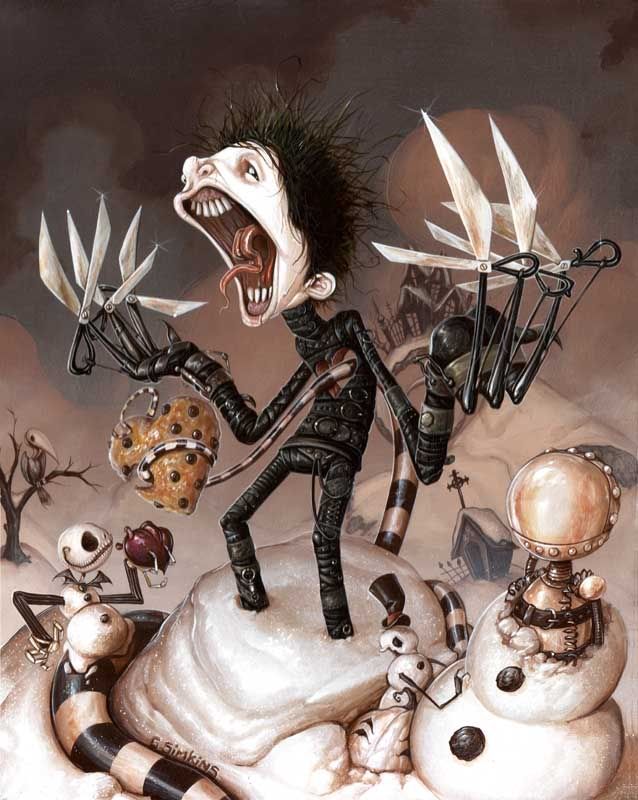 Unreal. Such a GOOD PAINTER. It hurts. Yes, we will be making prints of this piece, and although very limited, we will be opening a new website on July 20th that will deal with prints like this one and let you in on new releases of highly wanted shit. Stay tuned, but we aren't making them available until after the show opens and to only those in the "know," so stay updated on the blog or watch for the Simkins bat signal.
One more Kevin Smith webcast scene, this plugging away right off the bat, then getting into his feelings on Dream a Little Dream (the Coreys movie) and comic book films.
Talk to you soon. I'll be the one not sleeping. And crying. And puking. Scared of a 2,000 person turnout.
Jensen
G1988: LA