Does a tree make a sound if it falls in the woods, but no one is around? More importantly, do my blog entries get read during San Diego Comic Con weekend? I doubt it. But I'm just as guilty. I'll be up in the SD Saturday, amongst the gross crowds, fighting like a Mike Vick pedigree (what? too soon?).
Actually, here at the G1988 blog, we'll have a our first guest photo blogger. It'll be a visual report from the eyes of Chrissy from Ronherman.com (soon to have their own blog as well), who also has the awful distinction of being my girlfriend (no, I don't pay her and yes, she's seen how hairy I am). It's her first time out in the nerd terrordome called Comic Con, so I'm sure she'll have some fresh perspectives.
We're going to pick our Movie Reference poster contest winner this weekend also, but it's too late to submit, so stop rushing. Someone is going to get hooked up.
The Craola Ed Scissorhands prints are flying, so catch yours before they sell out, and then the next print will be announced for Crazy4Cult.com. Second verse, same as the first.
No one has posted this yet, so I figured I could now. It's the billboard across from the gallery, which was customized the night before our cult opening. Some crafty kids must have done it. It's very dope and I believe still up (too lazy to get up right now).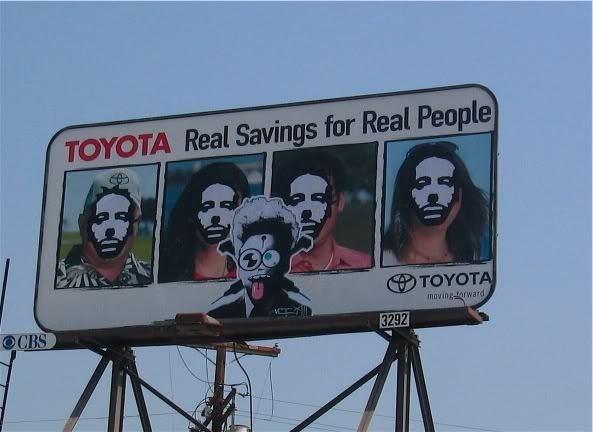 Since I know this blog is prolly a desert town (Zzzyx, anyone? Needles, stand up? Apache Junction, throw your hands up?), I'm gonna post a super detail from a new Greg Simkins commission that was delivered yesterday. I would show you the whole painting, but the buyer hasn't even seen it yet. He also is in line waiting for that Purple Kozik variant with you (I know. I made that up.)
You'll see more. Let's just let the buyer soak it in first.
While we speak on the Craola....I waited a bit to post it, cause it's hard for me to make super personal life "blogg-able" (trademark pending), but congrats to Greg and Jenn Simkins who has ushered in a beautiful baby boy, Isaac George Simkins, born last week into a pair of people I can't imagine being more loving parents. Beyond the gallery, meeting Greg and Jenn for Katie and I has been an experience we consider life changing, not just in business (obvi), but they're just two people that make, and have always made us, want to be better people. There are no words that can explain my feelings (and I'm sure Katie's) as to our love and concern for Greg and Jenn, BUT I mean this Isaac dude? He has no idea what love is coming his way.
UPDATED (4:30 PM PST) - Oh, ALSO, I'm seeing Simpsons tonight....so I'll let you know.
Jensen
G1988: LA