It's this look....
My goal for the day was to go ALL OUT with a post that filled you in so much with what's going on here, including the opening reception for "Packed and Loaded" (going on tonight, as I type this), but I was run ragged with my daily chores of getting the spot ready. It just seemed like everything was a hassle today....except for...
Kevin Smith publicizing the CRAZY 4 CULT show today on Kevin and Bean (KROQ's morning show). Man, I don't mean to come off Rupert Pupkin (King of Comedy, anyone? Really, man? Who runs your Netflix?), but I love this dude. He's promoting the art show, not because he has a financial reason to, but because he actually is excited for it and ready to support the artists. That dude KNOWS John McClain personally, on some "I sell you weapons" shit, and he's actually gonna be at the art show and is ALREADY promoting for us? Barely know him, but LOVE him already.
WAIT.......
While I was writing this blog entry, we heard that Malcolm McDowell (Clockwork Orange? At this point, you're semi-pitiful) was having a signing over at Rocket Video, so I had Becky, gallery assistant genius, run over there to tell him about the Crazy 4 Cult show, especially as he appears twice on show card (which he signed for us). He actually HAD ALREADY HEARD ABOUT IT!!! He said he's going to try and stop by!!! OH....and he posed: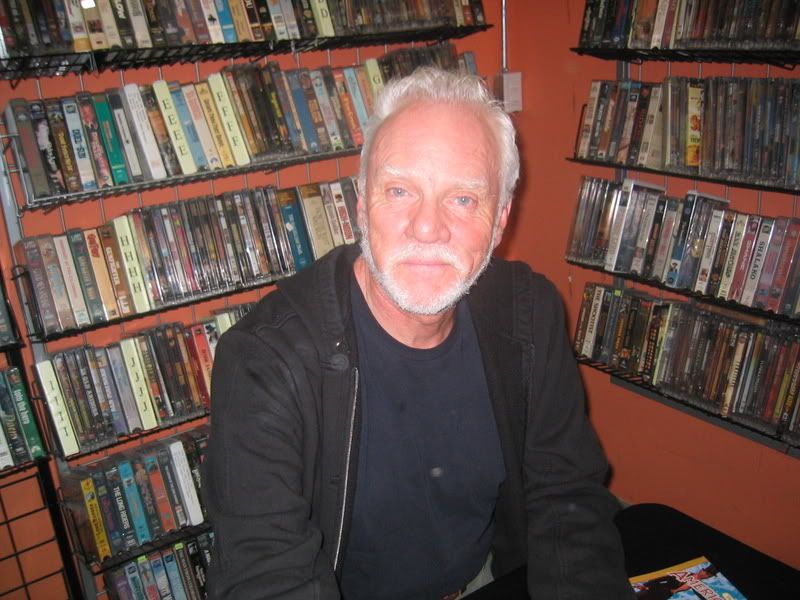 While I'm live blogging....here is what I see from my desk right now as the opening reception rolls along:
That didn't end up as cool as I thought it would be. Now I look boring.
Jensen
G1988: LA