I jetted out to Chicago this weekend for work (more on that down the road), but before I took off, my girlfriend Chrissy and I were lucky enough to see the OTIS Illustration Senior Graduation show on Thursday night. For the past two years, I've been working with OTIS Illustration instructors Nathan Ota and Bob Dob, creating a project every year for their junior class that coincides with Crazy 4 Cult, and finds a few students every year participating in their first art show. This year's seniors include many of the artists you already find hanging on G1988's walls, as well as some new names - and I must say the atmosphere and experience that Bob and Nathan are creating at OTIS is both exciting and integral, focusing on both the world of illustration and the gallery scene for young artists. I remember when we first opened the gallery, everyone seemed to be talking about the Clayton Brothers' positive influence at Art Center and the artists graduating, but I can't help but think that torch has been passed since Bob and Nathan are helping create careers while the artists are STILL IN SCHOOL. Anyway, took some pictures of the show and wanted to share...
First up, Julian Callos. A super-familiar face to G1988, Julian is my favorite up-and-coming artist. I can say that easily. The pieces he created for his senior thesis were breath-taking. I absolutely loved them and was thrilled to find out that the pieces are all going to be featured in an upcoming show at G1988: SF. Didn't know that. Consider this a sneak peek - and even more proof that Julian is one to watch...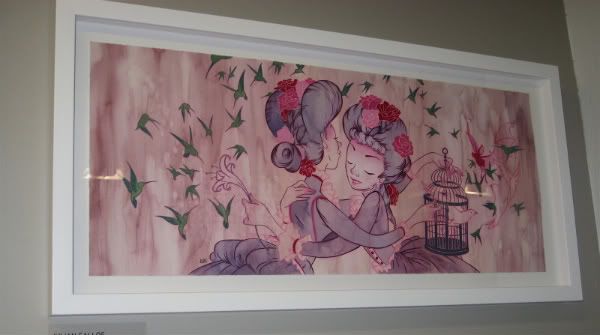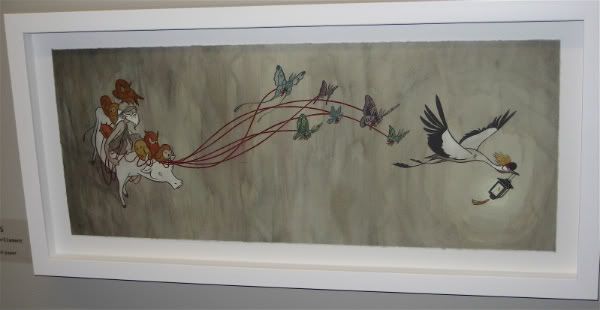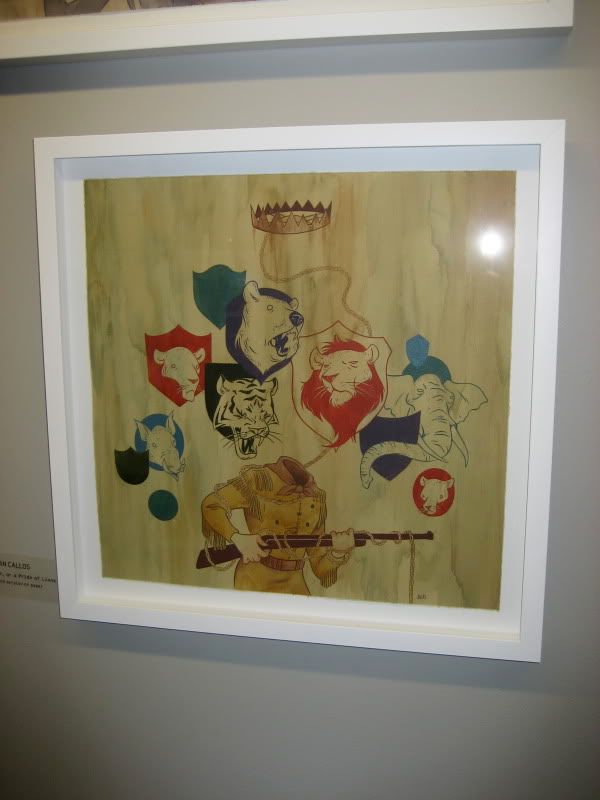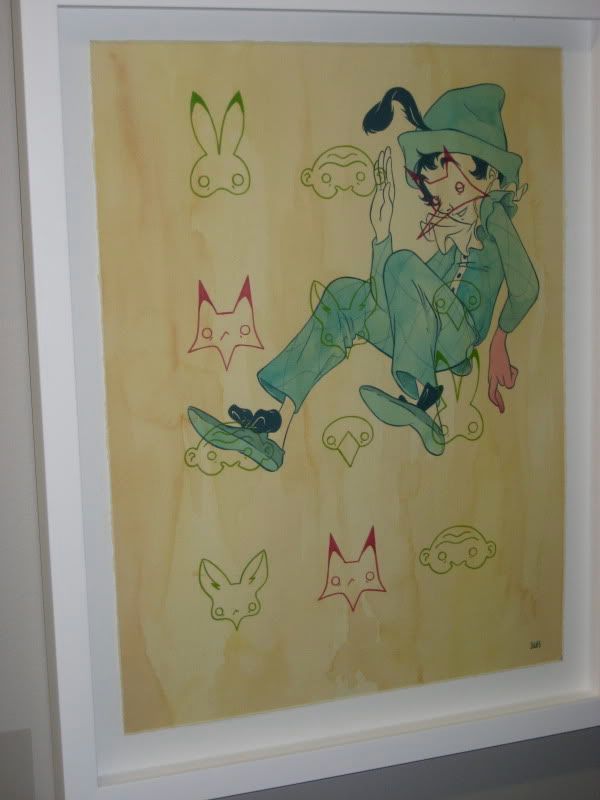 Julian also showed off some of his 3-D talents and created this sculpture to accompany the paintings...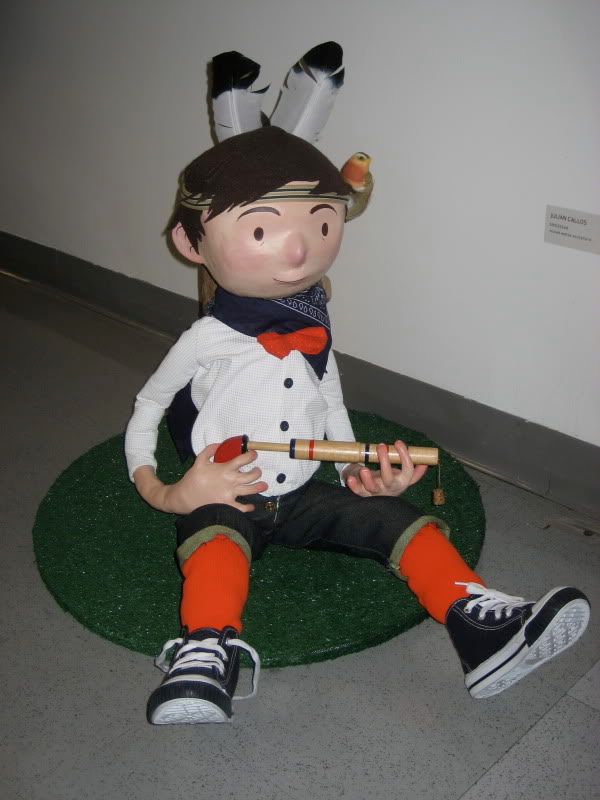 Allison Reimold is probably the most improved artist in the class, when you compare the first time I
saw her work during her junior year Crazy 4 Cult project and what I saw at the Senior show
(as well as her recent Idiot Box piece). I can not wait to see more from her,
and she's got some shows at G1988, so I'll see it first-hand.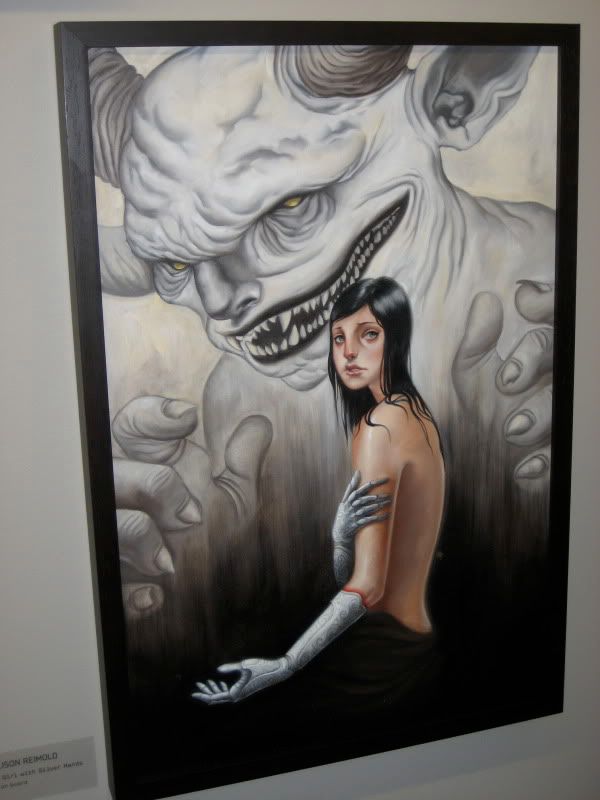 Jaw Cooper, who was in last year's Crazy 4 Cult, has also developed into a seriously incredible artist.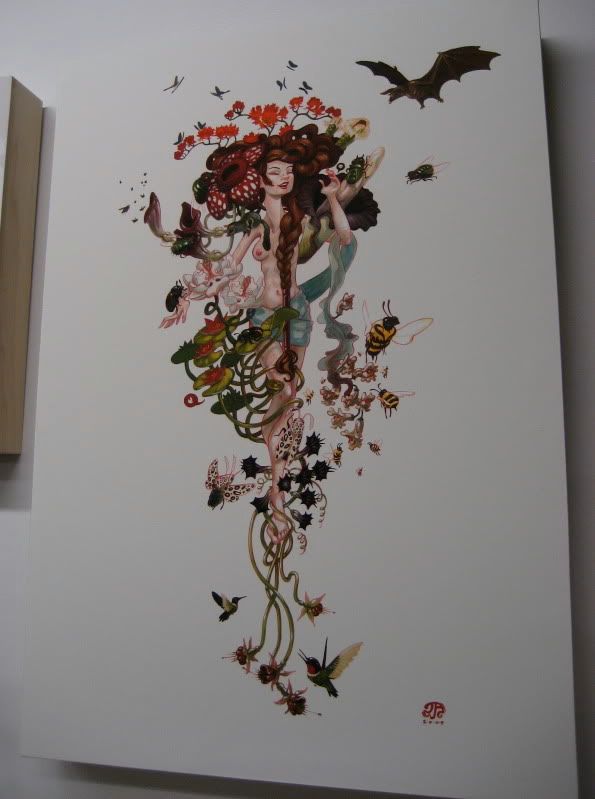 A new name to me, Chan Koak, had some adorable pieces on display.
An artist I will be emailing for sure.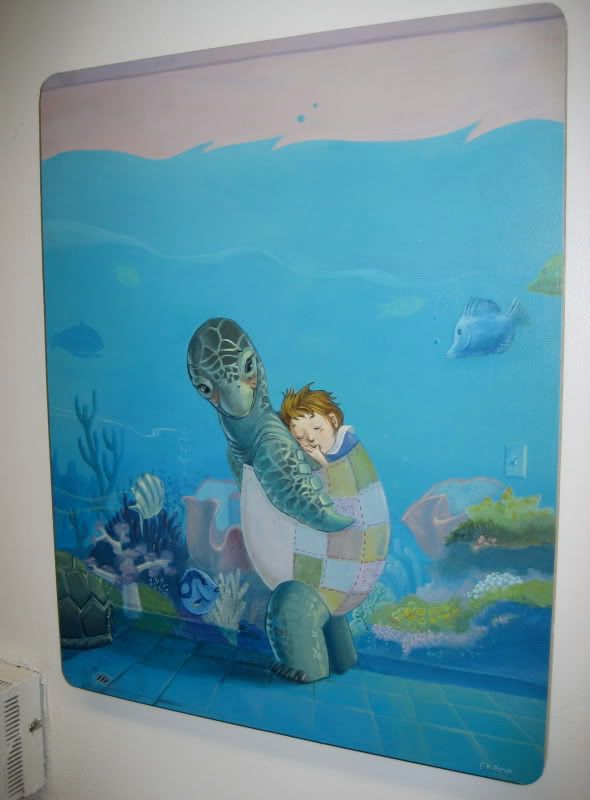 I know we've posted about it on here before, but it's worth 2 postings.
Here's Mylan Nguyen's entire senior installation creating a pretty sweet little houseboat.
Although we missed them by about an hour, I hear Greg Simkins and his son Isaac
had a bit of sailing adventure in it.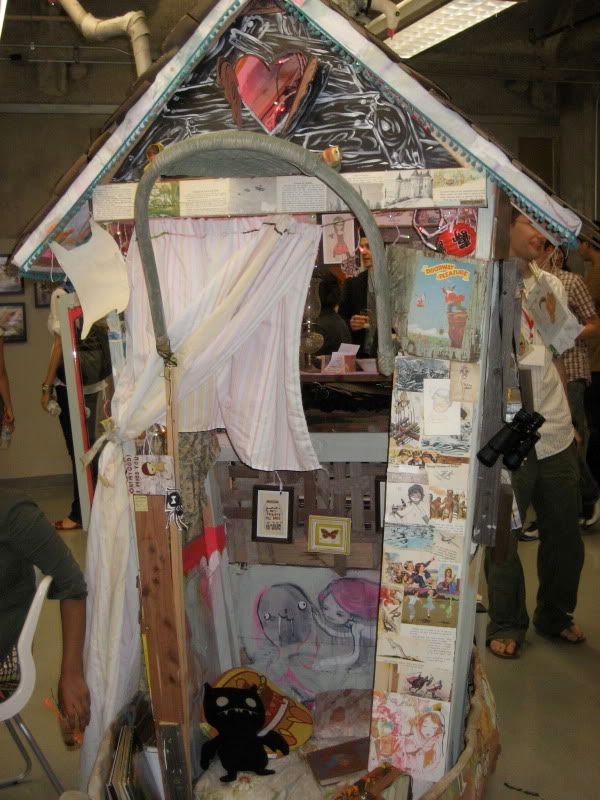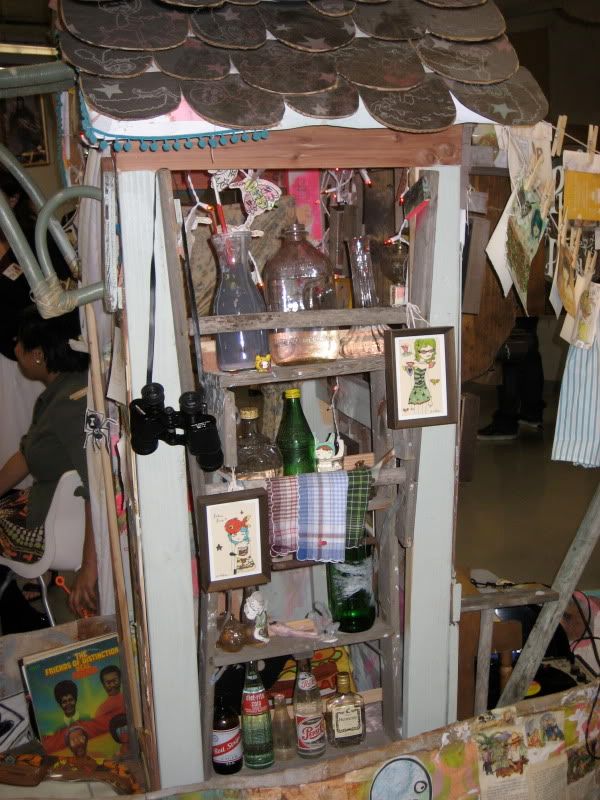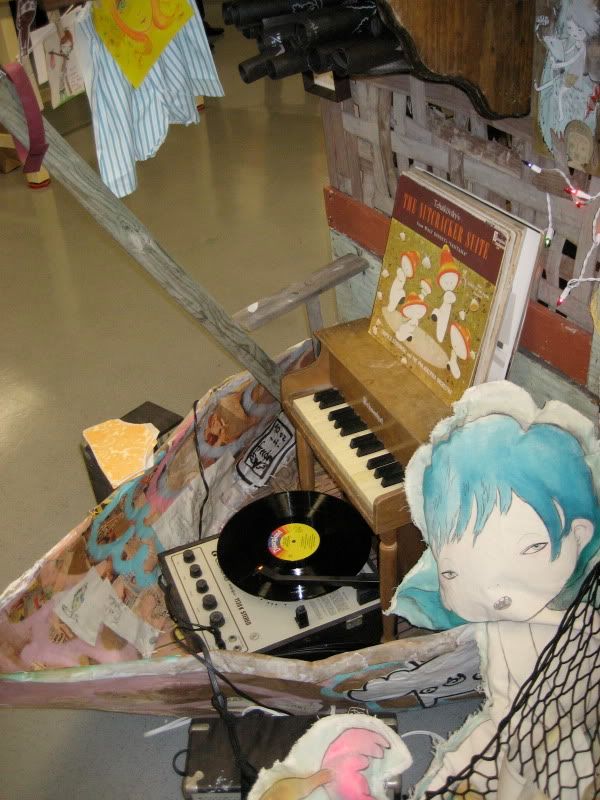 And most of the pieces featured in the boat were actually all available on our website, 88point5.
Thomas Lynch III has been featured at G1988 a few times already,
and excited to see more of his work now that he's graduated.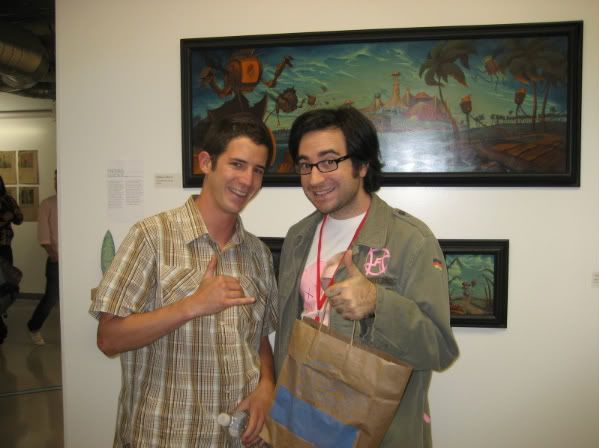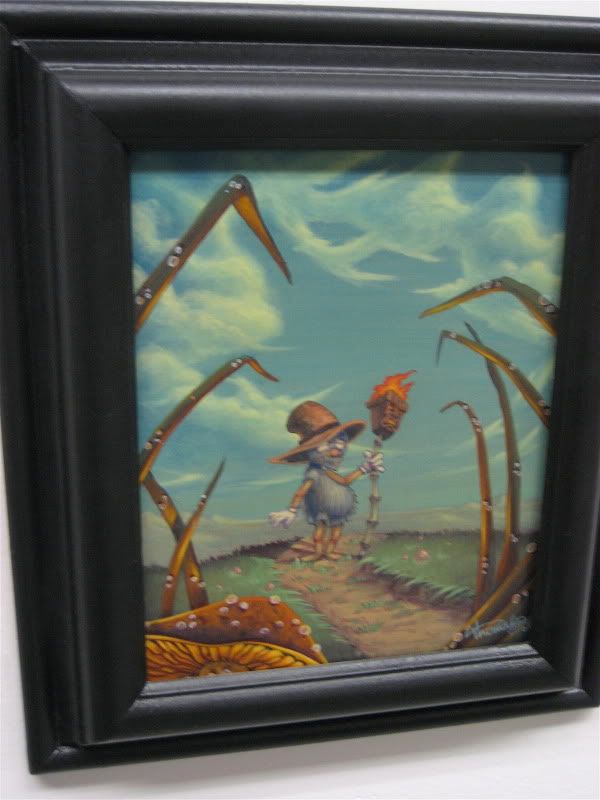 And on my way out I was totally impressed by Graphic Design grad
Kaoru Amy Shimsohige's posters about gender inequality.
This poster detailed her skills at Mario Kart (as Bowser) and how after winning
races on her DS Wi-Fi in high school, boys would find out she was a girl and
immediately have negative things to say. She on the other hand would
Again, LOVED going to this show and it really was a fun experience.
And with a few juniors joining this year's Crazy 4 Cult show in July already,
next year's Seniors are gonna be just as impressive.