My favorite time of the year for weather. That totally confused state where the sun is shining on one side of the street, yet the other side is overcast and 65 degrees. Last night the Art Rally opened in SF and from what I hear and see in pics, that thing was packed to the gills. Lots of incredible artwork still available by
CLICKING HERE.
And we did get the cover of the SF Weekly Arts and Entertainment section, which is great to see that scary monster stuffed animals and customized vinyl toys can get peoples' minds off the idea that people think Obama is "Arab."
Every once in a while we like to debut artists to the 1988 crowd through the blog, and going off what's happened in the past, it's usually a great start (Rude and Mark Brown were our first two to get the blog treatment). And now, we'd like to introduce you to Ruel Pascual. Ruel is in the animation and video game industry and will be showing his more personal work at Gallery 1988 in group shows during 2009, and we're really excited to finally show his work off. For his day job, he's worked on Kung-Fu Panda's character animation and Pixar's Monsters Inc. 3-D website, but also video games like Marvel: Ultimate Alliance, Golden Axe and Area 51. You'll be seeing more of him in 2009, especially now that he's on the blog and that seems to be a favorite for galleries to pick new artists from, and here's three three to kick it off...get em while they're cheap.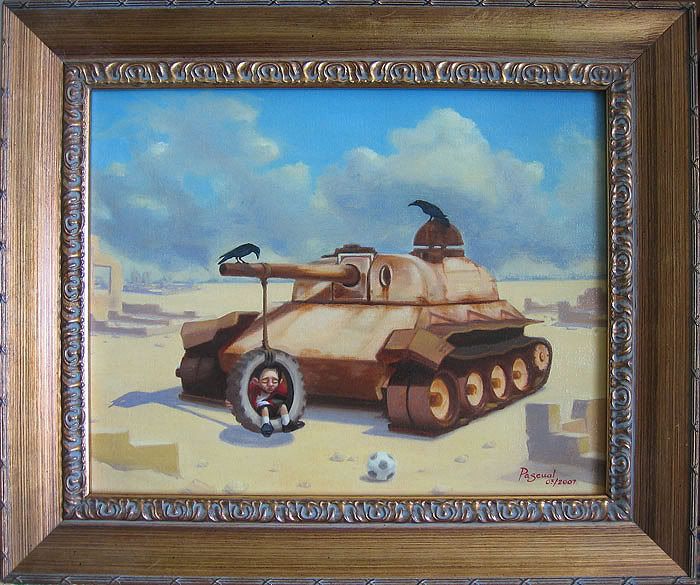 Ruel Pascual
"The Playground"
11 x 14 inches, framed
oil on board
$550.00
SOLD
Ruel Pascual
"Magnolia Kid"
11 x 14 inches, framed
oil on board
$400.00
Ruel Pascual
"The Chase"
14 x 11 inches, framed
acrylic on board
$300.00
SOLD
You can email us at gallery1988@aol.com or call us at (323) 937 - 7088 if any of these interest you...
Jensen
G1988: LA