And there it is. Scott Campbell's 2008 Crazy 4 Cult poster. So awesome. It really is so smart and insane. All of these cult icons, chilling in the tree. My personal favorite section is Kurt Russell from Big Trouble, Little China talking to Kurt Russell from Escape From NY. Or Pee-Wee on his bike hanging with ET in his bike. Or Sloth and Chunk sharing a pizza slice with Spiccoli. Or Edward Scissorhands comparing knives with Freddy Kreuger. I see something new everytime. Anyway, this poster will first be available for only $20 at Crazy 4 Cult 2's opening reception August 22nd from 7-11 PM, then available by phone or email order starting the next day! Good pairing with the Andrew Wilson poster in frames next to each other? CHECK. And for those with a little more in their wallet, we will have the original painting of this for sale at the show as well - and some new showdowns as a sequel to last year's tremendously successful series.
details...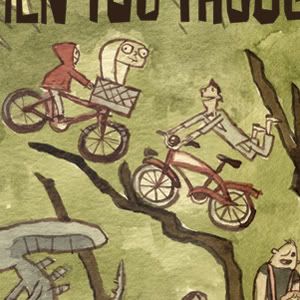 And in non-related 90's hip-hop event news, tomorrow, Saturday August 9th, at Golden Apple Comics next door to us here in LA, Wu-Tang Clan's Johnny Blaze himself (or the Jamaican drug dealer from "The Wackness" for those who didn't throw up their W's years earlier), Method Man will be signing his new comic book at noon. Always a stand-out from my favorite rap group of all-time (I consider "Enter the 36 Chambers" to be the best rap album ever for the record), I'm excited to meet the dude. They'll have a limited t-shirt for sale too, so swing on by and Bring the Pain. Oh, here's the video so we can debate what the hell he did to his eye to make it look like that....
Oh, and did you see the the Gremlins and the Ewok dancing together? This poster rules.
Jensen
G1988: LA