It really didn't hit me until today that the second week of April marks the 4th anniversary of Gallery 1988: Los Angeles. We opened our doors in April 2004 here on Melrose and La Brea, but seriously, it feels like a lifetime has passed. Katie recently remembered we had an OFoto account, and there we found some lost pictures from our first art show ever, "The Difference," which featured artwork from a fresh faced PlasticFucker (pre-heavenly name change, post C&D from Lego), Canadian ESM-Artificial, Nikki Van Pelt and Tofer. I'm doubting many of you were there, so here's your first look at what 2004 looked like to Gallery 1988.
This was PlasticGod's full celeb head display and I have to admit, it's still my favorite installation of all time. Not taking into consideration that Katie and I knew NOTHING of what we were doing (using 2 large nails per head, using handfuls of spackle to badly cover our tracks, etc.), I still have tremendous memories of Doug's first dive into our gallery. He was a main inspiration to open the gallery, and even though the de-install brought both me and Katie to tears (not a joke), just seeing this makes me smile.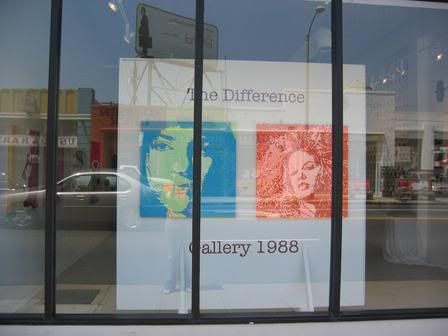 View from Melrose and a look at 2 Nikki Van Pelt originals. Like my dad always said, "Location, location, location."
I love the two small business card holders for Katie and my "business cards." LOL. I HATE business cards. But I do LOVE that we were selling Stella Shorts DVDs before even Comedy Central caught wind.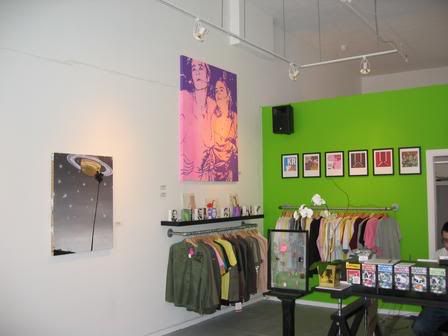 Please notice FOUR clothing racks and the handmade jewelry. Man, you live and you learn. R.I.P. though to our green back wall.
And here are shots from the opening night party, which was packed, forcing Katie and I to look at each other and say, "Um, how did these people know we were opening?"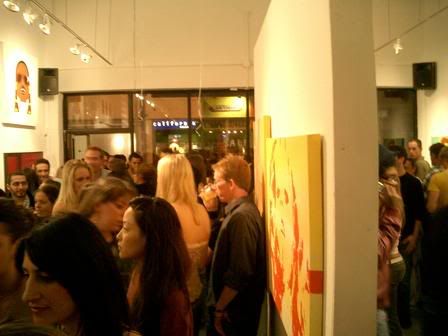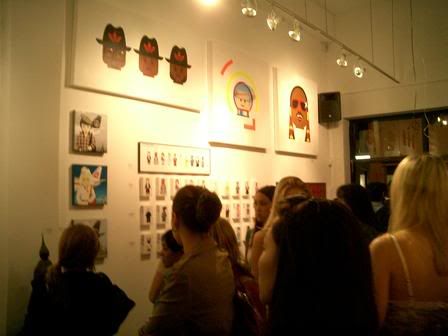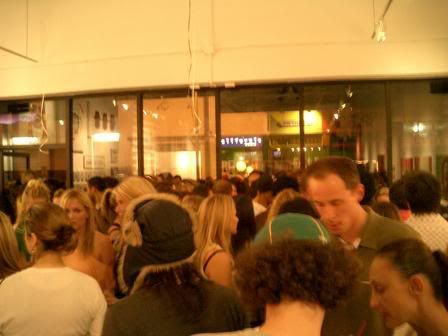 I love the one above for a few reasons. #1 - I have a shaved head. #2 - I'm fat thanks to newly moving my place of work near Pinks Hot Dogs. #3 - Gallery favorite Mylissa Fitzsimmons (now married with a new last name) is standing with me (she's since opened her own space in Los Feliz) and #4 - Basically our in-house DJ at the time, Adam 12, is just chilling, unknowing that the little fun band he started Justin will soon explode and finally get the revenge she's always wanted.
Anyway, trips down memory lane aside, if you walked up to Katie and I that night and said, "See you in 4 years," I'd look you dead in the eye and say, "Sure dude, if we're lucky!"
And look how lucky we ended up.
We are extremely lucky. One weird thing I noticed while looking at these pictures is that ALL of the businesses viewable from our front window have changed at least once each over the past 4 years (two of them have changed 3 times each, while the other, only once). Hell, the neighbor on our left side has changed owners three times, while our right side location has had three different occupants since 2004. We've opened a second location (which also turns 1 this month, but Katie can write her own sappy blog post if she wants), we're dead in the midst of a sponsored show with Mattel toys, about to open a whole new division to 1988 and working on events that will literally blow your mind in 2009 - and it all started with that green wall, 4 racks of clothes, hand made jewelry, noticing people spend $500 on sneakers and handbag but $10 on their wall and REALLY hard work.
And as egocentric as this post is (which is nothing really new to me), I wanted to take a small second and say, "4 years? THAT'S CRAZY!"
Jensen
G1988: LA