All of the American McGee's Alice inspired posters were revealed today over at OMG Posters. You can see all the stunning pieces by
CLICKING HERE.
We will have a limited amount of the posters available on Wednesday and Thursday at the private and public receptions, and then a limited number will be for sale at
Alice2Store.com
shortly after. These are gonna go fast.
We also are unveiling two beautiful original paintings that will be seen in the show...
Cate Rangel's G1988 debut is stunning...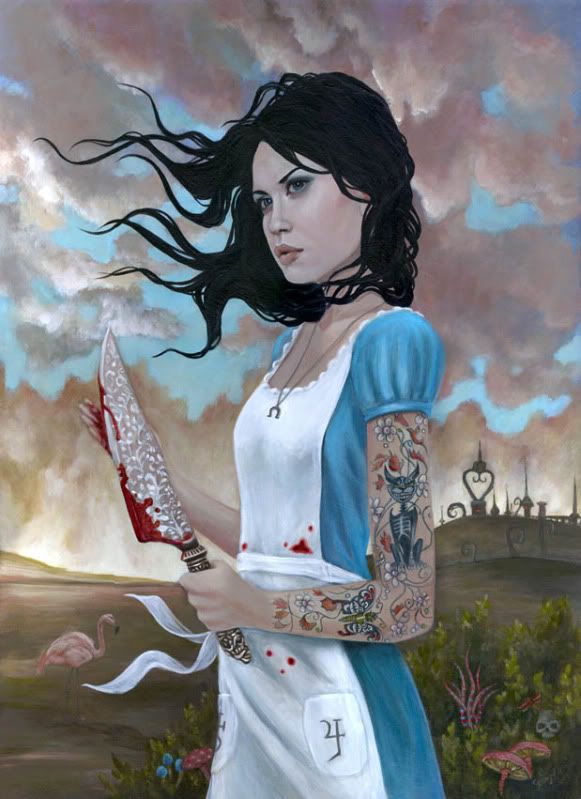 ...and the same goes for Laura Bifano.
It may be the first time these two ladies on the G1988's walls, but trust me, it's not the last.
And lastly, CHECK OUT THE DR. ROMANELLI "Alice" BLAZER by
CLICKING HERE.
Please make sure to read the write-up about the blazer. It's so insane.
Remember we have the public reception on Thursday night, and a private E3 party on Wednesday. American will be at both, as will some celeb DJs, but we do have a few spots open for the VIP night as the gallery, so you can email us at gallery1988melrose@gmail.com if you want to attend.
It's gonna be a fun one. Do not miss out.
Jensen
G1988 (Melrose)