Here's your HUGE reminder that we have a big event at G1988 (Melrose) for E3 with our friends at Treehouse Brand Stores for the new video game "American McGee's Alice: Madness Returns." If you are new to American or the Alice game series...check out the game's trailer...
American creates video games unlike anyone else in the business. It's art more than anything, and he's the most acclaimed auteur working in the industry today. And he'll be at the events on June 8th and 9th, where we celebrate the new game, and over a dozen artists create work inspired by his creativity.
We'll also have an in-gallery installation from Pretty in Plastic and girls in Alice costumes walking around the gallery serving alcohol. AND SOME SURPRISES. So it's a lot to take in, and way too much to miss.
In addition to that chaos, we will have a VERY limited amount of new screenprint posters available for purchase on both nights. These will sell out VERY FAST at G1988, and another quick to sell, limited amount will become available at Alice2Store.com the next day. I figured what better day than today to unveil the first poster. This one is by Kevin Tong, who has quickly become the Jay Bruce of screenprint artists (homeruns every time).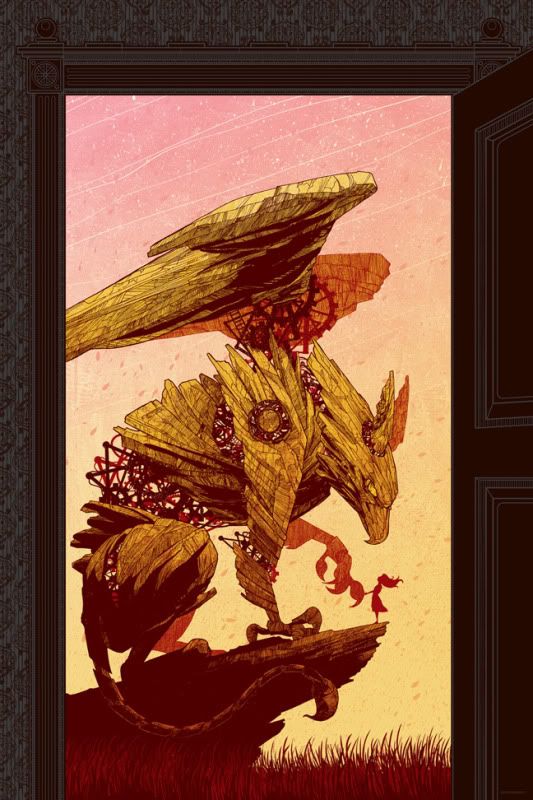 It's incredible. I was going to try my hardest to explain everything, but why not just have Kevin explain it with this Skype interview I had with him yesterday.
Jensen: When we're setting up an event for a video game, we usually go through the normal process of, "Who is a gamer?" with the list of our favorite artists, and sometimes we're shocked by who and who isn't. Would you call yourself a "gamer?"
Kevin Tong: No, I have never owned a console.
J: That's remarkable! Have you went out of your way to avoid them all?
KT: No. I've played video games before and they can be fun, but I never felt compelled to own any.
J: So when I talked to you about "American McGee's Alice" - did you get to researching?
KT: A little bit, but I really just studied the references I was sent [from Madness Returns].
J: So, tell us about your print, which is EPIC. It's a rare occurance that we get an image in, and we can't stop looking at it.
KY: Sometimes I just have a strong idea. It's helpful that Alice's Adventures in Wonderland has such a rich visual history, so I could move round within it. Also, people focus on the Hatter and the Queen and Cheshire Cat, but no one seems to remember the Gryphon.
J: This poster seems so detailed and meticulous. Can you explain your process for something like this? You can get nerdy here.
KT: Thanks for the go ahead on nerdiness. Commencing nerdiness...The whole Gryphon, the grass, the rock, and Alice are hand drawn. I did a pencil sketch and inked my drawing with pens and a brush. The door and the wall of the room are done in Adobe Illustrator. I wanted there to be a distinct stylistic separation of the scenes (interior and exterior) to push the "otherworldly" sensation and the fantasy. I actually took some detailed process shots for the hand drawn parts. I was planning to upload a process presentation to my site.
J: And how many colors is it and what size?
KT: The poster is a six color screen print and is 24 x 36 inches.
J: A lot of your prints seem to tell their own independent stories that we can only assume you have all written out in your head. Does this print, with the emotion seen in the image, have it's own story?
KT: Not really. I don't really try to tell detailed stories because that's what a writer is for. I just like to communicate ideas. I see no reason why a massive, terrifying looking creature can't have a pleasant introduction to a young girl, so I drew them shaking hands.
J: That's reasonable. Lastly, with the recent boom in screenprint art and the idea that companies are now reaching out to artists like you to create alternative illustrations, is this something you're into, and do you see the artform/business going in this direction?
KT: Sounds great. I have worked for companies to produce screen printed art before. The toughest part is that as outsiders they sometimes have unrealistic ideas or don't get the nature of screen printing and making a screen printed poster. I like working with anyone who has a cool idea. Screen printed posters will probably never be the mainstream because it requires thinking differently than making other products. i.e. Instead of making a million of something, let's make only 100. Instead of unlimited colors and holographic foil, let's just use four colors. Gee, this sold out, instead of making more, let's just not do that and move on, etc. It really crashes with traditional business models and whenever people try to break or bend the rules, the people who are committed to the art, artists, and the "scene" don't like that.
J: Good points. BUT will you be hanging out at the opening party for American McGee's Alice with us at G1988? That's the most important question?
KT: I'll go to the public one.
J: sweet! thanks dude
KT: No problem.
Why do I sense a line for this one?
Jensen
G1988 (Melrose)