Back in the gallery installing our next show "Under The Influence: He-Man and the Masters of the Universe" which will open THIS FRIDAY night, from 7-10 PM. And the entire gallery will be transformed into Castle Greyskull, which is most likely something that no one has ever said before. That whole process starts tomorrow. In the meantime, figured what better time to give you more previews.
First up, in addition to Alex Pardee's big Skeletor piece which was unveiled during Comic Con, the man himself created a handful of small watercolors depicting some of his other favorite bad guys. Here are 3 of my favs...
Triclops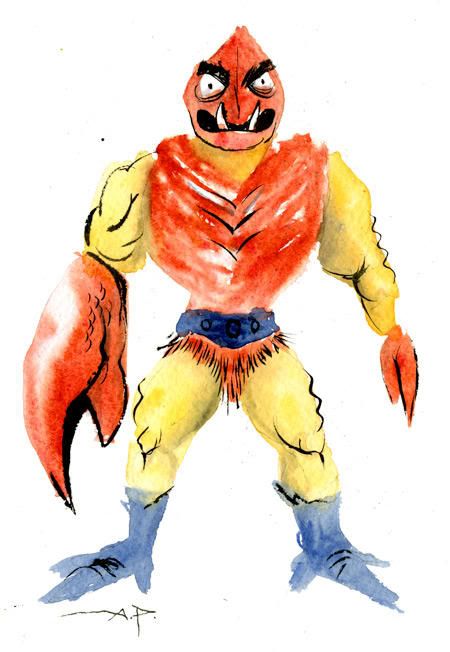 Clawful
Faker
Fresh off her awesome 88point5 show, Allison Reimold depicts her version of the classic good vs. evil battle - He-Man vs. Skeletor. This one is incredible in person...
And fresh off his outstanding success during the LOST Underground Art Project with his Crash poster, Eric Tan switches up the style with an edition depicting Battlecat. This is an INCREDIBLE print and they'll sell out fast. TRUST ME.
For the first time at Gallery1988, artist Project Detonate delivered a fresh piece of everyone's favorite pest, Orko. We hope to work with Detonate more in the future, cause this is one of our favorite pieces in the show.
Kiersten Essenpreis is basically batting 1.000 at this point. Every piece is more witty than the next. here she shows us what He-Man and Skeletor might do on their days off, focusing on some major grooming tough spots...
Another new-to-1988 artist, Australian Meggs, has contributed a stunning piece - as this isn't the first time the artist has pulled influence from the toy line/cartoon.
Staring at these pieces, and MANY more, sitting on the floor right now, waiting for Greyskull to be built, is a pretty fun way to past the time. I tell you. All for this Friday! More news coming about this show, including a possible toy reveal that involves one of your favorite shows on a certain network that airs cartoons.
AND, one last thing. We want to thank everybody who voted and Kid Robot, as their 2009 Robo Award Winners were announced and Gallery1988 was named "Outstanding Art Gallery" of the year!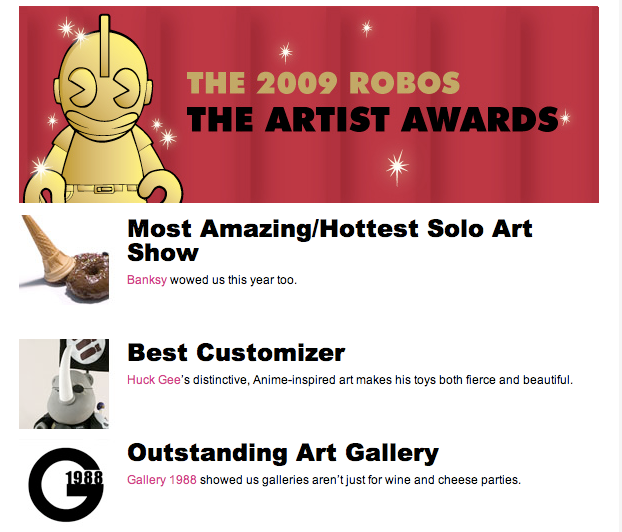 We are total flattered and stoked. Thank you guys and we hope to have 2010 not let you down (win, it won't, wink).
Jensen
G1988:LA