Art shows in full speed for January, Sunday served as a day at the movies, as I saw the brilliant "Orphanage," and wondered why more people aren't talking about this shocking thriller. Which then led me to conjure up the power to create my Top 20 Movies list, a tradition I've followed every year since my early teens. But now with a nice little blog audience and 2007 coming to a close...it will go further than just a pink piece of paper I would use as a bookmark for 12 months. Being a huge movie buff and DVD (and now Blu-Ray) collector, I take this stuff a little too serious. Here's my proof:
20. The Hoax
19. The Ten
The brains behind a former #1 on my list, Wet Hot American Summer, as well as TV love fests Stella and The State, make this absurdist sketch comedy flick about The Ten Commandments. Guest shots from Winona Ryder, the kid from The OC who wears the skinny jeans, Paul Rudd, Gretchen Mol and Liev Schreiber round out a ridiculous script. This hits on DVD this Tuesday, so make sure you see what you missed.
18. The Orphanage
You know how every once in a while you ask someone, "Have you ever seen Jacob's Ladder?" and they say, "No." Then you go crazy and say, "Aw man, you're gonna be so scared!" Here's a new one for you.
17. Transformers
Beautiful, poignant independent film about one boys struggle with his talking car. Reminds me of "The Bicycle Thief." I can make all the jokes I want, but I loved seeing it in the theatre and that's good enough for me. And on DVD I can fast forward through John Turturro's part.
16. Superbad
15. The Simpsons Movie
It wasn't EXACTLY what I wanted, but I've been waiting 15 years for it, so I figured #15 fit.
14. Into the Wild
All Hail Hal Holbrook!
13. Once
The Musical genre has been rather watered down over the past decade, as I'd rather watch my Little Shop of Horrors DVD than pay money to see Hairspray or The Producers song versions (John and Mel can't REALLY be happy about them, can they?), but out of nowhere comes "Once." On a budget that could buy a Ron English painting, they made a movie that doesn't seem forced at all, with a cute "kinda love" story. If I still loved music, I would probably put this soundtrack as my favorite album of the year.
12. Year of the Dog
My fav writer Mike White makes his directoral debut in this weird tale where Molly Shannon plays a dog lover, able to connect with animals way better than interact with other humans. It's got the same awkward feeling you get watching Extras, Larry Sanders or Curb Your Enthusiasm. And after White's former Listmakers Chuck and Buck and The Good Girl, he can do no wrong in my eyes.
11. Ratatouille
10. King of Kong
9. Zodiac
Don't forget this was released in 2007. New Director's Cut on DVD is a must-have, and most likely the last HD-DVD you'll purchase. Procedural movies don't make for good popcorn fodder, but with stinkers like "I Am Legend" on the action front, I'd rather watch Gyllenhall read a file folder for 2 hours on my watch. Fincher doesn't miss, although I'll give him an "ehhh" on "Panic Room." Here's to a great 2008, Benjamin Button!
8. No Country For Old Men
Speaking of no miss; Another List, another Coen Bros. masterpiece. You think the ending stinks? I think you stink.
7. Knocked Up
6. Lives of Others
5. Eastern Promises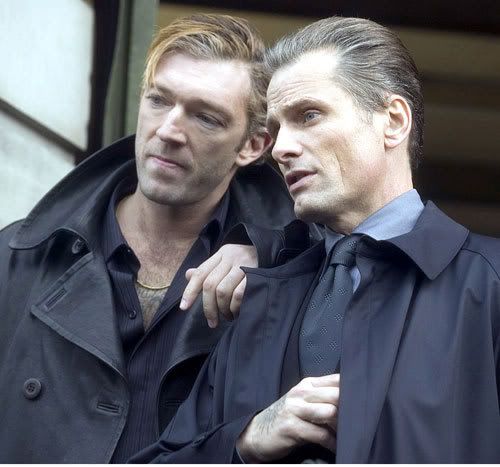 Russian Mafia movies will always break into my top 5. Movies with Viggo's unit exposed will always make yours.
4. Gone Baby Gone
Dear Ben Affleck, do this ONLY. Good to see white rapper Slaine on the second career choice tip. As a fellow second career white rapper, I'm always rooting for things like this. Here's to hoping some Anticon dude picks up investment banking.
3. Lars and the Real Girl
2. Juno
Diablo Cody emerges as the 21st century Woody Allen, and Ellen Page secures her spot as the new Natalie Portman. You can only hate it cause everyone else loves it and it has songs by the Moldy Peaches in it, and you think only you should know about the Moldy Peaches. Well, I also loved "Garden State" - and choices like those will make Amoeba Music employees cringe on a dime.
and #1....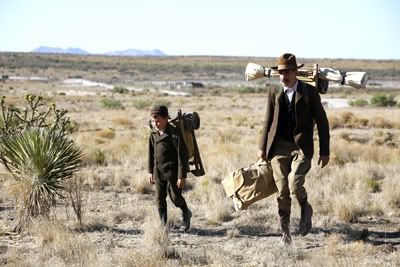 1. There Will Be Blood
818'er done good, Paul Thomas Anderson, breaks out of his post "Boogie Knights" Largo box and makes a perfect period character piece with Daniel Day Lewis making every other actor in American movies look like a Rock of Love 2 contestant re-reading dropped dialogue in editing. Doesn't get much better, my friend.
Honorable Mention - Margot at the Wedding, 3:10 To Yuma, The Lookout, Hot Fuzz, Before The Devil Know You're Dead, Enchanted
Movies that may have made it...had I seen them - American Gangster, Michael Clayton, Charlie Wilson's War, The Diving Bell and the Butterfly, Atonement, Away From Her, The Bourne Ultimatum, Sweeney Todd, Waitress, Persepolis and I'm sure others.
Jensen
G1988: LA