Being half Catholic has gotten me into the spirit of giving, and since I just found out most people have off today here in LA (and by most I mean, not me), let's do an IN STORE ONLY sale of Luke Chueh's new print. Again, this is only for people who walk into the LA gallery between today and the 23rd. This print will actually go on sale in the middle of January. But, yes, if you walk into today, you can take home the print. This print is not eligible with any of our holiday sales.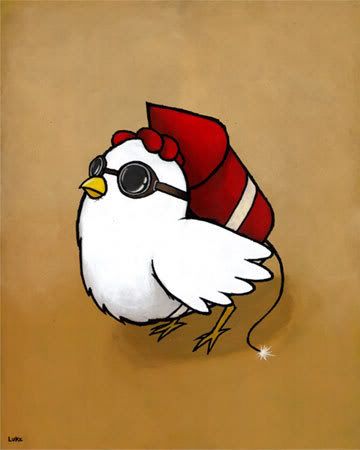 Luke Chueh
Rocket
16 x 20 inches
giclee print on archival paper
hand signed and numbered edition of 50
$150.00
And coming here to the gallery isn't a gross thing or anything. I mean, we even sponsor cool events next door, like the other night's Evening With MF Grimm (and assorted comic book pros). The event was awesome and had an overwhelming turnout, all helping raise funds for the CBLDF (Comic Book Legal Defense Fund). Quick pic re-cap of things that excited me: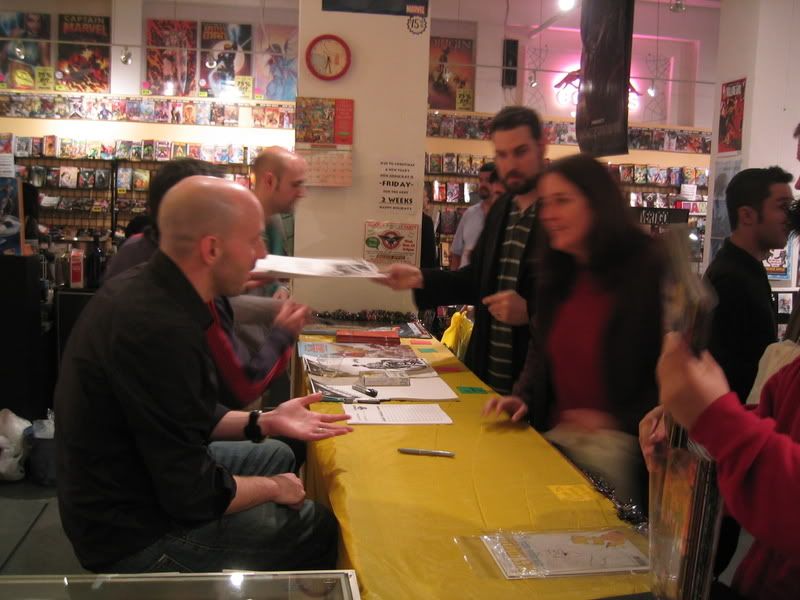 The line for autographs from the bald Brian K. Vaughn, who is one of my favorite comic book writers and a guy who I'm sure will start cashing in on Hollywood in a Jeph Loeb way. He writes Y - The Last Man, The Runaways, Ex Machina and basically all the comics you should read. I don't read a ton of comics, but I do know these are the new ones to pick up.
And here's our boy, Percy "MF Grimm." Very nice guy, who seemed pretty geeked out by being surrounded by some his fav writers too.
He actually made a pretty big deal out of me making sure I got a pic of him and Brian and emailed it to him later. Always a nice thing to see.
Thanks to everyone who came out and raised funds for a good cause. Until then, come on by, I'll break street date on these Luke prints. BUT NO, no shipping or rserving these prints. I'm enforcing today.
Jensen
G1988: LA