Hello, friends.
As everyone returns from Miami and the Art Basel shindig (I didn't actually go, but I did wear white pants and casual loafers around the house while chatting about Jai Alai this weekend, so I was there in spirit), we're in full swing here at 1988 for the Holiday season. For those on our mailing list who are thinking about buying something, but just think everything over $50 is 10% too expensive - look out for our first annual Holiday Gift Guide (and coupon surprise) in your inbox tomorrow morning! Which means, this is your last chance, if you're not on our email list, send me an note at gallery1988@aol.com and I'll make sure to add you before the blast tomorrow.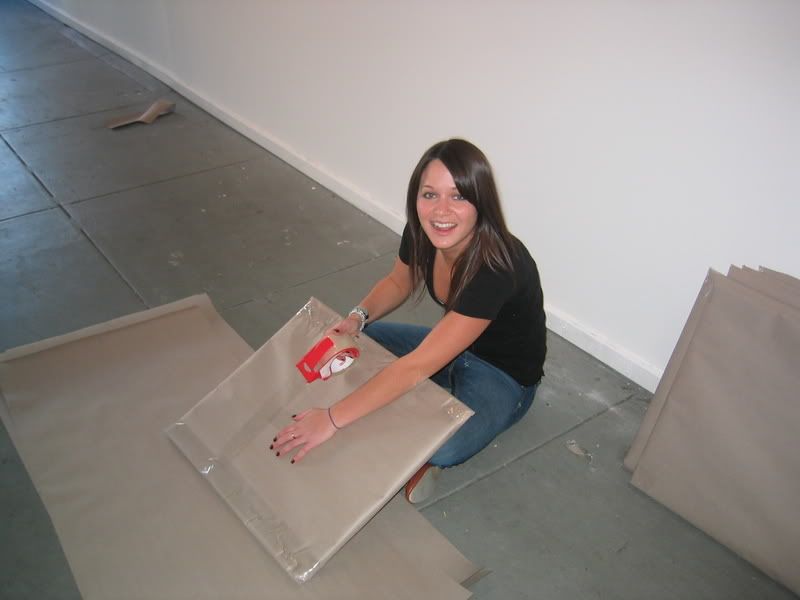 Welcome Kim. She's a seasonal intern over here at 1988 and she's in charge of shipping your Stella Fight Club prints. So, you know not to make her mad.
Gallery 1988 friend and resident street credibility professor Murs recently dropped his new mixtape, 'Murs and the Misadventures of the Nova Express," and low and behold - look who got the cover. It's 1988 boy genius Matt Dangler and his Loompa Land image from Crazy 4 Cult, which is still available as a print at Crazy4Cult.com. Yes, we got to curate the cover of the CD and yes, it's totally fresh. We have some here in the gallery, if you want to buy dope hip-hop and ignore the crap they play on Power 106 now. They also have them at Amoeba and other places you'd expect to get rap mixtapes rather than an art gallery. Here's his new music video too!
The reason I bring up the man named Murs is also because I ran into him this weekend at the ArcLight after catching the opening weekend of Juno. He was seeing Golden Compass (Take that, rap world!)
Anyway, Juno is a lock for a bunch of Oscar noms this season and it was really a great little movie that is leaps and bounds better than Little Miss Sunshine, which I promise everyone will sadly compare it to, so it doesn't really need the support of our little readership. Incredible cast, great touching screenplay and ridiculously funny.
It's also cool to see David Choe, Kozyndan and Tara McPherson get some art love in the kids' rooms. As well as Jurassic 5 DJ Cut Chemist have a very odd school teacher cameo. Go support this movie, as it really is that good.
And lastly, I planned one waiting a while for stuff like this, but I can't. The art is too good. Here are two sneak peeks at pieces from our "Under The Influence" A Tribute to Stan Lee" show opening Jan. 8! It really just gets better and better.
Amanda Visell x The X-Men
Chris Tezber x Spider-Man
Travis Lampe x Iron Man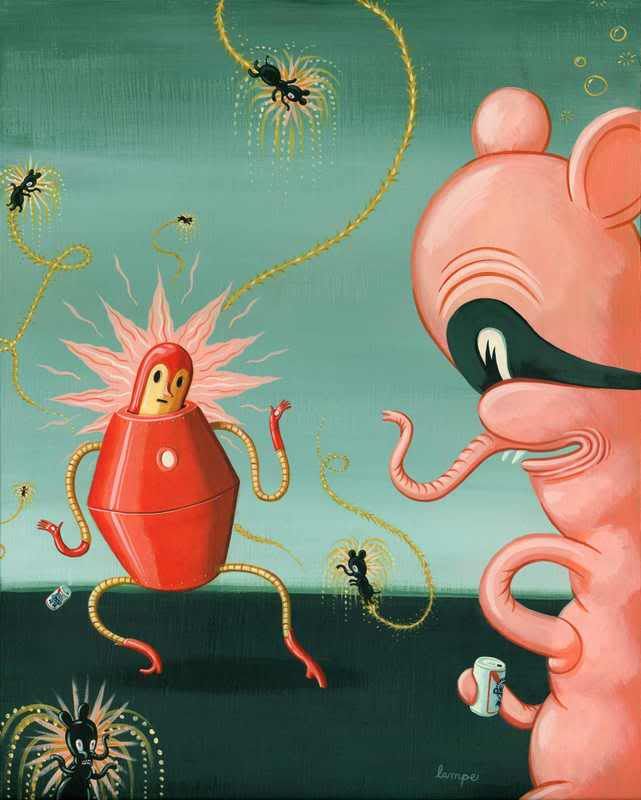 WOW.
Jensen
G1988: LA