Man, I really love this Ahren show. We had the opening last night, and I do wish more would people would see this work in person, but we had a great time. But we have the whole month of December to check it out, so don't miss it! All the available work is now viewable at our website, www.gallery1988.com, in the LA side - check it.
To celebrate the opening, Gallery Assistant to the Stars Becky and I dressed as if we were characters in an Ahren Hertel painting.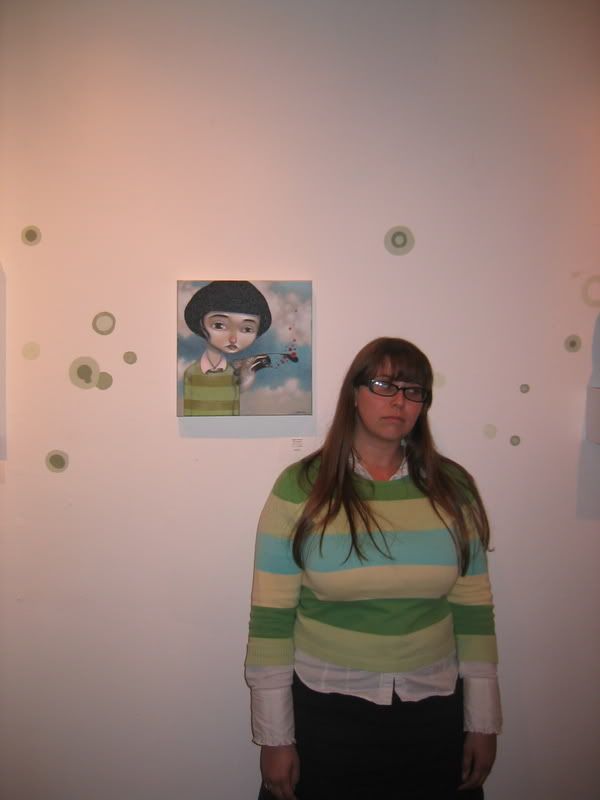 Oh, the fun we find in small details.
Did you see these? I'm pushing them as an amazing Holiday gift. These are lithographs from Ahren, limited and hand signed to 25. Each one is also hand painted with oils by Ahren's hand, hence, the colors. They're $125 and an awesome gift. Give the gift of art...or Itunes cards. It's up to you.
And since most of our phone calls are about these five things, here are the answers:
1. Yes, we do still have some Stella Im Hultberg "Marla" prints available.
2. Yes, we do still have Luke Chueh "Bat Bear" prints available.
3. No, we are totally sold out of Luke Chueh's "Jacked."
4. There is a very limited amount of Greg Simkins's "Winter's Knight" for purchase by calling the SF gallery at (415) 409 - 1376.
5. Yes, we do still have a few Nathan Ota "Candy Colored Clown" prints.
Rapper Pimp C died yesterday, which is a bummer for me, being a long time UGK fan, and with their "Player's Anthem" song being only one of five rap songs I currently like on Sirius. Met him once in person in total passing, so it's nothing more than just a fan sending out an R.I.P. and hoping he's not only remembered as the other guy on Jay-Z's "Big Pimpin'."
Also, let the Gallery 1988/Golden Apple Comics "Under The Influence: A Tribute To Stan Lee" art show publicity train begin! To remind you, it's the next show at G1988: LA and it has almost 100 artists paying tribute to comic book legend Stan Lee, by reinterpreting his classic icons and stories. Pretty soon we'll start rolling out the artist line-up and some pics for you to freak about. It's early, as the show doesn't actually open until Jan. 8, 2008 - but from the sneak peeks I do possess, this is going to be one for the ages.
Also, there is a new Luke Chueh print coming before the holidays after all. More on that most likely tomorrow.
Jensen
G1988: LA