Listen, I know I came under fire for calling the fans of Kurt Halsey "rabid," and I caught my share of focused poop during the opening by the fans, but we can all agree on one thing, you Kurt fans have very fast dialing phones!
The LA opening for the Kurt Halsey Frederiksen solo show was a huge success, besides the fact that an awful eye infection grounded Mr. Halsey from attending the opening. I'd post the pics of his eye he sent me, but #1) not sure he wants anyone to see it, #2) I just ate those mochi balls on a Pinkberry, so it might make me sick.
But Kurt is a super class act and has created a Meet & Greet event for June 1st (from 6 - 9 PM) and June 2nd (from 12 - 3 PM) where he will sign and shake whatever you want (his eye bandage maybe?). Almost fully sold out of his work for the show now, half at the opening reception, half, as I hinted to earlier, to the many phone calls that poured in once the work went online this morning. I will change "rabid" to "rapid."
Katie and I would like to thank Kurt for putting together a wonderful solo show and doing it with professionalism rarely seen in this little world of art. I couldn't think of an artist more worthy of such rabi...I mean, support.
BUT, you wanna see some other die-hards?
Down the street at Munky King, the line went for over a block with fans waiting for the release of the Luke Chueh "Possessed" vinyl toy. Saw some familiar faces in line, including 1988 favorite Adam, who skipped out on a brain surgery he had to perform at a chance to pick up the black colorway. I'm just kidding. He wanted the regular colorway.
Oh, and here's Patrick, the owner of Munky King. He's happy.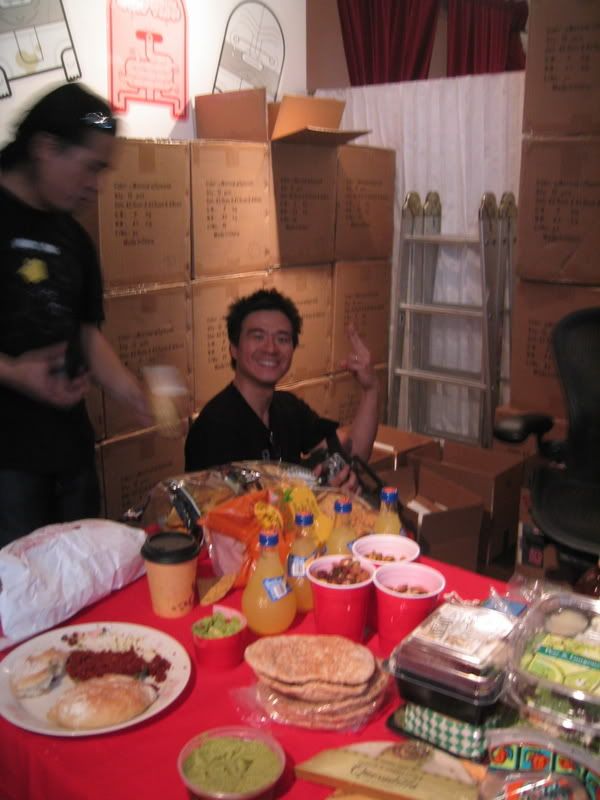 With G1988 involved in Luke's next toy, I'm already starting to practice that little pose Patrick has in the picture.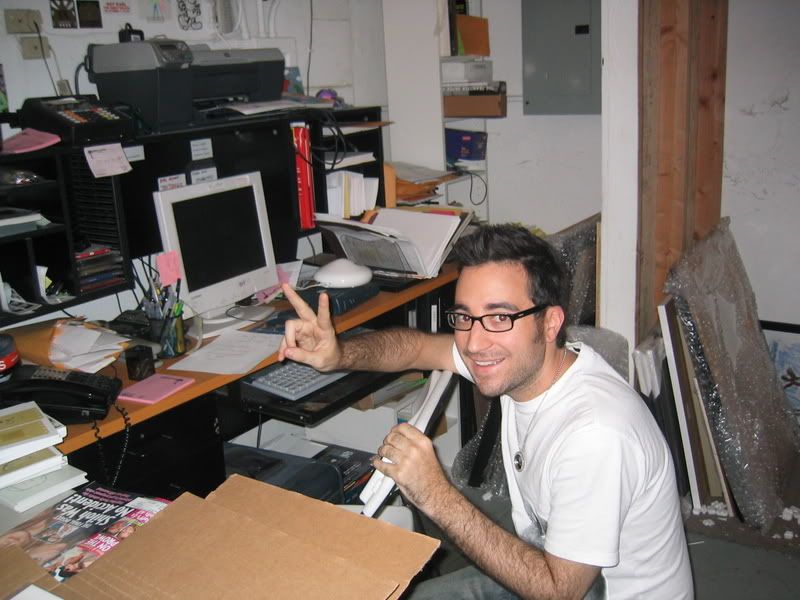 I have a long way to go.
Jensen
G1988: LA