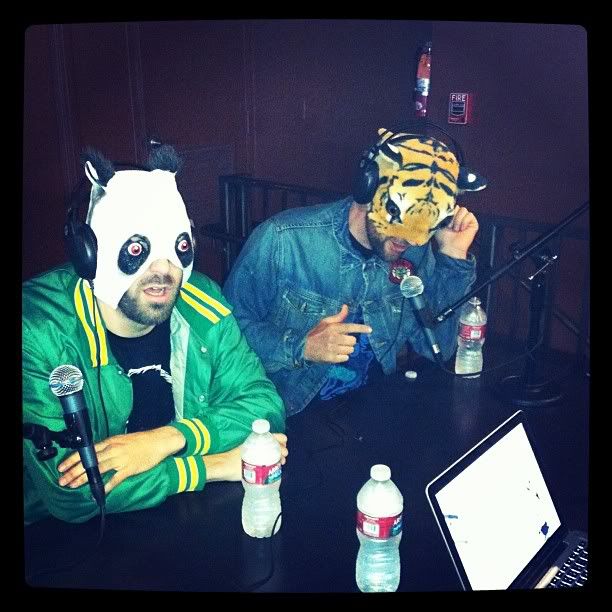 The boys are in town and causing quite the insanity. The Butcher Kings, Alex Pardee & Skinner, will open their 2-man(iac) show Thursday night, 7-10 PM at our Melrose location - and it's actually crazy. Not crazy in the way Prince might ask you to a dance at his concert, but crazy in the way that John Wayne Gacy may have asked you to dance before he killed you. Per request of the artists, all images have been kept secret until the opening party, where both will be in attendance, so I have very little to show you. You'll have to trust me when I tell you - this stuff in bonkos, so if you're in LA, stop by.
"The BUTCHER KINGS is f*cking hilarious. This show is the most fleshtacular event of the decade. It does for the mind what meat does for teeth!"
-Matt Maiellaro, co-creator of Aqua Teen Hunger Force
"A stunning example of how many monsters exist within the confines of pop culture and a funny brand new take on characters that have been cemented in our collective conscience."
-Pete Wentz
"Pardee and Skinner conjure up images that you might see in a sweaty dream after a night of heavy drinking and late night street meat eating. These are the images you'd never share with anyone for fear they'd think you were disturbed. Part terrifying part familiar, they are modern day clown portraits that used to hang in your family's doctor's office. In other words I love it."
-Paul Scheer, creator of NTSF:SVU:SD
When we do open up the doors on Thursday night, you'll see over 80 new pieces (all priced between $300-1,000) that completely destroy all of our memories of the pop-culture icons we have grown to love, then channel the soul of a cynical, witty, self-destructive and borderline insane man-child.
DISCLAIMER
-
This show contains graphic imagery and is not suitable for children.
With that in mind, I've started a new podcast (NSFW), partnering up with filmmaker, and G1988 homie, Kevin Smith's podcast network (also NSFW), and it's called "Get Up On This." Each week, I'm joined by a guest and we go over a few things, whether it's a movie, music, website, comic book, etc., that people should know about, but don't yet. Things that are bubbling in the underground and soon to hit the mainstream. Look at it as a "Cool Things" type of show. Past guests include Mike Shinoda, Jonah Ray, Casey Veggies, DC Pierson, Pete Wentz and Wallpaper. This week I had the pleasure, and absolute nightmare-ish feelings, of having The Butcher Kings on the show and the results are successful (if you consider the Titanic maiden voyage successful because it made for a good movie).
So swing by Thursday night and let your eyes share the horror that is The Butcher Kings.
Jensen
G1988