Another day, another announcement!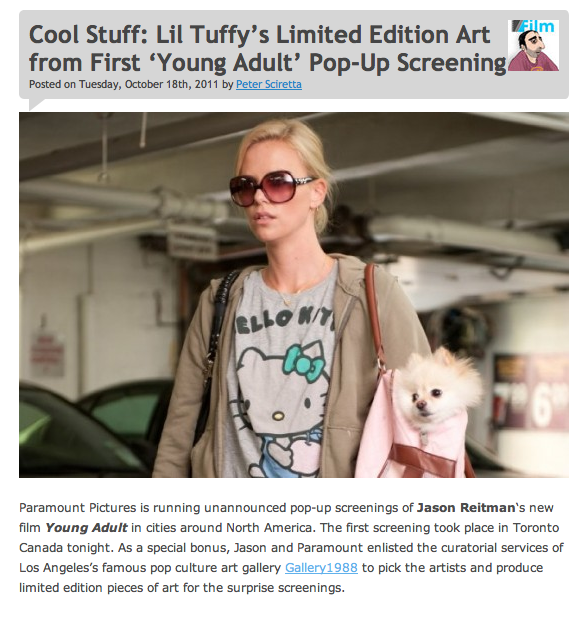 We'll be teaming up with Jason again, and this time with Paramount Pictures, for his new upcoming film, "Young Adult." Check out the words from Slashfilm...
Paramount Pictures is running unannounced pop-up screenings of Jason Reitman's new film Young Adult in cities around North America. The first screening took place in Toronto Canada tonight. As a special bonus, Jason and Paramount enlisted the curatorial services of Los Angeles's famous pop culture art gallery Gallery1988 to pick the artists and produce limited edition pieces of art for the surprise screenings.
This has been another one of those secrets we've been holding onto, and we're so excited to show you what artist Lil' Tuffy came up with...
We loved working on this project, as Jason wanted to really focus on the tradition of "gig posters", like you'd see available for purchase at your favorite band's intimate concert locally. He wanted to shy away from the artist movie poster take that's popping up every day, which ourselves, and most importantly the artist, a lot of freedome when making awesome screenprints to take home from the screenings.
Stay tuned to our blog, as we can't wait to show you what else this project entails...
Jensen
G1988