Finally coming down from the opening reception of Greg Simkins' "The Pearl Thief," and we really wanted to thank everyone who came out to support the show. Evolving with Greg since the first time he showed with us 5 years ago has been the most rewarding aspect of owning Gallery1988 for both Katie and I. Makes you wonder if good things really do happen to good people after all. The work from this new exhibit are stunning and you can see them all by
CLICKING HERE.
 I really hope any of you that can make here to the gallery by November 22nd to see the pieces in person do so, because some of these have to be seen to be believed. And that includes...
(all pictures stolen from
Arrested Motion
, which you should visit to see more pics from last night)
Greg's largest piece ever, "The Pearl Thief," clocking in around the 8 foot mark. This is the most detailed, intense painting I have ever seen in person. I noticed people staring at it for easily over 30 minutes. The new proud, and envied, owner of this beauty, filmmaker Nick Cassavetes stopped by the show to see the final product in person, which was an awesome ending to the process of creating, and displaying, this monster. Here are a few more pictures of pieces in the show...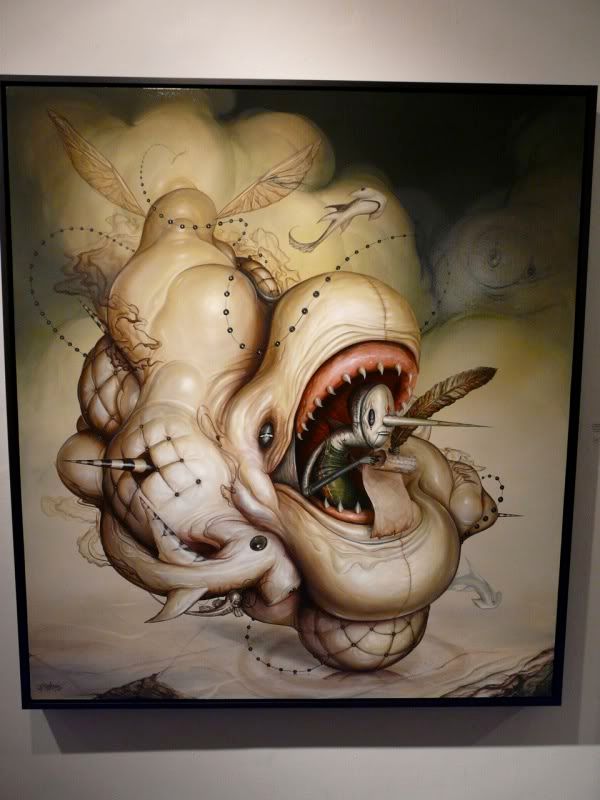 And onto the puzzle. So we created an art show puzzle last night, that had a few teams of people literally working the entire night in hopes of cracking. The person who solved the puzzle, travelled to a nearby destination then returned with the needed bounty to the gallery - got a free 5 x 5 inch painting from Greg. That is painting was this - 
Listen, the painting wouldn't be cheap...so we weren't making it easy. The puzzle master would also have his/her name added into what we now call "Simkins Folklore," seeing their name pop up as the rescuer of Matt Riddle's dream in future pieces and writings. Which is awesome.
So anyway, we had a lot of people try - but about 4 teams worked the entire night. And one of the teams, puzzle masters from 42 Entertainment, came away victorious. Johnny "KMNDZ" Rodriguez and Mike Borys solved a puzzle that can't be easily explained, but I'll try. A majority of the pieces in the show had a number written below the price tag. Take that number and count the letters in that piece's title - to get the letter you need pull from that title. So if "6" was written under the tag, and the tag said the piece's title was "This Puzzle Is Hard," you'd pull a "U" out. BUT, it wasn't JUST that easy. We didn't give you 2 letters simply. For example, one tag was missing an "L" - it said "The Pear Thief," so it's a good idea to remember a missed "L." So, as I said we weren't making it easy. Once you have all the letters, it's a scramble. It would eventually spell out "Shamrock Social," the world renown Tattoo parlor on Sunset Blvd. When you went there, they handed you a special Pearl setting, and a note from Greg bringing you back to the gallery to claim the painting. Whew.
And it was solved in about 2-3 hours. Truth is having 42 Entertainment even attempt our puzzle is like asking Bono to listen to your demo. So it was an honor to even have them participate. Here's Johnny claiming his prize...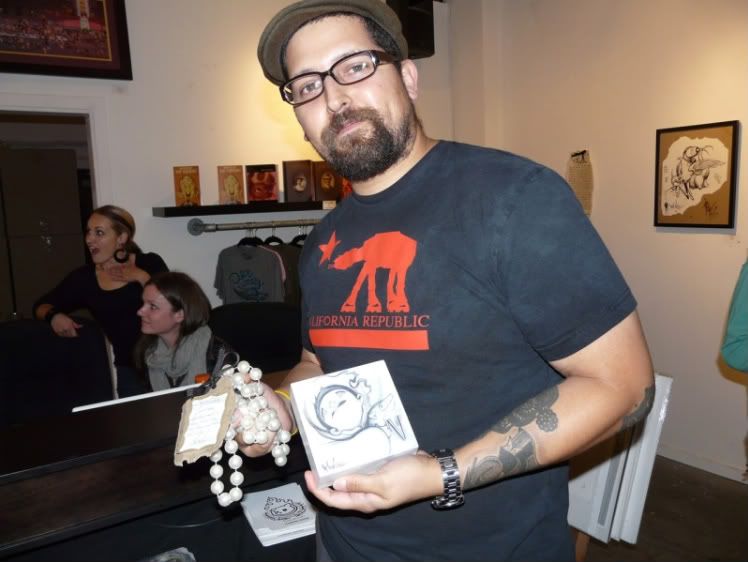 We hope to do this more often, because creating puzzles like this are really a passion for me and involving Greg was awesome. 
So, please stop by before November 22nd and see this show. Cause after that...we're killing Vivisect. BLACK FRIDAY.
Jensen
G1988:LA