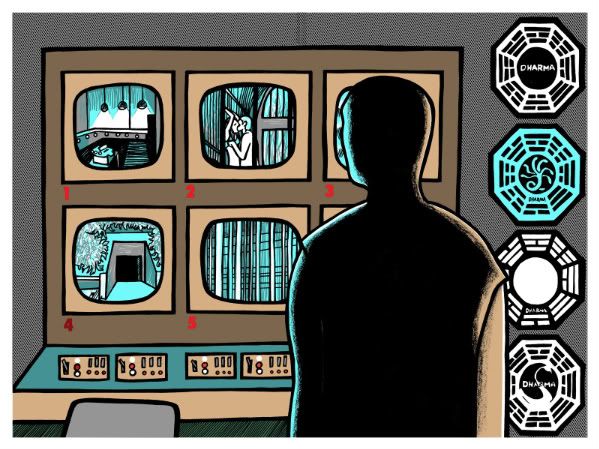 DamonCarltonAndAPolarBear.com & Ronie Midfew Arts are proud to be continuing the "LOST Underground Art Project." The 5th limited edition print, celebrating the greatest "water cooler" moments from the ABC television show "LOST" is by artist Leia Bell, and focuses on The Love Triangle.
This is the 5th print, of an eventual set of 16, and was revealed in Tucson, AZ at the University of Arizona Campus Bookstore, where a display paid tribute to the LOST Book Club. The display included props from the television show such as Sawyer's reading glasses, a Dharma beer 6-pack, Dharma boxed wine and an Oceanic Airline In-Flight Magazine, alongside a number of the books seen, and referenced, throughout the series. Bookmarks, with the poster's purchase website printed on them, were available for free. The Leia Bell prints are limited to 300, but less then 200 are available for purchase. Each is hand signed and numbered, 24 x 18 inches inches and only $50.
You can purchase this print at IThinkThatManWasYou.com and follow the entire project at DamonCarltonAndAPolarBear.com, which may involve free LOST events and stunts in your area to announce the newest print!