The last week of September and that always is such a great time of the year - as October creeps up and Halloween starts to peer its ugly head around the corner. And for us at G1988: LA, that means it's the last week of Luke Chueh's Inferno and the rumblings of Alex Pardee's "Hiding From The Normals" are starting to be heard. I have seen a bunch of the paintings and I can genuinely say that Alex has created quite the universe for Halloween. I think it's a total no-brainer that one day Alex will be professionally designing horror characters for Hollywood (especially after his time with "Chadam" at Warner Bros. SOMEONE PUT THAT OUT!). Excited for you guys to see what he's coming up with. In the meanwhile, we'll be doing an exclusive t-shirt with Alex and director/writer Michael Dougherty for "Trick R Treat," the DVD/Blu-Ray release we'll also be celebrating with our friends next door at Golden Apple. These shirts will be super limited and released the night of the opening reception (Oct. 6), so get them while you can. Here's a tease -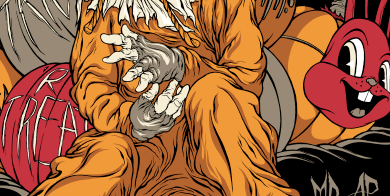 Don't tell anyone I showed you yet.
Also, artist Brandi Milne is getting into the Candy Corn guzzling spirit with a print release on her website (
CLICK HERE
for that).
The print is called "Something Wicked" and it's a hand-signed and numbered edition of 50, at 11.5 x 11 inches on archival picture rag. AND the first 50 orders get a free bonus print (seen below).
Pretty good deal and again, we're down for anything promoting the Halloween spirit.
Jensen
G1988: LA