I had to post this pic from the Ledbetter/Brandou show that opened in SF last Friday. Joe graciously sketched for a few fans, including these two cuties.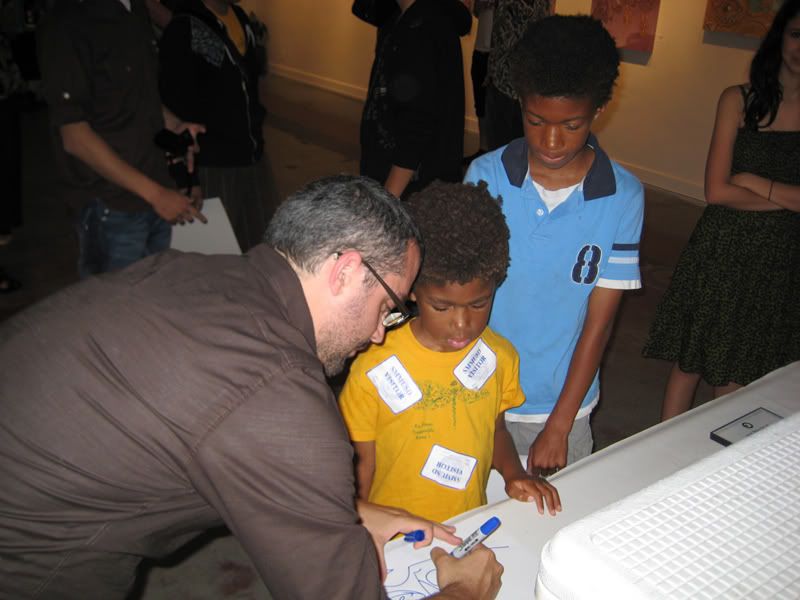 A BIG thank you to Joe Ledbetter and Andrew Brandou for putting together an amazing show! If you haven't seen it yet, you can check it out
HERE.
We also had a great turnout at our new show that opened in LA last night. Thank you to everyone who stopped by, I heard it was packed! The show includes work from Allison Sommers, Bloo Empire, Brandon Bird, Dan Santat, Dave Chung, Erik Alos, Isaac Pierro, Israel Sanchez, Ken Garduno, Scott Campbell, Reuben Rude and Rich Tuzon. There are some GREAT pieces still available...
ARTWORK.
Which reminds me... the Scott Campbell "PacMans Print Set #2" is now available!
Scott Campbell
PacMans Print Set #2 (includes five prints)
giclee prints on Epson textured fine art paper
2 3/4 x 2 3/4 each print
limited edition of 100
$65.00
And finally I wanted to show you a new print we'll be releasing very soon by the lovely Krista Huot...
Krista Huot
Into The Real
giclee print on Somerset Velvet Fine Art Paper
14 x 11 inches
limited edition of 30
Price - TBD
We're almost finished printing and then they'll be shipped up to Canada to be signed and numbered. Krista will have a few new paintings in our upcoming group show this June in San Francisco. Stay tuned...
Katie
G1988: SF