We're getting ready for tomorrow night's opening reception for "Another Dimension" here at G1988:LA and it's shaping up to be quite the experience for anyone who considers themselves a Twilight Zone fan. And for those who are regulars to G1988, you're going to see more new names than ever before, which is rather exciting. Here's a sneak preview before the reception tomorrow, Thursday night, from 7-10 PM - which you should for sure attend. I think I'll get you a sneak peek at some prints later today too!
Johnny Sampson takes a turn at "The Dummy," one of my favorite episodes, which also forced me to be afraid of ventriloquist dummies from that point on.
G1988 newcomer Joe Scarano summons "To Serve Man," which is by far the most depicted episode in the show, and obviously left quite a dent in pop culture and the imaginations of everyone.
A G1988 favorite Danielle Buerli sculpts the man himself, the brains behind the mystery, Rod Serling. This one-of-a-kind piece is incredible.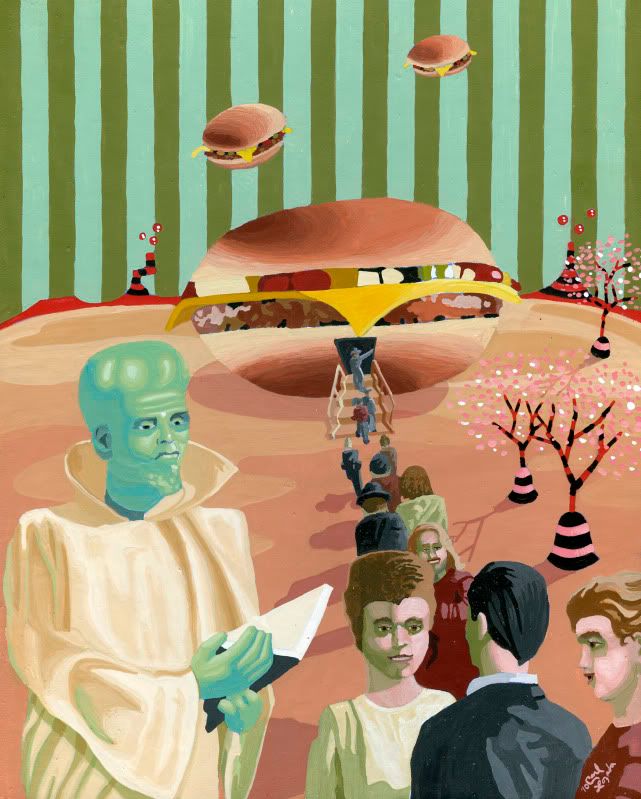 Carl Lozada has a piece in the show that also gives his take on the classic "To Serve Man." One of the more humorous takes...
A G1988:SF regular, but a first timer to our LA location Lawrence Yang did three amazing pieces for this show. Featured above is his take on "Time Enough At Last," maybe my favorite piece in the show.
Don't miss this show! You're going to love it....that's a promise in this reality.
Jensen
G1988:LA