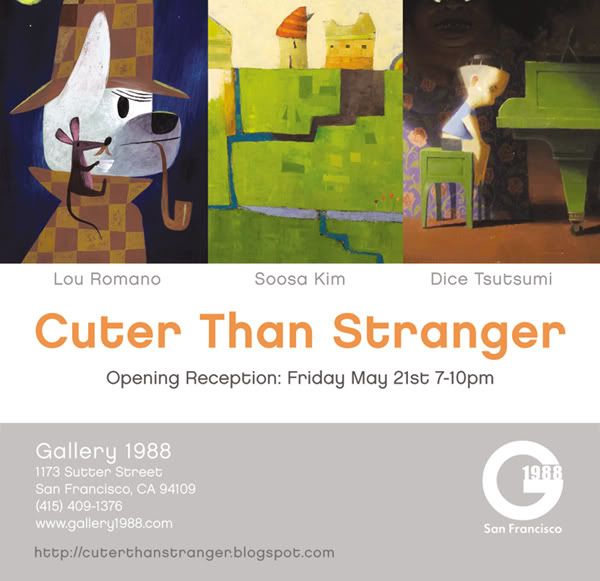 Our next San Francisco show is seriously so exciting because it features three HUGE names from the animation and video game industries: Lou Romano, Dice Tsutsumi and Soosa Kim!
You may have heard of Lou Romano, who is the award winning Production Designer for Pixar's "Incredibles" and was also the voice of Linguini in "Ratatouille" which is so awesome! Then we have Dice Tsutsumi who was an Art Director for Pixar's "Toy Story 3" among many other amazing and impressive projects. And finally we have Soosa Kim, who's been in the video game industry for over 10 years and is currently a concept and computer graphics artist for Namco! Seriously the coolest resumes ever. So, we're going to have a show featuring their personal artwork at the SF gallery. The show is called "Cuter Than Stranger" and opens May 21st. If you click on the image above you can check out the show blog (
http://cuterthanstranger.blogspot.com
) to see some in progress shots from Lou, Dice and Soosa.
Also, if you're interested in previewing the artwork from the show, please shoot us an email -
gallery1988sf@gmail.com
.
Happy Friday!
G1988 SF